Baby Shower Idea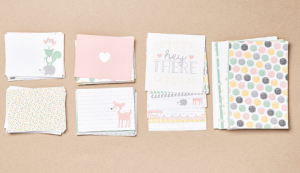 Finding the right activities and games for a baby shower can be somewhat daunting.  At least in our circles, most people attending aren't really fond of the typical baby shower games, but, naturally, play along because that's what you do.
We're hosting a baby shower this weekend and one of the things we'd like to do for our first-time mommy is have a little book of encouragement for her at the end of the party.  The problem with this is that, like with the baby shower games, most attendees don't really enjoy thinking up those notes of encouragement on the spot.
You can avoid this by sending out a quick email to those coming to the baby shower suggesting that they prep something in advance – even write it on some scrap paper so they can just copy it into the guest book when they arrive.  But, to be honest, most people are just too busy or forgetful to actually do something like this.  I'm guilty of it too!
So, tomorrow, at our shower, I'm trying something new just to see if it helps to actually fill up a book for the new mom.
I'm setting up a small table with the supplies near the entrance of the room where we'll be holding the shower.  The booklet will be made up of individual sheets of paper, not a pre-bound book. Doing this will free up each attendee to take a sheet of paper with them to wherever they are sitting and write freely throughout the allotted party time.  I'll put a basket on that table too for the finished sheets and compile the book toward the end of the shower or even afterward.  There are so many ways to make individual sheets of paper into a nice booklet – I'll save that for a future post.
But what to do about the brain freeze that tends to happen when a request to fill out something like this is presented.  For the life of me, I can think of 10,000 things to say to a new mom when I'm not under pressure, but when put on the spot to write it out during a 2-hour shower, I just can't think of anything!
My solution … at least this is what I'll try tomorrow … is to put out small slips of paper with bible verses, quotes, poems, etc.  If so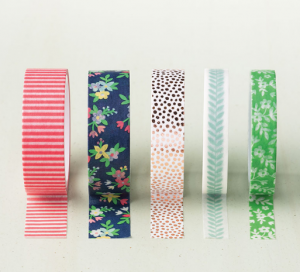 meone is having trouble thinking of what to write, they can choose one of these slips of paper and either tape it onto their page (I'll put out some fun Washi Tape too!) or copy the verse or poem by hand.  This can serve as a starting point for what to write or be all that's on the page with a "we love you" and signature.
I'll include several colors of pens and maybe even a few decorative accents so those who are uncomfortable with a bunch of blank space on the page can fill in with pretties.
What do you think?  Do you have any ideas for a baby shower book?