The folks over at the Coobie Bra Store kindly sent me two of their super comfy bras to try out for this review.  They're really nice!
I've recently done some study on bra wear and use and the fact is, less is better when it comes to wearing them!  Even for those of us who are more in the plus sized category, underwires are not all that they're cracked up to be and super support is, in the long run, not the best for your breast health.
However, going without isn't realistic either and so it's great that these comfy bras are on the market and popular.
Here's their official video:

You can find more about the Coobie Bras at
Their Website www.shopcoobie.com
The pros:

*Super comfortable

*Lightweight

*NO underwire!

*Great colors

*Can be worn instead of a cami or tank under other shirts, etc.
And then…
The still pros but to consider:

*I really love these so I really can't say anything "negative" – these are just my quick thoughts.

*Not ideal for anyone on the higher plus sized. I'd say anyone over size D/E cup usually looks for a bit more support – but reading above you might want to consider these anyway!  Less is better!!

*No hooks.  I'd prefer to put it on the old fashioned way rather than pulling over my head like a cami, but that's just my preference.  It won't stop me from wearing these every day.
Thanks again for the opportunity to review!
I received 2 bras in exchange for an honest review. I was not required to write a positive review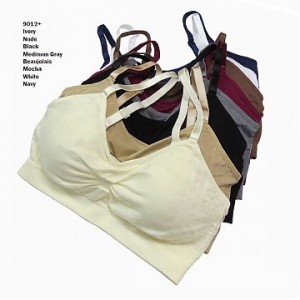 I love seamless, comfy bras.  Just what mamma needs for her busy days!  I love that you can get these bras in plus size too and they're great for many of my friends who have had breast cancer surgery.
Coobie Seamless Bras are ultra comfortable and versatile without sacrificing style. These affordable, stylish bras are seamless, one-size (comfortably fits 32A through 36D), available in 7+ styles and 50+ fashion colors and patterns. There is also a full size version fitting up to a size 42D. They are perfect for every day wear, yoga, pilates, new and nursing moms, sleep wear, and more! Coobie Seamless Bras also has a large following of mastectomy patients that love the soft comfort and pad pocket to insert a form. This line is truly a fit for all women!

Promotion: Save 25% on any order of $40 or more at www.shopcoobie.com
Promotion code: USFG25
Order yours today and don't forget to use the code!
I have so many fond memories of springtime it's hard to pinpoint favorites. The first crocus leaves peeking through the cold ground? Looking out the window to find the first robin red-breast frolicking among the juncos, finches and chickadees in the back yard? Searching for a fun bonnet for easter?
Perhaps all of these things tied together make for the joyous memories that fill my mind every year at this time.
Probably my favorite thing when my daughters were young was shopping for those adorable dresses. Sigh. Even now when we walk into the department store we ooh and ahh over the frills, ruffles and tulle that make up those sweet dresses. My girls adored them. They still do, in fact. They don't, however, wait until spring to search the stores – often they'll make their own or find treasures at the thrift stores. Then they wear them throughout the year.
I can remember distinctly my oldest daughter's first dress and bonnet. Perhaps it's because of the adorable photo that we have of her in it (with live bunny rabbits no less) but I think even without that photo, her cuteness would never be forgotten. Instead of the traditional springtime pastels, I found a dress in navy blue with a white collar and polka dots. The hat was white with the matching blue and white polka dot trim along the brim. With her big dark eyes and sweet smile she was just picture perfect. I may be just a bit biased but I was convinced that the photographer wanted to keep her in the studio as long as possible because she was just so cute. Even the bunnies liked her. Ahhh, such good memories.
My second daughter had an equally adorable spring dress that was more colorful with bright flowers and white ruffle trim. While I do not think they would pick similar fabric patterns today, as teenagers they still love ruffles and lace. I believe they always will and I'm eager to see what their future weddings will bring in terms of both the wedding dress and the bridesmaids dresses.
But, I digress – which is easy to do when going down memory lane. Springtime brings with it promises of freshness and newness. Baby animals, fun girly dresses, beautiful spring flowers – and fond memories. It's no wonder that so many people find spring to be their favorite time of the year overall.
"I wrote this blog post while participating in the SocialMoms and Hop blogging program, for a gift card worth $25. For more information on how you can participate, click here."
More info: www.iwantcandy.com
Image via Wikipedia
Back to School Shopping Tips
When the grocery store starts selling lunch boxes and school supplies, you know that the summer break days are numbered…
I can remember from my own school days the feeling of confidence and anticipation that came from going off to meet my new teacher and classmates with a new backpack, lunch box, clothes and shoes. And now that I am a parent, I want to pass on these same feelings to my kids but without breaking the bank. Costs associated with back to school expenses can be crippling for families if you spend before doing a little studying of your own!
So, as the lazy summer routines give way to more structure every August, this is when spending skills are tested for most families. Any change in routine can cause stress on the family spender and if left unprepared you may find spending can get out of control and leave you with the same old feeling of frustration. So, below are some tips to help make the shift go smoothly and with as little impact to the checkbook as possible:
1)A little planning goes a long way. Before shopping for anything related to getting ready for school, spend some time with your kids discussing what is needed and when it is needed. This will give you an idea of the overall cost involved so you can plan accordingly. In about 3 weeks, revisit the list of things you classify as "Need Later" to see if you really need them. Get a sturdy clipboard and use the worksheet located on my website as a guide for each child.
2)Each child will have different needs since each grade has different supplies, clothing trends and lunch considerations. Check the school website for more information such as a grade appropriate supply list before shopping. Most kids can get by in the first few days with the basics, and then fill in the rest of the supplies after your student has met the teacher and knows what is expected.
3)Shop for categories of items separately to enable tracking your spending. If you lump all the shopping into one big trip for all your kids, it is much easier to loose track of your spending goals. For example, shop for all the lunch supplies on one trip and the next trip shop for the clothes, etc.
4)If you have more than one child to outfit for school, take advantage of sales for multiple purchases. For example, buy one get one free shoes, snacks and drinks. For the most savings, combine a store coupon with an offer like this.
5)Delay some of your purchases until after school starts. While there are lots of great back to school sales before school starts, try to hold off since often you will see even deeper discounts when overstocked inventory must go in a few weeks. Also, your child may change their mind about what they need based on seeing what the trends are at school.
6)Use the internet to find store coupons and online coupon codes that are not available anywhere else. For example, www.alexscoupons.com lists a huge variety of coupons and by spending a few minutes surfing before shopping you can yield big savings.
Remember there will be other expenses incurred as you get into the school year, such as after school activities, school events, and gifts so if you plan ahead, you will be in a better position to manage the financial impact.
Amy Bergin, mother of three children, creator of THE COUPONIZER®. The #1 best selling coupon organizing and shopping system in the US and Canada. To find out more visit her website by clicking HERE for THE COUPONIZER®
Image by Getty Images via Daylife
Many parents look forward to the beginning of a new school year. However, many parents also they dread the prospects of back-to-school shopping. Some parents are experts at the basics of back-to-school shopping while others struggle with it. You can use some of these tips for back-to-school shopping so you can get the job done without struggling.
Look through current wardrobe
You and your child might want to look through your their current wardrobe to find out what needs to be replaced. Some of their jeans, shirts, and socks may still be usable. When you know what your child actually needs, it will be easier to go to the next step – talking to the children to see what they want.
Talk to your children
Before you head out to the mall, you might want to have a talk with your children to find out what new items they'd like. Of course, you can expect them to want the latest clothes that they believe their friends will have, or that they think will make them look cool. Let them know what you can afford and ask them which items are "necessary" and which items are "desired."
Make a list
Make a list of all the clothing your children need. Then make a list of the school supplies. You may want to give the children a certain amount of money to spend on "desired" items but explain that once that money is gone they won't get more. This will allow them to get some things that they want and definitely things they need.
Create a budget
Determine how much money you have available to spend on clothing, shoes, and supplies based on the list you made. Depending upon the ages of the children, plan to spend a certain amount per child, and then add a little extra for older children since their clothing will probably cost more.
Inform children of budget
Let the children know how much money you have to spend for their clothes and supplies. If they're older, you may want to have them help you keep track of what you're spending and how much money is left. This will help them with math skills and help you decide what else they can get. If there are certain items they want that you don't have the money for, suggest that they spend their own money for those items.
It won't be long before you'll have to spend money on back-to-school items. Learning the basics of back-to-school shopping can make the task less stressful. After a few years your skills at saving money for school items will increase and you'll be able to share your knowledge with others.
Related articles by Zemanta