Walk through any WalMart or Target baby section and you'll see a whole wall or more of options for diaper wipes and pads.  So here I am throwing out another option for you! But take a look!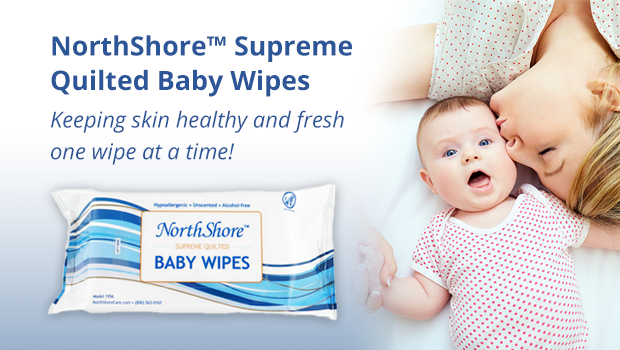 Look at that sweet baby! 🙂  North Shore Care Supply is a company located in Illinois that has baby and senior care products available with an autoship program to boot!
The ingredients in the wipes are:  Purified Water, Decyl Glucoside, Aloe Barbadensis (Aloe) Leaf Extract, Calendula Officinalis (Calendula) Extract, Propylene Glycol, Disodium EDTA, Polysorbate 20, Citric Acid, Phenoxyethanol .8%, Potassium Sorbate, Sodium Benzoate.  They are not flushable but are a nice size and are unscented. A nice plus!  Find out more about their wipes here (click).
I really like their disposable quilted changing pads.  They're a great size:  17″x24″.  We've got tons of friends with babies so I'm keeping these on hand for when they visit. They're great for diaper bags too and come in a zippered resealable pouch.
Best of all they have an 800 number and/or a live chat, to answer all your questions.  And if you live in the Northwest suburbs of Chicago, you can even pick up your orders directly!
And a special for my readers:  Save 20% Off NorthShore Supreme Quilted Baby Wipes through June 30, 2018 – use code NBW20 at https://bit.ly/2vHGktV

Promo Code: NBW20
I received complementary items in order to review them. All thoughts are my own and I was not required to leave a positive review.