This is another great family board game, probably more suited to a little older kids with parents.  Team strategy (this is a cooperative game so everyone wins) and just overall great fun!  We really like this one!
Amazon's got some great board games on sale today. Get ready for a few of our favorites starting with this one:
Carcasonne
is a fabulous family game that our family loves. When we first got it we'd play several rounds in an evening but I think we burned ourselves out on it (or at least some of us!) Now we play every other night or once a week and have a wonderful time. The game changes each time you play it and the strategy is exciting and fun, even for younger players. Super family game! Highly recommended. (Expansion packs are available too but hold off until you've had some time to get used to the original game.)
On sale today 4/23/2018 for a great deal!
Walk through any WalMart or Target baby section and you'll see a whole wall or more of options for diaper wipes and pads.  So here I am throwing out another option for you! But take a look!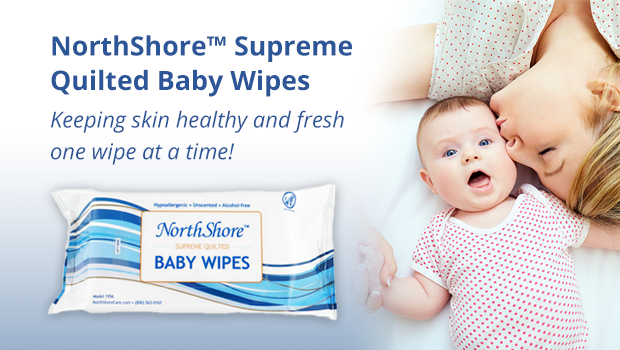 Look at that sweet baby! 🙂  North Shore Care Supply is a company located in Illinois that has baby and senior care products available with an autoship program to boot!
The ingredients in the wipes are:  Purified Water, Decyl Glucoside, Aloe Barbadensis (Aloe) Leaf Extract, Calendula Officinalis (Calendula) Extract, Propylene Glycol, Disodium EDTA, Polysorbate 20, Citric Acid, Phenoxyethanol .8%, Potassium Sorbate, Sodium Benzoate.  They are not flushable but are a nice size and are unscented. A nice plus!  Find out more about their wipes here (click).
I really like their disposable quilted changing pads.  They're a great size:  17″x24″.  We've got tons of friends with babies so I'm keeping these on hand for when they visit. They're great for diaper bags too and come in a zippered resealable pouch.
Best of all they have an 800 number and/or a live chat, to answer all your questions.  And if you live in the Northwest suburbs of Chicago, you can even pick up your orders directly!
I received complementary items in order to review them. All thoughts are my own and I was not required to leave a positive review.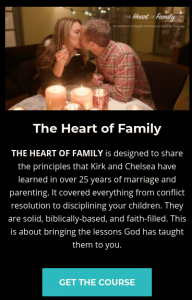 Wow.  I just finished the last of a six part online course on marriage and family put out by Kirk Cameron with his wife Chelsea.  They're incredibly open and honest and the resources they include with the course are helpful.
There are 6 videos, each about 20-30 minutes long with Kirk and Chelsea sitting in their kitchen and just sharing their hearts with very specific information to help you have a stronger, happier marriage as well as a solid, biblical relationship with your children as you are raising them.
This course is the first of many upcoming courses (the second one is called Engage which is on technology and I'm 2 lessons in and it's equally fabulous) that they'll be offering but I really want to recommend it.
Disclaimer:  This course (and all of his courses) are unashamedly Christian in focus.  The bible is central to each session and the basis for their advice so keep that in mind. So don't be surprised by it if you decide to purchase the course. You heard it here first!
Anyway, I wanted to pop over here and recommend it. I bought the course – I get nothing from them if you decide to purchase or anything like that. I just think it's a great thing!
Click here to check out the course for yourself!
Book Title: Lies Women Believe Study Guide
Author:  Nancy Demoss Wolgemuth
Amazon info:

Go deeper with the truths of the bestselling Lies Women Believe.

The Companion Guide for Lies Women Believe is made up of ten sessions and is designed for individuals and small groups.

Each chapter includes the following features:

In a Nutshell — gives you an overview of the chapter to be studied from Lies Women Believe and reminds you of the lies discussed within that chapter.

Exploring the Truth — offers a daily personal study for you to complete during the course of the week between your small group meetings. Each day's study includes a few pages to read from Lies Women Believe and then questions to answer under the subtitles "Realize," "Reflect," and "Respond."

Walking Together in the Truth — provides questions to be discussed when your small group meets.

This engaging workbook will make you and your friends think and wrestle with the Truth as you search the Bible for answers to tough issues. The Companion Guide for Lies Women Believe is ideal for small groups, Bible studies, and Sunday school classes.
My rating:  5 stars
My review:
I'm not usually a fan of Q&A study guides but this one is really good and a great companion to the book Lies Women Believe.  It's very bible centered in approach and practical application. It also includes great quotes from each section to remind you of the key points as you study.
Definitely recommended!
I received a copy of the study guide in exchange for an honest review. All thoughts are my own.
Book Title:  Lies Women Believe
Author:  Nancy DeMoss Wolgemuth
Publisher:  Moody Publishing
Amazon info:

Counter the lies that keep you from abundant living.

Satan is the master deceiver; his lies are endless. And the lies Christian women believe are at the root of most of their struggles.

"Many women live under a cloud of personal guilt and condemnation," says Nancy DeMoss Wolgemuth. "Many are in bondage to their past. Others are gripped by fear of rejection and a longing for approval. Still others are emotional prisoners."

In this bestseller, Lies Women Believe, Nancy exposes those areas of deception most commonly believed by Christian women—lies about God, sin, priorities, marriage and family, emotions, and more. She then sheds light on how we can be delivered from bondage and set free to walk in God's grace, forgiveness, and abundant life. Nancy offers the most effective weapon to counter and overcome Satan's deceptions: God's truth!
My rating: 5 stars
My review:
I read this book back when it came out almost 20 years ago. I liked it then. I like it even better now.  Nancy Wolgemuth has always been one that I've had great respect for because she's pretty unwavering in her commitment to keeping the bible as the central thing to any part of life she's discussing.  That's why when, prior to being married herself, she could give marriage advice to women… because she sticks to what the bible says and calls women to act accordingly.
That's the case here.  This updated version freshens the message only insomuch as is needed by the massive cultural shifts we've seen over these last years.  The message is the same. Sin trips us up like it has since the fall. The devil lies. We believe the lies and often act upon them. The word of God is clear about the truth. Walk in truth.
While I'm not a huge fan of the little vignettes of what Eve might have been thinking at the beginning of each chapter, even that serves to show us how this has been a problem for women since the day Eve ate the forbidden fruit and how each "lie" has it's foundation in original sin even if it might look differently for each person.
I really like that this book, and the accompanying study guide book are unashamed in their pointing out the truth of our tendency to excuse sin in our desire to live like the world.  We listen to satan's lies, dwell on them, start to believe them, do believe them, and then act on them.  But it doesn't have to be that way.  We need to replace the lies with truth.  That's where the rubber meets the road because sometimes we believe the lie that not doing something about it – our sin- is easier than dealing with it.
I started writing down specific quotes as I read but I soon realized that I'd pretty much be copying the entire book if I went that route so I stopped.  Thankfully the study guide has highlighted many of the key quotes in the book to aid in your study of the topics.
I highly recommend this book for all women and if possible as a group study with a family or church women's small group.  Thanks to Moody for sending a copy in exchange for a review. All thoughts are my own.
Book Title:  Great & Small Bible
Published by:  B&H Kids
Version:  Christian Standard Version
Amazon info:  All creatures great and small . . . the Lord God made them all!

This full-text Bible, complemented by delightful illustrations of great-and-small animal friends, makes the perfect gift to welcome babies. Two dozen full-color inserts offer plenty of space to record all of baby's special moments—from first measurements to first steps—creating a keepsake to always cherish.

Features include:

Complete text of the CSB (Christian Standard Bible)
24 pages of inserts with full-color illustrations
Easy-to-read type
Words of Christ in red
Presentation page
Gift box

Part of what makes the Great and Small Bible so special is the readable, faithful-to-the-original text of the Christian Standard Bible. The CSB's optimal blend of accuracy and readability makes it a trustworthy, easy-to-understand resource for kids to study and memorize today—and to live and share for a lifetime.
My rating: 5 stars
My review:
This is such a wonderful baby bible and keepsake book in one.  I absolutely love that this is a full text bible (the Christian Standard Bible – a wonderful translation) and not just a story bible.  If you are a Christian, you should be encouraging your little ones to carry their own bible to church (yes – even if other people don't!) and the easiest way to do it is to start VERY young!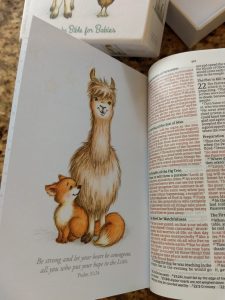 The illustrations throughout this are adorable and sweet.  They're just animals – no compromise with illustrations of someone's imagining of Jesus or anything.  Also included in the extras is what makes this bible even more unique. It doubles as a baby keepsake book with places to write down milestones as well as thoughts from the parents, etc.  It's really great.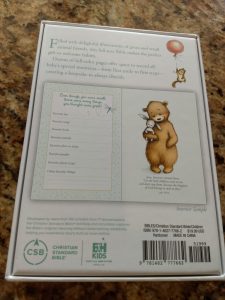 I really like it so much that I want to carry it myself. I like the translation and it's a great size to have.  Plus I just think these little guys are so sweet!
If you're looking for a baby gift, this is the bible to get!
Many thanks to BH/Lifeway for the opportunity to review this bible.  I was not compensated for this review but did receive a complimentary copy of the book in order to review it. All thoughts are my own.
Author:  Dave Furman
Publisher: Crossway
Amazon info:

"I have learned to kiss the wave that throws me against the Rock of Ages."

What does it mean to "kiss the wave?" These words, attributed to nineteenth-century British preacher Charles Spurgeon, speak to the Christian's only hope for perseverance in suffering. What if we can learn to experience the nearness of God in the midst of suffering? What if God intends to work through our trials rather than simply take them away?

After living for more than a decade with a debilitating nerve condition in both arms, Dave Furman shows us that God, in his grace, always designs trials for our good—not minimizing the pain, but infusing significance into our suffering. Furman demonstrates that, even when tossed to and fro by stormy waves, God is near . . . and that makes all the difference in the world.

Acknowledgments
Introduction

He Can Surf Any Wave
He Is Our Refuge
The Ultimate Rescue Mission
The Greatest Exchange in All of History
God Is Not Dead
Look, I Am Your Father
He Really Knows Every Hair on Your Head
The Waves Have a Glorious Purpose
Weakness Is Always the Way
You Are a Part of Christ's Body
The Wave Maker Will Carry You to Shore
Extreme Makeover
Heaven Is for Real

Conclusion
Appendix: Recommended Resources
Notes
General Index
Scripture Index
My rating: 5 stars
My review:
It's not often that I choose to sit with pen and paper as I read a book – especially when I'm reading it on my Kindle.  This book, however, was one where pen and paper seemed necessary.  While I could just highlight as I found snippets of applicable texts for my life (or the life of some of my friends), writing things down with pen and paper really help me to "own" it.  And I wanted to own some of this – much of this – most of this.
Interestingly, in our Sunday School class this past month we watched a missionary video series and Dave Furman and his family were one of the missionaries highlighted one week.  Their work in Dubai is great and it was sobering to see the reality of his pain and how his debilitating nerve condition doesn't stop him – doesn't stop them – from spreading the gospel there.
But this book goes beyond Furman sharing his own struggles and how God's word is sufficient for him in his suffering.  It's full of gospel encouragement and biblical focus for ALL of us who have our own struggles.  I wish I could just type up all my notes as I've gone along from chapter to chapter. Maybe I will. Suffice it to say that each chapter is full of God's word centered truth that applies to every and all situations.
I've already suggested it to several friends who are going through major struggles in life right now – one in particular who feels that this life is basically hopeless.  I pray she'll read this book not because the book can save her but because it speaks of and points to the One who already has.
This book is highly recommended.  Get it!
Many thanks to Crossway for giving me an ebook to review. All thoughts are my own and I was in no way compensated nor was I required to leave a positive review.
Book Title: Sex in a Broken World
Author: Paul David Tripp
Publisher: Crossway
Amazon info:

We live in a deeply broken world . . . but there is hope.

Sexuality is a fundamental part of what it means to be human—part of God's beautiful design when he created all things. And yet, sex in our world today looks nothing like the way that God intended it to be. Sexual brokenness surrounds us and, in one way or another, affects us all.

This sexual brokenness reveals our deep need for redemption—something quick fixes, mere behavior modification, or a set of rules can't provide. Honest and direct yet kind and caring, this book points us to the only place we can find help for sexual brokenness—the transforming grace of Jesus Christ. Only this grace offers hope for a life of freedom, purity, and joy as God intended.
My rating: 4 stars
My review:
Honestly, I think the title of this book could be: Sin in a Broken World. So much of what Tripp says here is pretty global and I guess that's true when your focus is on the gospel and how it applies to life in general.
It's a solid read. This book is full of gospel and full of pointing you to Christ in the midst of a whacked out world with regard to this topic. And even if you don't see this world as broken with regard to sex,  you'll get great insight into any sin with with you struggle.
Definitely recommended.
I received a copy of this book from the publisher. All thoughts are my own.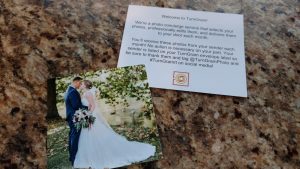 I just got my first Turngram in the mail!  Such a cool idea!

Here's how it works – it's so simple! You tell turngram your instagram account and give them a little information on which types pictures you'd like to get in the mail every month (or send to someone else).  Turngram personally takes a look through your posts, chooses the photo for the month (or photos if you want more than one), professionally edits is to make it fabulous, and then sends it on automatically to the address you put in your account.
So some examples:
 A young couple has just had their first baby but now lives pretty far away from their parents and the new baby's grandparents.  Every month, grandma/grandpa goes to the mailbox and gets an envelope with one or more pictures of the baby that they can frame or put in a little album to share with friends.  The couple only had to set up the account and the rest is done automatically.
A college student is doing a semester abroad and posting her photos on Instagram for friends and family to see.  But mom back at home not only can view the instagram account but every month she gets a gorgeous photo of her daughter at historic locations.
A wedding photographer has an instagram account to share some of her sneak peek photos of weddings that she's shooting.  Every month she gets a print photo in the mail to add to her portfolio to show to future brides and their families.
A new dad works a busy job to provide for his family and isn't able to see much of his new daughter during this season because she's often asleep when he gets home.  Every month he receives a lovely photo of his precious baby that he can frame and keep on his desk to keep her top of mind and watch her grow up a bit.
so much more!
It's really a great idea!  You can get your first 30 days of TurnGram for free when you go to TurnGram.com.
Many thanks to USFamilyGuide for the sample TurnGram account so I could try the service for this review!  I'm eager to get my next one. All thoughts are my own.