I was a little skeptical. I've never done or seen a "color run" but I know many of my daughters' friends have done them and loved it. Just seemed like a big mess to me but, whatever. To each his/her own.
But then I heard about Just Add Color.  The lights went on and I thought – YES!  For this former birthday party organizer and entertainer, this seemed like the perfect idea!  And it is.
Just Add Color was the brainchild of a creative dad who took his experience with the product back to where it's the most fun. HOME!    And it's excellent!
When you order your Just Add Color party pack, you get TONS of color dust.  It's a LOT!  So you can do all kinds of different activities with it and still have more for another party. Seriously!  This is awesome, you guys!
The party pack comes with a fabulous idea book and if you need more ideas, Ryan is keeping a list and is happy to share the other fun ideas he and other customers have.  The possibilities are endless and that's why having ALL THAT COLOR in your party pack is so tremendous. After your first party you'll WANT to have another… and another!
Ok, so take a look at how it works:
Check out what you get in your party pack… I'm telling you it's a TON!
5 lbs of Purple powder
5 lbs of Pink powder
5 lbs of Blue powder
A booklet/guide for ideas of how to use the powder for your party – so many great ideas!
3 bottle "paintbrushes" – awesome!
PLUS Free shipping if you get the pack.
If you get some old stockings or socks, you can put the powder in there and play tag or any number of games.  Add the powder to plain shaving cream
(the cheap stuff is best) and use paintbrushes
to paint garage doors, etc., or for an indoor party, use it as finger paint.
In the summertime combine it with a splash party and get clean up included!
Now that we did our multi-generational Thanksgiving with the kit, my 20-something kids and their friends are dreaming up all kinds of ways to have an at-home powder fun event.  Watch here for more to come!
Ready to have your own party?
I received a party pack in exchange for an honest review. All thoughts are my own.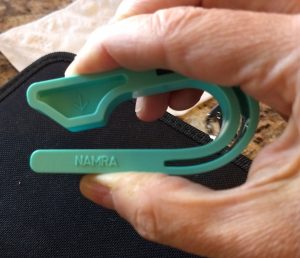 When I see new moms out and about with their kiddos in car seats, carrying scarves, etc., I'm often quick to quip: "Back in my day they didn't have…" And here I go again. 🙂
A car seat key
. Who knew?  I have several friends who still have babies in car seats and they are going to LOVE this tool.  A few of them experience carpal tunnel symptoms (musicians), and some of them just love doing the manicure thing and realize that just pushing that little button sometimes is impossible with those long, glorious nails.  So this is it…
Introducing The Car Seat Key. This is the greatest little tool you never thought you needed – until you hear about it. It's just so simple it's hard to even go beyond this video to show you:
Seriously. It's that simple. It comes with a hook to keep it on your key ring or hook it to your diaper bag. You can undo the buckle one handed or two.  If you want to give your child a bit of independence as they grow older, you can pass it back to them so they can get themselves out of their seat (but only with the key… brilliant!)
Let me know what you think?  I'm keeping one in my "when the grandkids come" stash and giving the other one away to a mom I know who broke her wrist last week. Perfect!
Buy The Car Seat Key online on their site (discounts for ordering several in one order)
Buy The Car Seat Key on Amazon
I received this product in exchange for an honest review. All thoughts are my own.
Book Title:  Winnie: The Early Years – Horse Gentler in Training.
Author:  Dandi Daley Mackall
Publisher: Tyndale
Amazon Info:

Now younger readers can saddle up and join Winnie and her family at the Willis Wyoming Ranch!
Winnie is the star of the bestselling Winnie the Horse Gentler series that sold more than half a million copies and taught kids around the world about faith, kindness, and horse training. Winnie could ride horses before she could walk, but training them is another story. In this new series, eight-year-old Winnie learns the fine art of horse gentling from her horse wrangler mom as they work together to save the family ranch.

When Winnie's snobby classmate threatens to stop boarding his champion thoroughbred Princess at the Willis family ranch, Winnie has to come up with a tricky solution to convince him to let her stay. She learns that with God, all things are possible!
My rating:  4 stars
My review:
This is a sweet book. It's a fun little read aloud for younger kids (4-8 year olds) who are just getting into more chapter books rather than picture books. The story is simple but sweet and it's very easy to read.
I'm eager to give this one to a young friend that I love that enjoys horses because I know she'll love it too.
Now, that said, I'm much more of a fan of "richer" literature type books even for little ones.  So while this is very sweet, the writing is a bit too simplistic even for littles.
But, I'd still recommend it. It's a clean book, with real life challenges that won't be overwhelming to little hearts.
I received a copy of this book in exchange for an honest review. All thoughts are my own.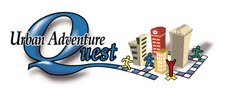 If you're looking for a great idea for a family adventure in the city, look no further!
Enter Urban Adventure Quest.  A smart phone guided tour, you and your family will walk through your city, find clues, solve riddles, and enjoy time together!  Win win!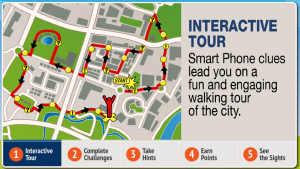 You can do it competitively – comparing your score with others who have quested before you – or just for fun. One person gets the clues and is responsible for answering the riddles and challenges but others can be in "read only" mode as well so you're not needing to hover over one small phone the whole time.
Have trouble with one of the challenges? No worries! There are hints that you can choose to reveal if you find yourself stuck.
It's a great way to find out about various locations in your city too with interesting facts and tidbits at each stop. Such a great idea! After you purchase you can complete your quest any time that works for your family (during daylight hours of course).
Give it a try! You can even see a demo on their website (click here) to see if it's something your family would enjoy!
My readers save 20%- Only $39.20 for a team of 2-5 people after Promotion Code: FGBLOG. Sign up online at www.UrbanAdventureQuest.com.
I received a free trial quest in exchange for an honest review. All thoughts are my own.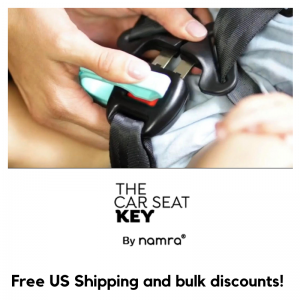 The Car Seat Key Do you struggle unbuckling that red button on your child's car seat? Well we have the solution.
The Car Seat Key is an amazing tool you can use in your day to day life. It allows you to press in that dreaded red car seat button with ease and release your child from their car seat without suffering from aching hands or broken nails.
Simply slide it over the buckle and with slight pressure VOILA its opened! We have tested our product on every car seat on the market and it has worked with ease!
Free US Shipping and Bulk Discounts – Save with The Car Seat Key.
Buy (2) Save $4.00 Buy (3) Save $9.00 Buy (4) Save $14.00 Buy (5) Save $19.00 Discount is automatically applied at checkout!
https://www.usfamilycoupons.com/coupon.php?regionid=75&bid=13743&dealid=3656 .@usfg
Book: Calm, Cool, and Connected Author: Arlene Pellicane (with Gary Chapman) Published by: Moody Publishers Amazon Review Rating (as of 1/30/18) 4.7 stars with 47 reviews
Amazon Info: For those feeling overloaded with technology… Let's face it: most of us are on our phones or computers way more than we'd like to be, and more than what's even beneficial. We know that overuse of technology is harmful to our health and relationships, but how can we rewire our digital habits for a healthier life? In Calm, Cool, and Connected, Arlene Pellicane will walk you through an easy 5-step plan that will help you center your life on Jesus and love others by decluttering your screen time. By introducing a few easy habits into your daily routine, you can transform your relationship with technology and enjoy more time with God and others. It's easy to become consumed and preoccupied with our devices. In turn, we begin to suppress or ignore what's most important, focusing instead on the urgent and sensational. Let this book guide you toward balanced technology use, and thus a more balanced life.
My rating: 5 stars My review: I really enjoyed this quick, easy read. I had heard Pellicane on the radio when I was driving and she was talking about this book. I found myself wishing I could pull over and take notes, but now I don't have to! Pellicane's writing style is conversational and enjoyable. Her tips are not earth shattering but because of how she's decided to lay out the book following the acronym H.A.B.I.T., one can easily keep the tips she gives top of mind. H – Hold Down The Off Button A – Always Put People First B – Brush Daily and Live With A Clean Conscience I – I Will Go Online With Purpose T – Take A Hike Even before I read the book or heard the author, I was trying to reduce my addiction to my phone – and using many of these tips. It's not an easy habit to break especially with everyone around us living with the same "acceptable addiction". nike kwazi I think the hardest one for me still is "I Will Go Online With Purpose" . nike air max femme Actually I would say it's I will STAY online only if there's still purpose. I can go grab my phone or my laptop with a specific task in mind but inevitably I'll find myself later – sometimes MUCH later – STILL online after following a bunch of ZERO purpose bunny trails and random surfing. Ugh! The "T" for Take A Hike should include – WITHOUT your phone. Fjallraven Kanken People will live without you for an hour and even if something happens along your walk route, you can be pretty confident (unless you're walking in some remote area) that someone will be around with a phone to help if you need it. nike air max tavas Anyway, this book is a great resource. Fjallraven Kanken NO.2 It's inexpensive, fast to read, and one that you can leave out in the water closet or on the coffee table for perusing after you've read it. Buy the book on Amazon (click here) I received a copy of this book in exchange for an honest review.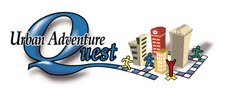 I really love this idea. Great for a homeschool adventure or small group or family fun! Turn your city into a giant game board with this fun scavenger hunt adventure. Combine the excitement of the Amazing Race with a three-hour city tour. Guided from any smart phone, teams make their way among well known and overlooked gems of the city, solving clues and completing challenges while learning local history.  Play anytime during daylight hours.  Start when you want and play at your pace. Great Family Fun. Save 20%- Only $39.20 for a team of 2-5 people after Promotion Code: FGBLOG.
Book Title: Great & Small Bible Published by: B&H Kids Version: Christian Standard Version
Amazon info: All creatures great and small . Fjallraven Kanken Sale UK . . the Lord God made them all! This full-text Bible, complemented by delightful illustrations of great-and-small animal friends, makes the perfect gift to welcome babies. Fjallraven Kanken Classic Backpack Two dozen full-color inserts offer plenty of space to record all of baby's special moments—from first measurements to first steps—creating a keepsake to always cherish. Features include:

Complete text of the CSB (Christian Standard Bible)
24 pages of inserts with full-color illustrations
Easy-to-read type
Words of Christ in red
Presentation page
Gift box

Part of what makes the Great and Small Bible so special is the readable, faithful-to-the-original text of the Christian Standard Bible. basket nike tn The CSB's optimal blend of accuracy and readability makes it a trustworthy, easy-to-understand resource for kids to study and memorize today—and to live and share for a lifetime.
My rating: 5 stars My review: This is such a wonderful baby bible and keepsake book in one. cheap fjallraven kanken Backpack I absolutely love that this is a full text bible (the Christian Standard Bible – a wonderful translation) and not just a story bible. nike air tn If you are a Christian, you should be encouraging your little ones to carry their own bible to church (yes – even if other people don't!) and the easiest way to do it is to start VERY young!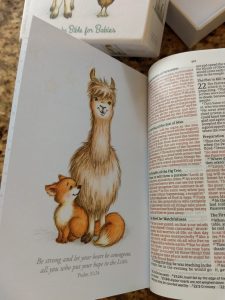 The illustrations throughout this are adorable and sweet. They're just animals – no compromise with illustrations of someone's imagining of Jesus or anything. Mochilas Fjallraven Kanken Infantil Also included in the extras is what makes this bible even more unique. It doubles as a baby keepsake book with places to write down milestones as well as thoughts from the parents, etc. It's really great.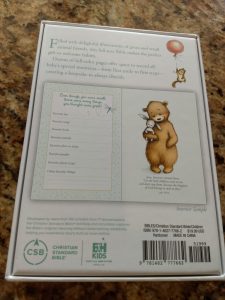 I really like it so much that I want to carry it myself. I like the translation and it's a great size to have. Comprar mochilas kanken Plus I just think these little guys are so sweet! If you're looking for a baby gift, this is the bible to get! Many thanks to BH/Lifeway for the opportunity to review this bible. I was not compensated for this review but did receive a complimentary copy of the book in order to review it.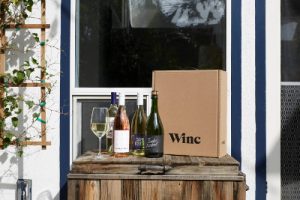 The idea of a wine club has always been intriguing to me.  We don't, however, drink a lot of wine (although I use it in cooking a lot!) but it's nice to have a few selections on hand when there are guests, for special occasions, and to give as hostess gifts when we go to friends' homes for dinner or an evening gathering.
So I was happy to give Winc a try.  Here's what I'm looking forward to:
$22 Off Your First Month of Winc Wine – Winc offers 4 personalized wines each month. Bottles start at $13 each. Winc is not your traditional wine club: we are a direct-distribution global wine company that personalizes the entire wine experience.

We are perfecting how wine is made, distributed, perceived and purchased via our Palate Profile quiz that recommends wine based on your unique tastes and I'll add enjoyed on behalf of a new generation of wine drinkers. It takes the hassle and guesswork out of picking a bottle from your local liquor store and delivers the perfect bottle directly to your doorstep.

We do all this as part of our quest to improve the experience for consumers, create a platform for artisanal winemaking, and build a grape-to-glass supply chain that's sustainable for the planet. No more intimidating language and steep price points, and more joy in the act of sharing a bottle.
So…there you have it. Give Winc a try and check back here for a follow up on what I think of it!
My Readers Save $22 Off Your First Month of Winc go to: www.trywinc.com/usfamilyguide
I was not compensated for this post but will be receiving a trial of this club in exchange for this promo and review.  All thoughts are my own.
This is another great family board game, nike chaussures probably more suited to a little older kids with parents.