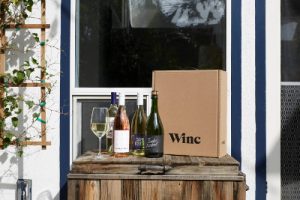 So as I said in my original post, I was eager to give WINC a try since the idea of a monthly wine club – especially for those who drink wine fairly regularly – makes a whole lot of sense to me.  The key, of course, is to make sure that
The wines are good quality and
You get to choose based on your likes and dislikes each month.
Winc has that all covered with their online wine club.  You get 4 wines delivered to you each month with each bottle at $13 or more.  You fill out your personalized Palate Profile quiz and get recommendations, but you can swap out each month too.  We got a nice variety of wines and I went out on a limb a bit outside my palate suggestions to get some that others that I know might enjoy.
And enjoy they did!  So far we've really liked the wine we've tasted from WINC and I look forward to giving away a bottle or two next to some friends who know their wine.
I love that this company is working around the globe with wine artisans to make their distribution unique and sustainable and help the "little guy" who is making excellent wine.
Give them a try. My readers save $22 off the first month when they click here.  Or type in: www.trywinc.com/usfamilyguide
Let me know what you think when you get your first shipment!  I'd love to hear!
I received a sampling of wine bottles in exchange for this honest review.  I was not required to give a positive review, nor was I compensated financially for this post.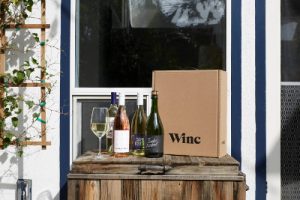 The idea of a wine club has always been intriguing to me.  We don't, however, drink a lot of wine (although I use it in cooking a lot!) but it's nice to have a few selections on hand when there are guests, for special occasions, and to give as hostess gifts when we go to friends' homes for dinner or an evening gathering.
So I was happy to give Winc a try.  Here's what I'm looking forward to:
$22 Off Your First Month of Winc Wine – Winc offers 4 personalized wines each month. Bottles start at $13 each. Winc is not your traditional wine club: we are a direct-distribution global wine company that personalizes the entire wine experience.

We are perfecting how wine is made, distributed, perceived and purchased via our Palate Profile quiz that recommends wine based on your unique tastes and I'll add enjoyed on behalf of a new generation of wine drinkers. It takes the hassle and guesswork out of picking a bottle from your local liquor store and delivers the perfect bottle directly to your doorstep.

We do all this as part of our quest to improve the experience for consumers, create a platform for artisanal winemaking, and build a grape-to-glass supply chain that's sustainable for the planet. No more intimidating language and steep price points, and more joy in the act of sharing a bottle.
So…there you have it. Give Winc a try and check back here for a follow up on what I think of it!
My Readers Save $22 Off Your First Month of Winc go to: www.trywinc.com/usfamilyguide
I was not compensated for this post but will be receiving a trial of this club in exchange for this promo and review.  All thoughts are my own.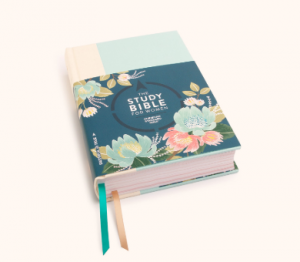 Book Title:  Woman's Study Bible
Published by: Holman Bibles
Amazon info: The most comprehensive study Bible ever prepared for women and by women, the CSB Study Bible for Women invites you to explore the riches of God's Word. Follow God's grand story across the Bible, guided by threads of specialized study that explain essential doctrines, answer hard questions, discuss biblical womanhood, and apply truth to our hearts and lives.

The CSB Study Bible for Women is edited by Dr. Dorothy Kelley Patterson and Dr. Rhonda Harrington Kelley, both long-time women's ministry leaders, authors and seminary professors at two of the nation's most respected seminaries. As you learn from these women extensively educated in Biblical studies and languages and passionate about God's Word, you will be equipped in turn to mentor others in the truth and hope found in Scripture.

Features include:

6,490 extensive study notes
Over 500 word studies, 25 full-color maps and reconstructions, and 95 charts
Introductions to each book of the Bible
A comprehensive concordance including every woman and reference to women in the Bible
Threads of specialized study woven throughout, pointing to God's larger story:

Biblical Womanhood articles
Answers to "Hard Questions"
Character profiles
Doctrinal notes
"Written on My Heart" applications

Smyth-sewn binding
Two-column text in 9.25-point type

The CSB Study Bible for Women features the highly readable, highly reliable text of the Christian Standard Bible (CSB). The CSB stays as literal as possible to the Bible's original meaning without sacrificing clarity, making it easier to engage with Scripture's life-transforming message and to share it with others.
My rating: 4.5 stars
My review:
I wasn't expecting much. At all.  Usually "women's" bibles are low on meat and high on fluff and … coloring. Always lots of coloring pages.
Anyway, feminine it is and when I say it's intentional, it's because this bible is unashamed in it's biblical stand on women and their roles.  It's beautiful.  This bible highlights women of note throughout the text and maintains a complementarian focus while still valuing women as fierce students of God's Word.
And look – each summary page of each book of the bible has a bottom border with a timeline.  What a fabulous addition to a bible!
(Can you tell I really like this?)
The little touches of this bible are well thought out and helpful to individual and group study.  I also like how the maps aren't just thrown into the back pages but scattered throughout the bible where they might aid that particular section of the bible:
Before the actual text of the bible there are a couple of essays by the editors, one of which is on how to study the bible: which encourages verse by verse exegesis, the importance of studying the WHOLE bible (not just the New Testament), and even rules for hermeneutics.   Good stuff!
So yep, get this bible if you're ready for a new one!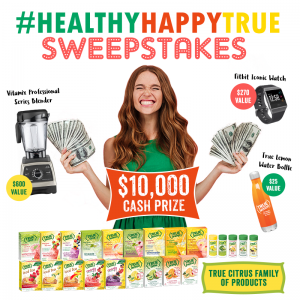 True Citrus – Be Healthy, Be Happy, Be True Sweepstakes
The #HealthyHappyTrue Sweepstakes was created by True Citrus to celebrate how people live their healthiest, happiest and truest life possible.
Entering provides the chance to win a grand prize including a $10,000 cash prize, a Vitamix Professional Series Blender ($600 value), Fitbit watch ($200 value), a True Lemon thermal water bottle and a sampling of all True Citrus products.
To enter the sweepstakes and for details on how to increase chances of winning, visit www.truelemon.com/be-healthy-be-happy-be-true-sweepstakes through June 15.
ENTER HERE: https://www.truelemon.com/be-healthy-be-happy-be-true-sweepstakes/
Interested in trying True Citrus for yourself? Save 40% on your order at www.truelemonstore.com by entering the code TRUEFAMILY40US at checkout.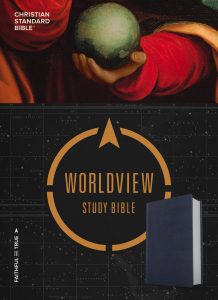 Title: The Worldview Study Bible
Author:  God
Contributors:  David S. Dockery, Trevin K. Wax and others
Published by: Lifeway
Amazon info: The CSB Worldview Study Bible features extensive worldview study notes and articles by notable Christian scholars to help Christians better understand the grand narrative and flow of Scripture within the biblical framework from which we are called to view reality and make sense of life and the world. Guided by general editors David S. Dockery and Trevin K. Wax, this Bible is an invaluable resource and study tool that will help you to discuss, defend, and clearly share with others the truth, hope, and practical compatibility of Christianity in everyday life.

Features include:

Over 5,900 extensive worldview study notes
Over 130 articles written by more than 120 notable Christian scholars
Center-column references
Smyth-sewn binding
Presentation page
Two ribbon markers
Two-piece gift box

General Editors: David S. Dockery and Trevin Wax

Associate Editors:  Constantine R. Campbell, E. Ray Clendenen, Eric J. Tully

Contributors include: David S. Dockery, Trevin K. Wax, Ray Van Neste, Kevin Chen, John Stonestreet, Ted Cabal, Darrell L. Bock, Mary J. Sharp, Carl R. Trueman, Bruce Riley Ashford, R. Albert Mohler Jr., William A. Dembski, Preben Vang, David K. Naugle, Jennifer A. Marshall, Aida Besancon Spencer, Paul Copan, Robert Smith Jr., Douglas Groothuis, Russell D. Moore, Mark A. Noll, Timothy George, Carla D. Sanderson, Kevin Smith, Gregory B. Forster, Choon Sam Fong, and more.

The CSB Worldview Study Bible features the highly readable, highly reliable text of the Christian Standard Bible (CSB). The CSB stays as literal as possible to the Bible's original meaning without sacrificing clarity, making it easier to engage with Scripture's life-transforming message and to share it with others.
My Rating: 5 stars
My Review:
This is a substantial bible.  It's heavy, large and includes over 50 essays and articles to accompany the biblical text on topics like:
The Crisis of the Christian Mind
A Biblical View of History
A Biblical Basis for Science
Personal Finances
A Biblical View of Music
Grace Filled Leadership
and more from over 70 different contributors.  This thing is meaty!
I like the Christian Standard Bible (formerly HCSB) as a very readable but still quality translation and the layout with the essays interspersed between the bible text is nice.  The commentary along the bottom is not extensive but seems pretty solid from what I've read so far.
This is another one of those bibles that just feels good in your hand. The "Leathertouch" is nice in a deep navy color. This would make a great gift bible for Father's day!
Overall it's highly recommended.
I received this in exchange for an honest review. All thoughts are my own and I was not compensated nor was I required to leave a positive review.
This is another great family board game, probably more suited to a little older kids with parents.  Team strategy (this is a cooperative game so everyone wins) and just overall great fun!  We really like this one!
On sale today 4/23/2018 for a great deal!
Walk through any WalMart or Target baby section and you'll see a whole wall or more of options for diaper wipes and pads.  So here I am throwing out another option for you! But take a look!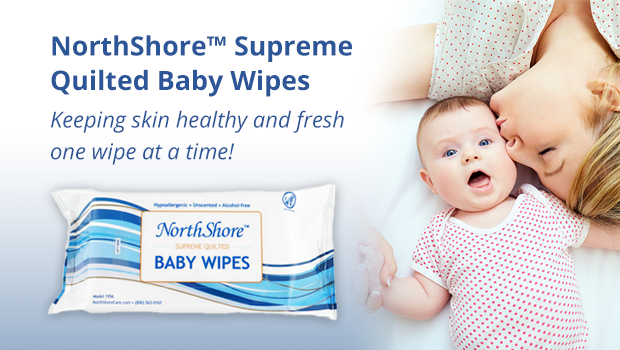 Look at that sweet baby! 🙂  North Shore Care Supply is a company located in Illinois that has baby and senior care products available with an autoship program to boot!
The ingredients in the wipes are:  Purified Water, Decyl Glucoside, Aloe Barbadensis (Aloe) Leaf Extract, Calendula Officinalis (Calendula) Extract, Propylene Glycol, Disodium EDTA, Polysorbate 20, Citric Acid, Phenoxyethanol .8%, Potassium Sorbate, Sodium Benzoate.  They are not flushable but are a nice size and are unscented. A nice plus!  Find out more about their wipes here (click).
I really like their disposable quilted changing pads.  They're a great size:  17″x24″.  We've got tons of friends with babies so I'm keeping these on hand for when they visit. They're great for diaper bags too and come in a zippered resealable pouch.
Best of all they have an 800 number and/or a live chat, to answer all your questions.  And if you live in the Northwest suburbs of Chicago, you can even pick up your orders directly!
And a special for my readers:  Save 20% Off NorthShore Supreme Quilted Baby Wipes through June 30, 2018 – use code NBW20 at https://bit.ly/2vHGktV

Promo Code: NBW20
I received complementary items in order to review them. All thoughts are my own and I was not required to leave a positive review.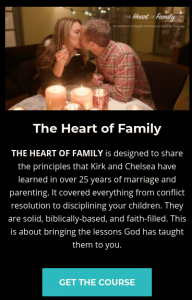 Wow.  I just finished the last of a six part online course on marriage and family put out by Kirk Cameron with his wife Chelsea.  They're incredibly open and honest and the resources they include with the course are helpful.
There are 6 videos, each about 20-30 minutes long with Kirk and Chelsea sitting in their kitchen and just sharing their hearts with very specific information to help you have a stronger, happier marriage as well as a solid, biblical relationship with your children as you are raising them.
This course is the first of many upcoming courses (the second one is called Engage which is on technology and I'm 2 lessons in and it's equally fabulous) that they'll be offering but I really want to recommend it.
Disclaimer:  This course (and all of his courses) are unashamedly Christian in focus.  The bible is central to each session and the basis for their advice so keep that in mind. So don't be surprised by it if you decide to purchase the course. You heard it here first!
Anyway, I wanted to pop over here and recommend it. I bought the course – I get nothing from them if you decide to purchase or anything like that. I just think it's a great thing!
Click here to check out the course for yourself!
Book Title: Lies Women Believe Study Guide
Author:  Nancy Demoss Wolgemuth
Amazon info:

Go deeper with the truths of the bestselling Lies Women Believe.

The Companion Guide for Lies Women Believe is made up of ten sessions and is designed for individuals and small groups.

Each chapter includes the following features:

In a Nutshell — gives you an overview of the chapter to be studied from Lies Women Believe and reminds you of the lies discussed within that chapter.

Exploring the Truth — offers a daily personal study for you to complete during the course of the week between your small group meetings. Each day's study includes a few pages to read from Lies Women Believe and then questions to answer under the subtitles "Realize," "Reflect," and "Respond."

Walking Together in the Truth — provides questions to be discussed when your small group meets.

This engaging workbook will make you and your friends think and wrestle with the Truth as you search the Bible for answers to tough issues. The Companion Guide for Lies Women Believe is ideal for small groups, Bible studies, and Sunday school classes.
My rating:  5 stars
My review:
I'm not usually a fan of Q&A study guides but this one is really good and a great companion to the book Lies Women Believe.  It's very bible centered in approach and practical application. It also includes great quotes from each section to remind you of the key points as you study.
Definitely recommended!
I received a copy of the study guide in exchange for an honest review. All thoughts are my own.