Book: Calm, Cool, and Connected Author: Arlene Pellicane (with Gary Chapman) Published by: Moody Publishers Amazon Review Rating (as of 1/30/18) 4.7 stars with 47 reviews
Amazon Info: For those feeling overloaded with technology… Let's face it: most of us are on our phones or computers way more than we'd like to be, and more than what's even beneficial. We know that overuse of technology is harmful to our health and relationships, but how can we rewire our digital habits for a healthier life? In Calm, Cool, and Connected, Arlene Pellicane will walk you through an easy 5-step plan that will help you center your life on Jesus and love others by decluttering your screen time. By introducing a few easy habits into your daily routine, you can transform your relationship with technology and enjoy more time with God and others. It's easy to become consumed and preoccupied with our devices. In turn, we begin to suppress or ignore what's most important, focusing instead on the urgent and sensational. Let this book guide you toward balanced technology use, and thus a more balanced life.
My rating: 5 stars My review: I really enjoyed this quick, easy read. I had heard Pellicane on the radio when I was driving and she was talking about this book. I found myself wishing I could pull over and take notes, but now I don't have to! Pellicane's writing style is conversational and enjoyable. Her tips are not earth shattering but because of how she's decided to lay out the book following the acronym H.A.B.I.T., one can easily keep the tips she gives top of mind. H – Hold Down The Off Button A – Always Put People First B – Brush Daily and Live With A Clean Conscience I – I Will Go Online With Purpose T – Take A Hike Even before I read the book or heard the author, I was trying to reduce my addiction to my phone – and using many of these tips. It's not an easy habit to break especially with everyone around us living with the same "acceptable addiction". nike kwazi I think the hardest one for me still is "I Will Go Online With Purpose" . nike air max femme Actually I would say it's I will STAY online only if there's still purpose. I can go grab my phone or my laptop with a specific task in mind but inevitably I'll find myself later – sometimes MUCH later – STILL online after following a bunch of ZERO purpose bunny trails and random surfing. Ugh! The "T" for Take A Hike should include – WITHOUT your phone. Fjallraven Kanken People will live without you for an hour and even if something happens along your walk route, you can be pretty confident (unless you're walking in some remote area) that someone will be around with a phone to help if you need it. nike air max tavas Anyway, this book is a great resource. Fjallraven Kanken NO.2 It's inexpensive, fast to read, and one that you can leave out in the water closet or on the coffee table for perusing after you've read it. Buy the book on Amazon (click here) I received a copy of this book in exchange for an honest review.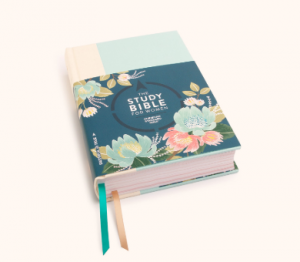 Book Title: Woman's Study Bible Published by: Holman Bibles
Amazon info: The most comprehensive study Bible ever prepared for women and by women, the CSB Study Bible for Women invites you to explore the riches of God's Word. Fjallraven Kanken Backpack Follow God's grand story across the Bible, guided by threads of specialized study that explain essential doctrines, answer hard questions, discuss biblical womanhood, and apply truth to our hearts and lives. The CSB Study Bible for Women is edited by Dr. Dorothy Kelley Patterson and Dr. Rhonda Harrington Kelley, both long-time women's ministry leaders, authors and seminary professors at two of the nation's most respected seminaries. As you learn from these women extensively educated in Biblical studies and languages and passionate about God's Word, you will be equipped in turn to mentor others in the truth and hope found in Scripture. Features include:

6,490 extensive study notes
Over 500 word studies, 25 full-color maps and reconstructions, and 95 charts
Introductions to each book of the Bible
A comprehensive concordance including every woman and reference to women in the Bible
Threads of specialized study woven throughout, pointing to God's larger story:

Biblical Womanhood articles
Answers to "Hard Questions"
Character profiles
Doctrinal notes
"Written on My Heart" applications

Smyth-sewn binding
Two-column text in 9.25-point type

The CSB Study Bible for Women features the highly readable, highly reliable text of the Christian Standard Bible (CSB). The CSB stays as literal as possible to the Bible's original meaning without sacrificing clarity, making it easier to engage with Scripture's life-transforming message and to share it with others.
My rating: 4.5 stars
My review:
I wasn't expecting much. At all. Usually "women's" bibles are low on meat and high on fluff and … coloring. Always lots of coloring pages.
This is definitely an exception. But before I dive into the "meat", Let me just say that this bible is downright pretty and feminine.
Fjallraven Kanken Classic Sale
And it's intentionally so. The mint and sand hardback cover is very nice and I don't want to take off the dust jacket because it's just so lovely.
nike air max 2015
The
leather touch bible
is even more gorgeous (but also more expensive!)
Anyway, feminine it is and when I say it's intentional, it's because this bible is unashamed in it's biblical stand on women and their roles. It's beautiful.
nike air max pas cher
This bible highlights women of note throughout the text and maintains a complementarian focus while still valuing women as fierce students of God's Word.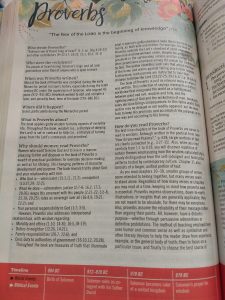 The summary of each book of the bible is pretty comprehensive but not overpowering so you can fly over the book but then jump right in to the text. And each summary page has that gorgeous flower top border.
And look – each summary page of each book of the bible has a bottom border with a timeline. What a fabulous addition to a bible!
(Can you tell I really like this?)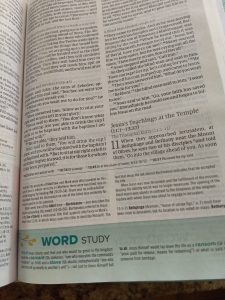 There are callout sections with short paragraphs explaining certain doctrines as well as highlighting women of the text.
Comprar mochilas kanken
And another bottom border highlight is a small Word Study section.
The little touches of this bible are well thought out and helpful to individual and group study.
nike femme
I also like how the maps aren't just thrown into the back pages but scattered throughout the bible where they might aid that particular section of the bible: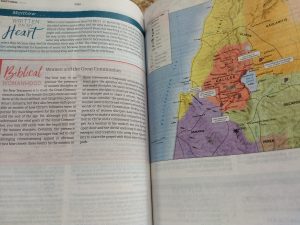 Before the actual text of the bible there are a couple of essays by the editors, one of which is on how to study the bible: which encourages verse by verse exegesis, the importance of studying the WHOLE bible (not just the New Testament), and even rules for hermeneutics. Good stuff!
So yep, get this bible if you're ready for a new one!
Many thanks to Lifeway/BH Publishing Group for sending me a copy of this bible for review.
Book Title: Lies Women Believe Study Guide Author: Nancy Demoss Wolgemuth
Amazon info: Go deeper with the truths of the bestselling Lies Women Believe. The Companion Guide for Lies Women Believe is made up of ten sessions and is designed for individuals and small groups. Fjallraven Kanken Mini Each chapter includes the following features: In a Nutshell — gives you an overview of the chapter to be studied from Lies Women Believe and reminds you of the lies discussed within that chapter. nike air presto femme bordeaux Exploring the Truth — offers a daily personal study for you to complete during the course of the week between your small group meetings. nike air max flyknit Each day's study includes a few pages to read from Lies Women Believe and then questions to answer under the subtitles "Realize," "Reflect," and "Respond." Walking Together in the Truth — provides questions to be discussed when your small group meets. This engaging workbook will make you and your friends think and wrestle with the Truth as you search the Bible for answers to tough issues. The Companion Guide for Lies Women Believe is ideal for small groups, Bible studies, and Sunday school classes.
My rating: 5 stars My review: I'm not usually a fan of Q&A study guides but this one is really good and a great companion to the book Lies Women Believe. It's very bible centered in approach and practical application. It also includes great quotes from each section to remind you of the key points as you study. Fjallraven Kanken UK Definitely recommended! I received a copy of the study guide in exchange for an honest review. nike roshe run 2017 All thoughts are my own.
Book Title: Lies Women Believe Author: Nancy DeMoss Wolgemuth Publisher: Moody Publishing
Amazon info: Counter the lies that keep you from abundant living. Satan is the master deceiver; his lies are endless. And the lies Christian women believe are at the root of most of their struggles. "Many women live under a cloud of personal guilt and condemnation," says Nancy DeMoss Wolgemuth. "Many are in bondage to their past. Others are gripped by fear of rejection and a longing for approval. Still others are emotional prisoners." In this bestseller, Lies Women Believe, Nancy exposes those areas of deception most commonly believed by Christian women—lies about God, sin, priorities, marriage and family, emotions, and more. She then sheds light on how we can be delivered from bondage and set free to walk in God's grace, forgiveness, and abundant life. Nancy offers the most effective weapon to counter and overcome Satan's deceptions: God's truth!
My rating: 5 stars My review: I read this book back when it came out almost 20 years ago. Mochilas Fjallraven Kanken Classic I liked it then. I like it even better now. nike air presto Nancy Wolgemuth has always been one that I've had great respect for because she's pretty unwavering in her commitment to keeping the bible as the central thing to any part of life she's discussing. That's why when, prior to being married herself, she could give marriage advice to women… Mochilas Kanken Baratas because she sticks to what the bible says and calls women to act accordingly. That's the case here. This updated version freshens the message only insomuch as is needed by the massive cultural shifts we've seen over these last years. nike air max 2017 The message is the same. Sin trips us up like it has since the fall. The devil lies. We believe the lies and often act upon them. The word of God is clear about the truth. Walk in truth. While I'm not a huge fan of the little vignettes of what Eve might have been thinking at the beginning of each chapter, even that serves to show us how this has been a problem for women since the day Eve ate the forbidden fruit and how each "lie" has it's foundation in original sin even if it might look differently for each person. I really like that this book, and the accompanying study guide book are unashamed in their pointing out the truth of our tendency to excuse sin in our desire to live like the world. We listen to satan's lies, dwell on them, start to believe them, do believe them, and then act on them. nike air max 1 But it doesn't have to be that way. We need to replace the lies with truth. tn requin pas cher homme That's where the rubber meets the road because sometimes we believe the lie that not doing something about it – our sin- is easier than dealing with it. I started writing down specific quotes as I read but I soon realized that I'd pretty much be copying the entire book if I went that route so I stopped. Thankfully the study guide has highlighted many of the key quotes in the book to aid in your study of the topics. I highly recommend this book for all women and if possible as a group study with a family or church women's small group. Thanks to Moody for sending a copy in exchange for a review. All thoughts are my own.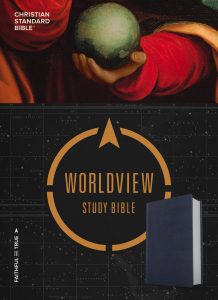 Title: The Worldview Study Bible Author: God Contributors: David S. Dockery, Trevin K. Comprar mochilas kanken Wax and others Published by: Lifeway
Amazon info: The CSB Worldview Study Bible features extensive worldview study notes and articles by notable Christian scholars to help Christians better understand the grand narrative and flow of Scripture within the biblical framework from which we are called to view reality and make sense of life and the world. nike pas cher Guided by general editors David S. Dockery and Trevin K. Wax, this Bible is an invaluable resource and study tool that will help you to discuss, defend, and clearly share with others the truth, hope, and practical compatibility of Christianity in everyday life. Features include:

Over 5,900 extensive worldview study notes
Over 130 articles written by more than 120 notable Christian scholars
Center-column references
Smyth-sewn binding
Presentation page
Two ribbon markers
Two-piece gift box

General Editors: David S. Dockery and Trevin Wax Associate Editors: Constantine R. Campbell, E. Fjallraven Kanken Sale Ray Clendenen, Eric J. Tully Contributors include: David S. Dockery, Trevin K. Wax, Ray Van Neste, Kevin Chen, John Stonestreet, Ted Cabal, Darrell L. Bock, Mary J. Sharp, Carl R. Trueman, Bruce Riley Ashford, R. Albert Mohler Jr., William A. Dembski, Preben Vang, David K. Naugle, Jennifer A. Marshall, Aida Besancon Spencer, Paul Copan, Robert Smith Jr., Douglas Groothuis, Russell D. Moore, Mark A. nike tn 2017 Noll, Timothy George, Carla D. Sanderson, Kevin Smith, Gregory B. Forster, Choon Sam Fong, and more. The CSB Worldview Study Bible features the highly readable, highly reliable text of the Christian Standard Bible (CSB). The CSB stays as literal as possible to the Bible's original meaning without sacrificing clarity, making it easier to engage with Scripture's life-transforming message and to share it with others.
My Rating: 5 stars My Review: This is a substantial bible. It's heavy, large and includes over 50 essays and articles to accompany the biblical text on topics like: The Crisis of the Christian Mind A Biblical View of History A Biblical Basis for Science Personal Finances A Biblical View of Music Grace Filled Leadership and more from over 70 different contributors. This thing is meaty! I like the Christian Standard Bible (formerly HCSB) as a very readable but still quality translation and the layout with the essays interspersed between the bible text is nice. The commentary along the bottom is not extensive but seems pretty solid from what I've read so far. This is another one of those bibles that just feels good in your hand. The "Leathertouch" is nice in a deep navy color. This would make a great gift bible for Father's day! Overall it's highly recommended. nike hypervenom I received this in exchange for an honest review.
Book Title: Just Open the Door Author: Jen Schmidt Published by: BH Lifeway
Amazon info: Change a generation with something as simple as an invitation. For many of us, inviting people into our lives and homes feels more like inviting judgment on our entertaining skills and stress on our already maxed-out schedules. nike magista pas cher But what if you knew that opening your front door had the power to radically change the world? To make an impact and leave a legacy with everyday invitations? Jen Schmidt has set out to reframe how we think about hospitality and to equip us to walk a road of welcome in our daily lives. cheap fjallraven kanken Jen knows that every time we choose open-door living—whether in our homes or by taking hospitality on the road just like Jesus—those we invite in get to experience the lived-out Gospel, our kids grow up in a life-lab of generosity, and we trade insecurity for connection. nike air max 90 Just Open the Door is a personal yes-you-can guide to offering the life-changing gift of invitation. nike air max femme Whether you're a seasoned host looking for renewed inspiration or a nervous newbie not sure where to begin, these personal stories, practical ideas, and poignant insights will give you the confidence you need to see your home as the most likely location for changing the world around you, one open door at a time.
My rating: 3.5 stars My review: This is a lovely book and I wanted to love it. I mean, just look at that gorgeous cover! It's an easy read, full of the author's stories of how she applied the principle of biblical hospitality in her own life in the hopes that her suggestions might spur you on to do the same. nike air huarache While I enjoyed reading it for the most part, I found myself skimming this book (I tend to do that when I tire of something). Fjallraven Kanken Sale Perhaps it could have been shorter? I don't know. I didn't love it, but I didn't hate it either. Fjallraven Kanken Sale So, that said, I don't know that I would necessarily recommend it. I'm going to try Rosaria Butterfield's book: The Gospel Comes with a Housekey on the topic next to compare. I received a copy of this book from the publisher in exchange for an honest review.
Book Title: Worship Author: A.W. Tozer Publisher: Moody Publishers
Amazon Info: The best of A. W. Tozer, on one of his favorite subjects Few subjects invigorated A. Fjallraven Kanken Outlet W. Tozer like the topic of worship. He saw it—like the church has traditionally—as the sole reason for which creation exists. Worship: The Reason We Were Created features collections from the beloved spiritual writer on this important topic. The church's current worship is emaciated; its thoughts of God are too low. Here is a compilation to raise those thoughts high once more, and provoke the church to true, spiritual worship. Topics include:

The act and object of worship
The Presence of God
Worship throughout the week
Feelings and emotion in worship
Man as a worshipping creature

If it's true that we are made to worship God, that it is the sole reason that we exist, that we are most alive when we live for His glory, then reading Worship is more than time well spent. It is time invested in the very foundation of your life.
My rating: 4 stars My review: I'm an A.W. Tozer fan. Mochilas Kanken Mini I've read several compilation books that Moody has put out, including Culture which was an excellent read. This one is nice too but for some reason I got caught up with how much it reads like a selection of transcribed conversations rather than just his written thoughts. Fjallraven Kanken Kids And while I agree that getting everything he says is important, it made for bogged down reading on a topic that's sacred, and pretty serious. I bet they were great audios, though. But, if you can get past the "we're just having a chat" wording of the book, there's so much great theology: " God made us to worship Him, and when we're not worshiping, we're stars without light, sun without heat, clouds without water, and birds without song." God is worthy of worship. It's pretty simple. fjallraven kanken Backpack uk And most of the time, during our normal days, we seem to forget that fact. chaussures nike femme 2017 Tozer helps us to remember and keep remembering. And worship more. About the same time I received this book, I also was reviewing another book on the topic of worship. This one is far above the other because of the depth of the authors passion for God Himself. I received a free copy of the book in exchange for an honest review.
Book Title: Kiss the Wave Author: Dave Furman Publisher: Crossway
Amazon info: "I have learned to kiss the wave that throws me against the Rock of Ages." What does it mean to "kiss the wave?" These words, attributed to nineteenth-century British preacher Charles Spurgeon, speak to the Christian's only hope for perseverance in suffering. Fjallraven Kanken Classic What if we can learn to experience the nearness of God in the midst of suffering? What if God intends to work through our trials rather than simply take them away? After living for more than a decade with a debilitating nerve condition in both arms, Dave Furman shows us that God, in his grace, always designs trials for our good—not minimizing the pain, but infusing significance into our suffering. Furman demonstrates that, even when tossed to and fro by stormy waves, God is near . tn requin pas cher homme . . and that makes all the difference in the world. Table of Contents Acknowledgments Introduction

He Can Surf Any Wave
He Is Our Refuge
The Ultimate Rescue Mission
The Greatest Exchange in All of History
God Is Not Dead
Look, I Am Your Father
He Really Knows Every Hair on Your Head
The Waves Have a Glorious Purpose
Weakness Is Always the Way
You Are a Part of Christ's Body
The Wave Maker Will Carry You to Shore
Extreme Makeover
Heaven Is for Real

Conclusion Appendix: Recommended Resources Notes General Index Scripture Index
My rating: 5 stars My review: It's not often that I choose to sit with pen and paper as I read a book – especially when I'm reading it on my Kindle. nike huarache This book, however, was one where pen and paper seemed necessary. While I could just highlight as I found snippets of applicable texts for my life (or the life of some of my friends), writing things down with pen and paper really help me to "own" it. And I wanted to own some of this – much of this – most of this. Interestingly, in our Sunday School class this past month we watched a missionary video series and Dave Furman and his family were one of the missionaries highlighted one week. Their work in Dubai is great and it was sobering to see the reality of his pain and how his debilitating nerve condition doesn't stop him – doesn't stop them – from spreading the gospel there. But this book goes beyond Furman sharing his own struggles and how God's word is sufficient for him in his suffering. It's full of gospel encouragement and biblical focus for ALL of us who have our own struggles. nike blazer I wish I could just type up all my notes as I've gone along from chapter to chapter. nike air max 95 Maybe I will. Suffice it to say that each chapter is full of God's word centered truth that applies to every and all situations. I've already suggested it to several friends who are going through major struggles in life right now – one in particular who feels that this life is basically hopeless. I pray she'll read this book not because the book can save her but because it speaks of and points to the One who already has. This book is highly recommended. Get it! Many thanks to Crossway for giving me an ebook to review.
Book Title: Once Upon A Farm Author: Rory Feek Published by: Thomas Nelson
Amazon info: National Bestseller Sometimes it's not only what we plant but where we're planted. Now raising their four-year-old daughter, Indiana, alone, after Joey's passing, Rory Feek digs deeper into the soil of his life and the unusual choices he and his wife, Joey, made together and the ones he's making now to lead his family into the future. When Rory Feek and his older daughters moved into a run-down farmhouse almost twenty years ago, he had no idea of the almost fairy-tale love story that was going to unfold on that small piece of Tennessee land . nike chaussure . . and the lessons he and his family would learn along the way. Now two years after Joey's passing, as Rory takes their four-year-old daughter Indiana's hand and walks forward into an unknown future, he takes readers on his incredible journey from heartbreak to hope and, ultimately, the kind of healing that comes only through faith. A raw and vulnerable look deeper into Rory's heart, Once Upon a Farm is filled with powerful stories of love, life, and hope and the insights that one extraordinary, ordinary man in bib overalls has gleamed along the way. As opposed to homesteading, this is instead a book on lifesteading as Rory learns to cultivate faith, love, and fatherhood on a small farm while doing everything, at times, but farming. Mochilas Kanken With frequent stories of his and Joey's years together, and how those guide his life today, Rory unpacks just what it means to be open to new experiences. "This isn't a how-to book; it's more of a how we, or more accurately, how He, God, planted us on a few acres of land and grew something bigger than Joey or I could have ever imagined."
My rating: 3.5 stars My review: I only heard of Rory and Joey about 6 months before their decision to stop any more treatment. I was touched by their story and have occasionally watched as Rory has continued on in live with his sweet little one and without Joey. This book is very raw and honest at some points. soldes nike air max 2018 And while I can't agree with how he may be approaching some things in his life, I commend him for not just hiding behind his fame and ignoring the yuck of things he can't control to get books sold. nike air max 2015 I do wonder if he'll later regret his openness. He's a great storyteller and has an interesting story to tell. That said, I don't know that I'd recommend running out and buying this book – even if you're a fan. Most fans probably know most of this information from interviews, his blog, etc. nike air max 90 homme I received a copy of this book from the publisher in exchange for an honest review.
Book Title: Out of a Far Country Authors: Christopher and Angela Yuan Published by: Water Brook Press
Amazon info: Coming Out, Then Coming Home Christopher Yuan, the son of Chinese immigrants, discovered at an early age that he was different. nike homme pas cher He was attracted to other boys. As he grew into adulthood, his mother, Angela, hoped to control the situation. Instead, she found that her son and her life were spiraling out of control—and her own personal demons were determined to defeat her. Fjallraven Kanken Big Backpack Years of heartbreak, confusion, and prayer followed before the Yuans found a place of complete surrender, which is God's desire for all families. Their amazing story, told from the perspectives of both mother and son, offers hope for anyone affected by homosexuality. nike chaussures God calls all who are lost to come home to him. Casting a compelling vision for holy sexuality, Out of a Far Country speaks to prodigals, parents of prodigals, and those wanting to minister to the gay community. "But while he was still a long way off, his father saw him and felt compassion, and ran and embraced him and kissed him." – Luke 15:20 Includes a discussion guide for personal reflection and group use.
My review: I found myself not wanting to read any more as the details about Christopher's pre-conversion lifestyle were a bit too … Mochilas Fjällräven Kanken Tienda detailed for me. I appreciate that this is a true journal and all… nike x fragment just want to warn other readers that while not "graphic", his attraction, feelings, experiences in the homosexual "scene" etc., is pretty detailed. It's an amazing story and I'm thankful for the redemption of this family. I just can't recommend the book.