Book Title:  Finding God In My Loneliness
Author: Lydia Brownback
Publisher: Crossway
Number of Pages:  176
ISBN-10: 1433553937
ISBN-13: 978-1433553936
Product Dimensions: 5.2 x 0.5 x 8 inches
Amazon Blurb:
Young or old, single or married, male or female—at some point in life, we're all confronted with loneliness. We try to fill the void or change our circumstances so we no longer feel the pain. But what if our pangs of loneliness are meant to point us to something greater?

Looking at various aspects of loneliness, Lydia Brownback reminds us of God's power to redeem our loneliness and use it in our lives to draw us to himself. Ultimately, she helps us see that even when we feel misunderstood, forsaken, or abandoned, we're never really alone. God is always with us, and only he can meet all of our needs in Christ Jesus.
My rating: 4 stars
My review:
I read this book twice before sitting down to write a review. I rarely do that.  In fact, I must confess that sometimes with book reviews I try to speed read through just so I can meet the review requirement and move on to another book. It's not right but I maintain that my opinions of some books wouldn't be that much different even if I chose to simmer over them rather than speed through.  That usually happens when I'm not overly fond of a book.
That's not the case here.  I wasn't quite sure what to expect with this book. I don't consider myself a lonely person per se.  But in the current season of my life I do find myself alone more and often would consider some moments lonely.  My default in those moments is to get online and surf, watch a stupid movie, or text garble to someone.
This book challenged me to rethink my alone moments but even more so, to embrace my lonely ones as a gift to drive me to Christ and His word.  Full of scripture and theological insight, this is a great book for women, though I suspect men will find nuggets as well.  Even though it's written from a single woman's perspective, the application is not at all limited to singles and, in fact, can be even more applicable to to marrieds as well.
Highly recommended!
I received an ebook copy of this book from the publisher in exchange for an honest review. All thoughts are my own.

Book Title:  Reset
Subtitle:  Living a Grace-Paced Life in a Burnout Culture
Author:  David Murray
Publisher:  Crossway
Amazon Blurb:

"How did I get here?"

These are the words of many Christian men on the brink of burnout or in the midst of breakdown. They are exhausted, depressed, anxious, stressed, and joyless. Their time is spent doing many good things, but their pace is unsustainable— lacking the regular rest, readjustment, and recalibration they need.

But there is good news: God has graciously provided a way for men to reset their lives to a more sustainable pace. Drawing on personal experiences—and time spent counseling other men in the midst of burnout—David Murray offers weary men hope for the future, helping them identify the warning signs of burnout and offering practical strategies for developing patterns that are necessary for living a grace-paced life and reaching the finish line with their joy intact.
My review:
Let me start by saying this book was written specifically for men and somewhat geared toward those in ministry. I'm a woman and not in ministry so take my review notes with that in mind.
While there's nothing shockingly new here, this book is a fresh look at a topic that needs to be revisited often by most men (and women). With today's technology addiction, 24/7 work culture, and more, taking the time to methodically review and reset your priorities is a good thing. Dr. Murray gives a solid summary of the condition and some practical steps to work toward change. His writing style is engaging and easy and one can work through this book pretty quickly. There are a few sections where I thought "huh?" … particularly the discussion of meds for some issues. While I'm not a total "no meds ever" kind of person, the treatment here was pretty lengthy given this is a fairly short book. (25% of the book is Index, notes, and scripture index.)
My favorite highlight (I had many):
On the need for solid sleep: "By sleeping, we are relinquishing control and reminding ourselves – at least for a few hours – that God actually doesn't need us."
Thanks to Crossway books for the opportunity to read the Kindle version in exchange for an honest review. All thoughts are my own.
Book Title:  Praying the Psalms: Drawing Near to the Heart of God
Author:  Ben Patterson
Published by: Tyndale
Amazon Blurb:  Learn to speak the language of God's own heart.
Have you ever tried to pour out your deepest feelings to God, only to discover that you can't find the words? We want to feel connected to God, but sometimes it seems like we're not speaking the same language.

There is no better place in all of Scripture than Psalms to learn to be with God. Praying the Psalms includes 50 selections from this book?songs of praise, cries for help, glad rejoicings, and humble offerings?accompanied by inspirational devotions that will open a divine window in your prayer life.

Adapted from God's Prayer Book; now in a deluxe LeatherLike binding.
My rating: 3.5 stars
My Review:  If you've read my past reviews on books that are this size, you'll know that I have something for books that feel good in the hand. This one is one of those books.  The leather-like binding really does seem like real leather and it's the perfect size to put into your handbag or keep handy in the car.
I love the Psalms and can think of no better way to pray than to pray God's word back to Him. This is a great little book in that respect.  It is "adapted" from the full book, "God's Prayer Book" by the same author.
My complaint with this book is that it uses the simplified versions of the bible – The New Living Translation and The Message Bible as it's text.  It's probably a personal preference in both style and readability but I prefer to pray and read with a meatier version of the Bible.  So this might be a nice gift for someone new to scripture reading or to faith but I wouldn't suggest it everyone.
I'm thankful to the folks at Tyndale for the opportunity to give it a look and share my honest thoughts.
Author:  Carolyn Mahaney and Nicole Whitacre
Publisher: Crossway
Amazon Blurb:
What is true beauty?

Whether it's age-defying makeup or the latest diet fad, our culture continually tells women that beauty consists of flawless skin and a supermodel figure.

In True Beauty, Carolyn Mahaney and her daughter Nicole Whitacre direct us to the truth of God's Word, where we encounter an entirely different—and refreshingly liberating—standard of beauty.

Offering a path to freedom from the false idols that society, the Devil, and our sinful hearts so often create, this encouraging book will help you exchange the temporary glamour of pop culture for the unfading beauty of godliness.

Includes a discussion guide.
My review:
I was prepared not to like this book but found that I really really liked it. I love how this mother/daughter team brings scripture to bear on a topic that could easily be frivolous and trite. Just an example from my own stage of life: "Though many women become hard and bitter as they grow old, a woman who trusts God, who pursues a gentle and quiet spirit through the many trials and temptations in her life, grows more radiant and lovely, even as she wastes away. Her beauty is an imperishable beauty, after all. This is the powerful, living paradox of true beauty." Amen.
It's easy to fall on either side of the "beauty" spectrum… spending so much money and time on outward beauty or just letting go to the point of not caring. This book brings the much needed balance to the concept of beauty, wanting to show feminine beauty to the world, and the loveliness of inner beauty that also makes one more outwardly beautiful. I think this would make a great study for a mother/daughter study or a Titus 2 focused book study.
Looking foward to going through it again soon.
(I received an ebook copy of this book for review. I was not required to leave a positive review. All thoughts are my own."
Author:  Nancy DeMoss Wolgemuth
Publisher: Moody
Amazon blurb:

New from bestselling author Nancy DeMoss Wolgemuth

Known for her wisdom, warmth, and knowledge of Scripture, Nancy DeMoss Wolgemuth has encouraged millions through her books, radio programs, and conferences. Now she's back with a legacy work on Titus 2 and its powerful vision for women:

Woman to woman. Older to younger. Day to day. Life to life.
This is God's beautiful plan.

The Titus 2 model of older women living out the gospel alongside younger women is vital for us all to thrive. It is mutually strengthening, glorifies God, and makes His truth believable to our world.

Imagine older women investing themselves in the lives of younger women, blessing whole families and churches. Imagine young wives, moms, and singles gaining wisdom and encouragement from women who've been there and have found God's ways to be true and good. Imagine all women—from older women to young girls—living out His transforming gospel together, growing the entire body of Christ to be more beautiful.

This is Christian community as God designed it. Read this book and take your relationships to new depths, that your life might find its fullest meaning as you adorn the gospel of Christ.
My review:
I really love this book. But I knew that I would love it.  I've read a lot of Nancy's previous books and have enjoyed them all.  She's bold, truthful, bible centered, and bottom line-esque in a gentle and humble way. This book is no different.
I suppose it's the phase of life in which I find myself now that makes me want to pick it right back up again and start over.  This book is encouraging and practical for people like me – in their later years (50+) with adult children but still wanting to fill a role in the church body.  It's pretty clear our role is an important one, but one that often gets passed by because we think no one wants it. Not true.
But this book isn't just for the grandmother aged ladies.  It really should be read by old and young alike.  Living in a generation of young folks that seem to have all the answers at their fingertips, the bible is clear that younger women learn about home and family life from the older christian ladies around them.  And again, this book brings that to light for both older and younger.
Nancy's got a true desire to speak truth from scripture. I appreciated her wisdom on marriage, family, etc.,  and trusted it even before she had experienced it herself because she centered it all on what the bible has to say. She still does. And that's why I highly recommend this book for women of all ages.
I received this book from the publisher to review. All thoughts are my own. I was not required to review on Amazon.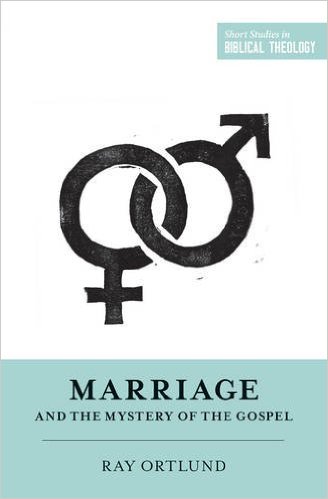 Book title:  Marriage and the Mystery of the Gospel
Author:  Raymond Ortlund, Dane Ortlund, and Miles VanPelt
Publishers:  Crossway
Amazon Blurb:

Marriage reveals something of eternal significance. From the beginning, God designed marriage to convey a greater reality—the passionate, unfailing, redeeming love of God for sinners, the eternal romance between Christ and his bride.

In this volume, Ray Ortlund traces marriage throughout Scripture—from the first marriage in the garden of Eden to the ultimate marriage in the book of Revelation—laying out a transcendent vision of marriage that dignifies our own imperfect unions as a display of the gospel. This book offers insight and hope to every married person today.
I have read a lot of marriage books and many of them are very good. Some of the books I would recommend to newly engaged couples to read together as they go through premarital counseling or just as a way to discuss married life.
This is definitely one that I'd recommend to Christian couples seeking to maintain and grow a biblical view of marriage. In this very pastoral book, you'll find that the theme of marriage is woven throughout the entire scripture from beginning to end and take away that marriage is a serious portrayal of Christ to the watching world.
Are there other good books out there? Sure. But this one is going on my highly recommended list.
I received a copy of the ebook from the publisher. I was not required to leave a positive review.All thoughts are completely my own.
Book Title:  You're Saying It Wrong
Authors:  Ross and Kathryn Petras
Published by:  Ten Speed Press
Purchase on Amazon (click here) 
Amazon info:  For word nerds and grammar geeks, a witty guide to the most commonly mispronounced words, along with their correct pronunciations and pithy forays into their fascinating etymologies and histories of use and misuse.

With wit and good humor, this handy little book not only saves us from sticky linguistic situations but also provides fascinating cocktail-party-ready anecdotes. Entries reveal how to pronounce boatswain like an old salt on the deck of a ship, trompe l'oeil like a bona fide art expert, and haricot vert like a foodie, while arming us with the knowledge of why certain words are correctly pronounced the "slangy" way (they came about before dictionaries), what stalks of grain have to do with pronunciation, and more. With bonus sidebars like "How to Sound like a Seasoned Traveler" and "How to Sound Cultured," readers will be able to speak about foreign foods and places, fashion, philosophy, and literature with authority.
My rating: 3.5 stars
My review:
It's a fun read but I agree with a couple of the other reviewers – some of the suggested words were pretty common knowledge. Others, however, I'd never seen before, so I just enjoyed paging through it and learning a little bit here and there. A little pricey for the content, but it's a nice, hardback book that would be great to place on a coffee table or in the loo for random reading!
I received a copy of this book from the publisher. I was not required to write this review. All thoughts are my own.
Book Title:  The Low-Pressure Guide to Parenting Your Preschooler
Author:  Tim Sanford, M.A.
Published by:  Focus on the Family via Tyndale House Publishers, Inc.
My rating:  4.5 stars
My review:
I read this book when I first got it in October 2016 and then put it away for a bit so I could think on it before I reviewed it. Today I picked it up again and tried the "random page" trick that I'll do occasionally to see if I can remember the tidbits of information and my reaction to them initially.
I wasn't disappointed.  With all the parenting books available these days, it's pretty hard to narrow down to ones that are practical and really offer up some good advice for navigating the daily challenges of parenting little ones while maintaining your own sanity – and helping your kids grow to be strong, contributing adults in the future.
This book would be one that I'd recommend if you have newborns through maybe 3rd graders – and beyond really.  I wish I would have read it when my kids were little – I'm pretty sure I would have had less headaches and also have a lot more hair now!
So let's do a couple takes of my random page test to give you an example of the value of this book:
Page 118:

When it comes to raising children, and pretty much everything else in life, all of life really can be divided up into two major categories: what you can control and what you can't control. Given this definition of control, what legitimately fits into the category of what you can control?  Give this question real thought before you continue reading. What do you really have control over?  Hint: The answer is not "nothing."
How about page 126:
The HOLDer says, "What's mine is mine." When you use this interaction style, you hold on to the things that are legitimately yours to control and that you are responsible for. You're holding on to what is yours to own. You keep what's yours to keep. You're responsible for it.
That's just a couple of sentences, but this book is full of good, thought provoking and possibly game changing stuff.
Highly recommended.
I received a complimentary copy of this book. All thoughts are my own.
Title:  Every Frenchman Has One
Author:  Olivia deHavilland
Amazon info: Back in print for the first time in decades—and featuring a new interview with the author, in celebration of her centennial birthday—the delectable escapades of Hollywood legend Olivia de Havilland, who fell in love with a Frenchman—and then became a Parisian

In 1953, Olivia de Havilland—already an Academy Award-winning actress for her roles in To Each His Own and The Heiress—became the heroine of her own real-life love affair. She married a Frenchman, moved to Paris, and planted her standard on the Left Bank of the River Seine. It has been fluttering on both Left and Right Banks with considerable joy and gaiety from that moment on.

Still, her transition from Hollywood celebrity to parisienne was anything but easy. And in Every Frenchman Has One, her skirmishes with French customs, French maids, French salesladies, French holidays, French law, French doctors, and above all, the French language, are here set forth in a delightful and amusing memoir of her early years in the "City of Light."

Paraphrasing Caesar, Ms. de Havilland says, "I came. I saw. I was conquered."
My rating: 3.5 stars
My review:
Hmmmm…this is a tough one.  I love Paris and I think I like Olivia deHavilland, although outside of Gone with the Wind I can't recall any other films she was in, and there are many!
She celebrated her 100th birthday this July and still has a beautiful smile and, it seems, a fun sense of humor which is the one part of the book that I both like and dislike.
When I started reading the book, I thought, "This is going to be delightful."  Full of fluff and simplicity, sure, but I love all things vintage and add the Paris part – it sounded like, and seemed to be, a recipe for success.  And while it's cute and fun to a point, after a while her humor (or attempt at it) got bit tiresome and sort of boring.  I think if I was a close friend reading these chapters as a letter I would have enjoyed them but as a book, it just got a little old.
So I hesitate to say I recommend it – because I don't – and yet it's still a cute, fun little book that might bring you some joy. So then I say…why not!
And that's why I say it's a tough one!
I received a copy of the book in exchange for an honest review. All thoughts are my own.
Title:  365 Pocket Morning Prayers
Author:  David R. Veerman
Amazon info:  Each morning when you arise, take a moment to talk with God about the day ahead. Ask Him to prepare your heart so that you can be ready to face any challenge that comes your way. 365 Pocket Morning Prayers can guide this time of life-changing conversation and help you express your needs and concerns to God. Don't worry about what the day will bring. Instead, release your troubles and concerns into God's care by reading and meditating on the prayers featured in 365 Pocket Morning Prayers. Begin your day in joyful anticipation, trusting that God is in control of your life and wants only the best for you.
My rating:  3.5 stars
My review:
This is a lovely little book that's easy to leave on your nightstand or carry with you in a bag/purse or for traveling. The prayers are simple, but not trite, and often reflect back the words of scripture, which I like. While it's not a replacement for heartfelt, personal praying, if you are struggling in your prayer life, this little book might just be something to help jump start you into praying fervently again.
The leather cover is so nice and the book feels good in your hands. It's a good size – and the color is pretty too. So all in all, a pretty fine book!
I received a complimentary copy of this book from the publisher in exchange for my honest review.