Try WINC! Great for you or for gift giving!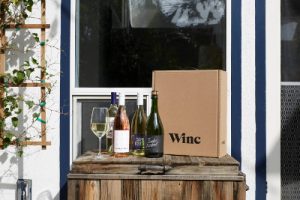 So as I said in my original post, I was eager to give WINC a try since the idea of a monthly wine club – especially for those who drink wine fairly regularly – makes a whole lot of sense to me.  The key, of course, is to make sure that
The wines are good quality and
You get to choose based on your likes and dislikes each month.
Winc has that all covered with their online wine club.  You get 4 wines delivered to you each month with each bottle at $13 or more.  You fill out your personalized Palate Profile quiz and get recommendations, but you can swap out each month too.  We got a nice variety of wines and I went out on a limb a bit outside my palate suggestions to get some that others that I know might enjoy.
And enjoy they did!  So far we've really liked the wine we've tasted from WINC and I look forward to giving away a bottle or two next to some friends who know their wine.
I love that this company is working around the globe with wine artisans to make their distribution unique and sustainable and help the "little guy" who is making excellent wine.
Give them a try. My readers save $22 off the first month when they click here.  Or type in: www.trywinc.com/usfamilyguide
Let me know what you think when you get your first shipment!  I'd love to hear!
I received a sampling of wine bottles in exchange for this honest review.  I was not required to give a positive review, nor was I compensated financially for this post.