Image via Wikipedia
I was blog hopping this morning and discovered two great posts that I just had to share because I loved the ideas and they're so doable! YAY! Just a reminder, even if you still have young ones at home you can incorporate these ideas too. But both of these ideas are geared toward kids that are off to school every day.
First up – from our friends at Just Something I Made – napkin messages! The original post is done by an artist, and so her doodled napkins are works of art in themselves but I love the idea of sending messages in your child's lunch bag … often! And drawing on a napkin is a cute way to do it. I especially love how she tells that as her son got older, she got creative with leaving a heart for him by hiding it in the drawing, so the other kids at the lunch table would get into the game too. Very clever! See what I'm talking about when you visit the post HERE.
Next is actually the post that led me to the napkin post – personalized pencils. Another fabulous and easy (though a little time consuming) idea of making little mini messages to modge podge onto your child's pencils. Love it! Find out more when you visit the family economics site here.
Have you ever done this for your kids? My kids are homeschooled so I didn't pack lunches for them except if they were off to a field trip or something – and in that case I'd stamp a quick mini-card to include or write a little love note on a 3×5 card – but these clever ideas take that to the next level! Love it!
Image by skinnylaminx via Flickr
When most of us think of Thanksgiving, we think of a big dinner with the family. Some of us cook that all day, create beautiful centerpieces for the table and deck our homes out in fall colors. Others bring a drink or a dish and join someone else in the family for dinner. Either way, we enjoy one another's company and take advantage of the long weekend.
Family and food are certainly important parts of the Thanksgiving holiday. But there is more to Thanksgiving than that. The first Thanksgiving was all about giving thanks for the bountiful harvest, as well as for the other good things that we often take for granted. But that part is often forgotten in the hustle and bustle of putting together an event for the family.
If you want to put the "thanks" back in Thanksgiving, a little creativity can help. Starting a Thanksgiving journal is a great way to get everyone thinking about the many things they have to be grateful for. Such an occasion calls for an extra special hand-decorated journal. You can make one in a snap with a few scrapbooking supplies, and the kids can even help, making it a family effort. Here's how to make your own Thanksgiving journal.
What You Need
* Composition journal
* Scrapbooking paper
* Glue stick
* Scissors
* Embellishments (ribbons, stickers, die cuts, etc.)
Instructions
1. Use the glue stick to apply a uniform coat of glue on the front cover of the journal. Do not put any glue on the spine, but make sure to get it all the way to each edge of the cover itself.
2. Place a piece of scrapbooking paper on top of the journal, up against the spine. Press down firmly and smooth so that there are no bubbles.
3. Open the cover of the journal, and cut the scrapbooking paper even with it.
4. Do the same thing with the back cover of the journal. You could use the same paper as you used on the front, or a co-ordinating solid color.
5. Add ribbon, stickers, die cuts or any other embellishments you like to the front cover of the journal. Let glue set well before using.
Now that you have a beautiful Thanksgiving journal, it's time to put it to good use. When your guests arrive, or after dinner, ask each one of them to write down some things that they're thankful for. You could also encourage them to share memories of past Thanksgivings if you like. Make sure they put their name at the top or bottom of the page. This will give you a keepsake to treasure for years to come.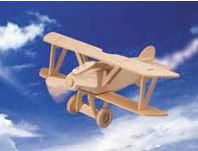 Where to buy: www.woodcraftpuzzles.com
Woodcraft Puzzles are construction kits that are popular with children as young as 6 and adults. They are made of 3mm good quality plywood boards and fun to build. Every owner will proudly display a woodcraft 3D model; they are simple but beautiful works of art.
The 3D wooden puzzles are educational and Do-it-yourself fun. They increase children's patience and ability to focus and are a wonderful way of getting children away from TV and computer.
There are lots of designs to choose from, from dinosaurs, ships and boats, buildings, aircrafts, construction trucks to delicate dollhouses. Each individual design is pre-cut and assembled by pushing the pieces out of the board with fingers and slotting them into each other to create a 3D model. It is safe as no tools or glue are required.
The assembled 3D models are simple but also beautiful works of art which would make stunning displays around your home or in your children's bedroom.
To look at the different designs, go to www.woodcraftpuzzles.com.