Our friends over at RelaxedHomeschooling.com are giving away another one of the HEDUA homeschool planners. This time it's a fabulous student planner – great for homeschooling or any type of schooling!
CLICK HERE to visit the giveaway post and sign up.
Happy planning!
Related articles
*THIS GIVEAWAY HAS ENDED*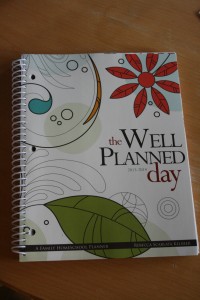 I was so excited when THIS came in the mail a few weeks ago!  The folks over at Home Educating Family Association (HEDUA) kindly sent one over for me to review.  I've been eyeing their planners for quite some time but since my daughters are grown, I really didn't need a homeschool planner anymore.
**Check for a giveaway of this fabulous planner at the bottom of this post!  Giveaway ends July 6, 2013** (**THIS GIVEAWAY HAS ENDED)
Let me tell you now… I WISH I had this planner when we were schooling.  It would have been so very very helpful!  It's fabulous!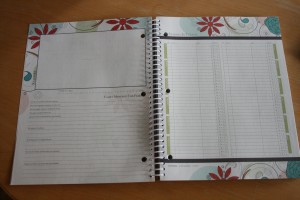 Inside the cover there is a spot for your current family photo as well as journaling prompts for noting your family's special memories for the year.  Opposite that is a spot for special dates (birthdays, etc) for each month (kind of a perpetual calendar idea)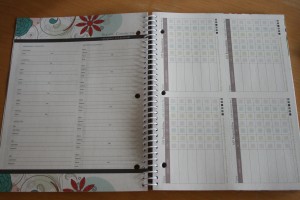 There are pages for finances and special projects for the year and then, opposite the emergency numbers page, a tear out page for individual responsibilities for each child (3×5 card sized with chores on one side and school duties on the other).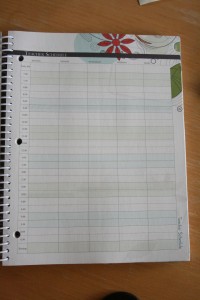 I like this page where the teacher, a.k.a. MOM in most cases can plan out her school days.  It's nice to be flexible when you're homeschooling, but a basic schedule to start with is essential. I learned this the hard was for too many years!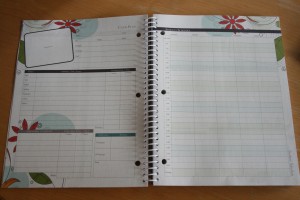 Next come the student daily schedules including a spot for the child's picture and details.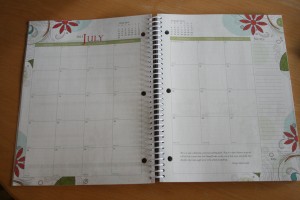 Now it's time to work a month at a time. The monthly pages have nice large squares – needed for a busy family.  Each month is followed by…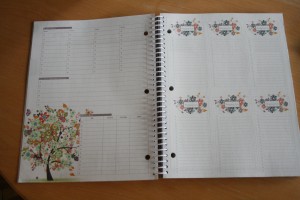 Pages for that month's finances, book lists, field trips as well as tear out shopping lists on the opposite page.  Love this!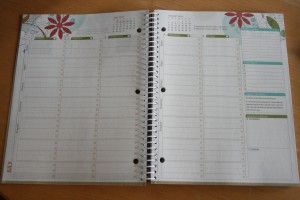 The week at a glance pages for that month follow.  Each week has a spot for priorities, menu and even has catechism questions and answers.  Those two bottom boxes on the right are Saturday/Sunday squares.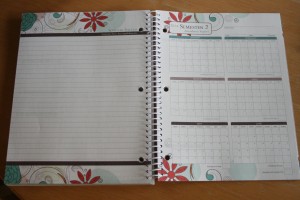 There are pages for attendance and grades…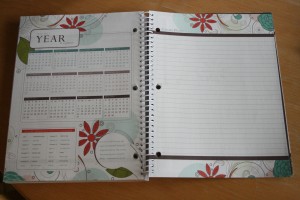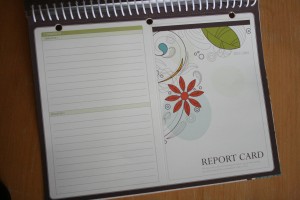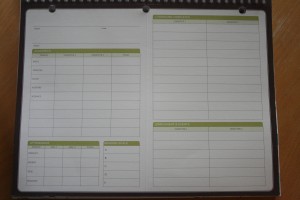 Notes…
As well as a cardstock weight report card for each student that you can tear out.
Throughout the planner there are some great homeschooling articles… all really good!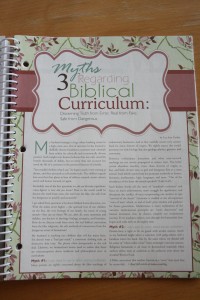 If you are a homeschool parent or even if you're not, please check out all the various planners over at HEDUA(click).
AND NOW… for the giveaway.  Sign up below to participate.  Remember no more entries after July 6, 2013.  Thanks and I hope you win!


***This GIVEAWAY HAS ENDED***
Did you know that HEDUA has an affiliate program? If you are a blogger and would be interested in earning money just for sharing what you love click here for details.

Finding an Afterschool Routine

Leaving homework, dinner schedules, and bedtimes to chance has a tendency to create chaos and frustration during possibly the only family time of the day. Establishing a routine does not have to mean never allowing for flexibility, but it gives parents and children alike the feeling of comfort that comes from knowing what is expected.

Children may begin to receive homework assignments as early as Kindergarten. Oftentimes in these early educational years, it falls to the parents to motivate children to finish their homework. Even in the later part of a child's education, he or she may need structure and guidance. Some families choose the time directly after school to get homework done for the day. Others feel it may be better to allow children to decompress after a long day of concentration and constant social interaction. Should a child complete homework before or after dinner? The answer to that question depends upon the dinner, extracurricular activities, and bed times for each family. Determine which times are best for your child to sit down to homework. Once a routine is established, there should be less fighting about getting it done, fewer homework assignments turned in late, and happier parents and children.

A dinner schedule that works for the whole family is beneficial to everyone. Predictable meal times will encourage children to refrain from ruining their appetite with snacking. Children and parents should work together to put dinner on the table for a family meal. For some families that might mean one person either cooks or picks up food on the way home. Someone else then sets the table, and another family member fills drink cups.

Bedtime is another aspect of the afterschool routine that should be consistent. Younger students require more supervision and earlier bedtimes. Whether you incorporate a time for reading together or alone, children will benefit from an opportunity to lie quietly and cultivate the habit and skill of reading for pleasure.

Afterschool routines may change from year to year and from family to family as there are many factors involved such as age, siblings, and parents' work schedules. Maintaining a consistent and reliable routine will give your child a feeling of stability during the formative years of his or her youth.

——————

Jennifer Tankersley is the creator of ListPlanIt.com where you can find over 400 lists and planning pages including a Back to School Planner, Homework Schedules, Calendars and many more and also of List Mama Blog: Lists for List-Lovin' Mamas.
Reading for children is an important part of their development. By developing their reading skills, your child will become better at spelling, understanding ideas and concepts and develop positive language skills early on.
Reading is also a lot of fun and a great bonding activity for parents and children. But how do you raise a good reader when you're competing against a host of electronic devices?
Here are a few tips:
#1 – Read daily. Reading little and often is better than leaving large gaps of time between reading. By making reading a daily activity, you cement that reading is important and just a "part of life" in your child's mind. Set a routine of a short bedtime story or a story after lunch or dinner each day so you don't forget.
#2 – Visit the library. Many children today have never visited a library outside of school. There are so many other activities and things competing for your child's attention that the library may be last on their list. But most kids respond positively to an outing at the library. Make visiting the library a regular activity and you'll children will start to look forward to it.
The library can be a magical place for children and many have activities to help promote reading that are both fun and educational.
#3 – Start a book club. This can easily be done by joining forces with a few other parents. Meet weekly with the children to discuss a new book. This way the children not only see their parents getting involved, but also have the chance to develop grown-up conversational skills at the same time. Discuss the book and then enjoy a few treats; make it fun so that the kids really look forward to it.
#4 – Lead by example. If your kids see you reading from a young age, they may want to do the same thing mommy or daddy are doing. Show your kids that reading is a normal, fun part of life. Tell them about the latest book you're reading and why you enjoy it. Show them the Sunday newspaper and explain how you learn what's going on in the world by reading it.
#5 – Read at bedtime. As mentioned above, reading at bedtime is wonderful for both children and parents. It gives parents and kids a few minutes to connect at the end of each day. You can share a story and then discuss a few of the characters. Reading is a great way to unwind and will become a welcomed addition to your bedtime routine.
#6 – Let them choose. Reading tends to become less exciting as children grow. Give your children access to a variety of suitable reading materials to help them realize that reading is fun at any age. Whether it's comics or "how to" books, by providing fun and informative reading material you'll keep your child hooked and involved.
Another great option for older kids is to share their reading book with mom and dad. You can each read the same book together a few evenings a week. Your child can read one chapter out loud, then you read another and so on. This not only helps you spend time with your child but you get to enjoy a story together. There are some fantastic teenage mystery and action books that most young adults will really enjoy reading.
While raising a good reader may seem to be a harder job than it once was, it's not too difficult a task. By exposing your children to books from a young age and creating an enthusiasm for reading, you'll lead by example and help to raise a good future reader.
Yesterday as I was blog hopping about looking for fun things to do with my girls for homeschooling I discovered this great book for doing nature studies with young ones. The book is called Discover Nature in Winter by Pat Archer.
This author actually has several nature discovery books but since we're in winter now, and doing nature studies is 2 feet of snow isn't always easy, this one in particular seemed to be the most practical.


Her books are very detailed and give ideas for fun, practical lesson plans and ideas to explore for the whole family – from little ones to us old folks! For those of you who don't homeschool, this is a great supplement to their schooling and a wonderful way to pull away from the TV or computer and interact as a family together!
Check out Pat Archers other nature discovery books too:

Discover Nature Close to Home: Things to Know and Things to Do (Discover Nature Series)
Discover Nature Close to Home: Things to Know and Things to Do (Discover Nature Series)
Discover Nature at Sundown: Things to Know and Things to Do (Discover Nature Series)
Discover Nature at Sundown: Things to Know and Things to Do (Discover Nature Series)
Discover Nature in Water & Wetlands: Things to Know and Things to Do (Discover Nature Series)
Discover Nature in Water & Wetlands: Things to Know and Things to Do (Discover Nature Series)
Discover Nature Around the House: Things to Know and Things to Do
Discover Nature Around the House: Things to Know and Things to Do
Don't they look like great books? I'm throwing them all in my amazon shopping cart now and will add them in once in a while to an order to get it to the free shipping point! Let me know what you think or if you're a nature study parent, comment below and let us know about it!

**UPDATED! I WON this great bear kit this week and did a product review on it! Make sure you read it when you CLICK HERE!**
This is just perfect! I can't wait to get my own (ordered my own My Storytime Friend from Amazon today!) to see it for myself! Great for kids 3-8! Click on the video to see the selection on Amazon.com.
My Storytime Friends(tm) is an interactive toy and storybook set for children ages 3-8 that is both entertaining and educational. The My Storytime Friends(tm) set includes a unique combination of a plush stuffed animal, an inspiring hardcover storybook and a lifetime membership to the My Storytime Friends(tm) Book of the Month Club. Membership also includes free access to My Storytime Friends(tm) online, an interactive place to learn and play. Kids will love watching their cuddly toys come to life as characters in the new stories each month. Parents and Grandparents will appreciate the positive life lessons the stories teach children about overcoming challenges, helping others and achieving dreams.
Image via Wikipedia
Wouldn't we all like to make our kids' lives magically full of friends and free of stress? Unfortunately, there is no magic formula for making the transition to a new school totally stress-free. But there are things we can do to help kids cope. Teaching them how to make friends can really help children adjust to a new place. Here are some strategies for helping your kids in a new school.
1. Meet the teacher ahead of time
If it's practical, arrange a meeting with your child's new teacher before the first day of class. Most teachers are glad to do this, and if your child sees a familiar person in his teacher, he will feel more relaxed. See if the prospective teacher will meet you both for lunch, or come to your home for a meal. More than one meeting is even better.
2. Visit the school before class begins
Take a tour of the school to get familiar with the layout and possibly meet some of the students. If it's summer, there may be an official orientation for new students; but it's better to go as a family or with a parent in a no-pressure visit. Your child will feel a lot less overwhelmed if she knows where her locker, the bathroom, and her classroom are going to be.
3. Keep lines of communication open
Your child needs to feel safe in discussing social problems and joys with you. If you and your child never talk about such things, you may think everything is just fine when it is not. Don't be afraid to ask questions, and let your child know you are asking because you want to help.
4. Teach basic social skills
It's easy to take these skills for granted, but your child may not know these things – especially if you have never gone over them. Teach him to look people in the eye, to shake hands, to answer when spoken to, and to introduce himself. Also teach specifics about being a good listener, such as not interrupting and making eye contact while another is speaking. These are skills that will serve your child well in school and in the future.
You can arrange play dates and meetings to teach these things, and take advantage of ones that happen along the way, such as the grocery checkout clerk or the mailman. Keep it relaxed and easy, even game-like at times, because high-pressure situations forced on your child will only make him more anxious.
5. Encourage some group activities
There's no need to overwhelm your child with a dozen extracurricular activities. But finding something your child can do with others can help socialization. Find out what groups are available at your child's school – it does not have to be a sport, or a large, organized group (although those are fine). Find something that suits your child's personality and needs.
Teach and practice socialization, talk to your child about how she's doing, and the transition to a new school will be more a time of excitement than one of stress.