The folks over at the Coobie Bra Store kindly sent me two of their super comfy bras to try out for this review.  They're really nice!
I've recently done some study on bra wear and use and the fact is, less is better when it comes to wearing them!  Even for those of us who are more in the plus sized category, underwires are not all that they're cracked up to be and super support is, in the long run, not the best for your breast health.
However, going without isn't realistic either and so it's great that these comfy bras are on the market and popular.
Here's their official video:

You can find more about the Coobie Bras at
Their Website www.shopcoobie.com
The pros:

*Super comfortable

*Lightweight

*NO underwire!

*Great colors

*Can be worn instead of a cami or tank under other shirts, etc.
And then…
The still pros but to consider:

*I really love these so I really can't say anything "negative" – these are just my quick thoughts.

*Not ideal for anyone on the higher plus sized. I'd say anyone over size D/E cup usually looks for a bit more support – but reading above you might want to consider these anyway!  Less is better!!

*No hooks.  I'd prefer to put it on the old fashioned way rather than pulling over my head like a cami, but that's just my preference.  It won't stop me from wearing these every day.
Thanks again for the opportunity to review!
I received 2 bras in exchange for an honest review. I was not required to write a positive review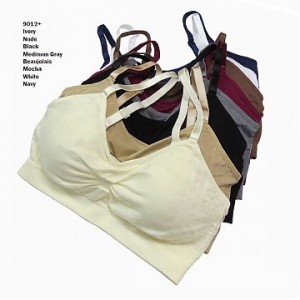 I love seamless, comfy bras.  Just what mamma needs for her busy days!  I love that you can get these bras in plus size too and they're great for many of my friends who have had breast cancer surgery.
Coobie Seamless Bras are ultra comfortable and versatile without sacrificing style. These affordable, stylish bras are seamless, one-size (comfortably fits 32A through 36D), available in 7+ styles and 50+ fashion colors and patterns. There is also a full size version fitting up to a size 42D. They are perfect for every day wear, yoga, pilates, new and nursing moms, sleep wear, and more! Coobie Seamless Bras also has a large following of mastectomy patients that love the soft comfort and pad pocket to insert a form. This line is truly a fit for all women!

Promotion: Save 25% on any order of $40 or more at www.shopcoobie.com
Promotion code: USFG25
Order yours today and don't forget to use the code!
I love it when I get fun things to pass on to you! This one looks great!


Throughout 2013, My Gym locations across North America will celebrate thirty years of providing fitness and fun to families by offering money saving membership and class discounts, conducting a search tocrown My Gym's Fit & Healthy Family and hosting fun and fitness-filled My Gym 30th Birthday party/ Open Houses.

Offered April 1 through June 30, the My Gym discounts include free membership to families signing on for the first time and 30% off for four weeks of classes at participating locations.
Also taking place April 1 through June 30, My Gym's 30th anniversary Fit & Healthy Family Contest is a initiative designed to encourage families to demonstrate how they have made fitness a key part of their family's lifestyle and share their own family fitness tips with families everywhere through the My Gym contest's social media. www.facebook.com/mygymfun
In August, participating My Gym locations throughout the North America will open their doors for free-to-the-public 30th birthday party/open houses – My Gym style.

Open to families in North America, the My Gym Fit & Healthy Family Contest invites families with at least two members in the same household (and one member a child under the age of ten) to enter by submitting a photo of their family engaged in physical activity along with 100-200 words sharing their favorite family fitness tip(s). The photos and accompanying tips will be posted on My Gym's Official Facebook Page for the public to vote for their favorite entry. Families receiving the most votes will become among the 30 semi-finalists from which the Grand Prize winner will be chosen. Semi-finalists will win prizes from My Gym's official cleaning sponsor BabyGanics (babyganics.com), the leading provider of household and personal care products for every touch point in a baby's life; DVD's of the popular children's animated series Chuggington (chuggington.com); a prestigious Recognition Certificate from the President's Council on Fitness Sports and Nutrition (fitness.gov); and a specially-designed My Gym prize pack. The grand prize family will win the acclaimed sports activity toy line from Little Tikes (littletikes.com) along with a year free of My Gym classes and a birthday party

To download the discount coupon, to electronically enter the contest and for all details and rules, please visit www.facebook.com/mygymfun
Doesn't that sound like a great deal? Enjoy and let me know if you sign up so I can vote for you!
Most of us are surrounded by a ton of stuff. The problem is so rampant that there are numerous self-help books and even TV shows to show us how to organize all of it. But it is possible, even fulfilling, to let go of the mass-consumption mentality and make the change to a simpler and happier lifestyle. Here are some steps you can take toward a life with less stuff.
1. Need vs. want
Before you make a purchase, ask yourself if you really need that item, or if you just want it. How would your life be better long-term if you bought that item? Would it benefit anyone else, or just you? Can you afford it, or will you have to pay it off gradually? And even think – where am I going to put it!
2. Pay cash for everything
One way to curtail excessive spending is to commit to paying for everything up front – no loans, no credit cards, no "making payments" unless it's an unavoidable emergency.  This is very hard for some people.  The best way to stop using the credit cards is to cut them up or, at least, leave them at home when you go out to shop.  Planning ahead is key.
3. Donate
There are many people who would love some of the items you have stored away. Ask your local charities or churches if there are any families in need, or donate to your local GoodWill, Salvation Army, etc.  Many organizations will even pick up your discards making it easy for you to give.
4. Keep things in perspective
It's easy to get clingy with our things, but keeping our priorities straight and looking at the big picture can go a long way in helping you make the change. (Will it matter in 100 years if you have that DVD right now? Will it make you a better person to have that outfit or gadget?) Remember how pointless it is to keep an item from someone who really needs it when you hardly ever use it. Think about how happy that item will make someone else.
5. Find what makes you truly happy
Accumulating more stuff will not, ultimately, make you happier. It will make your life more complicated. Happiness needs to come from within, and if you can find out what makes your spirit content and peaceful, you will feel less of an inner void and won't be tempted to fill that void with material things.
6. Entertain yourself
You don't need to look to media, games, etc. to be entertained. Find out how to pass your "down time" creatively, and exercise your mind's "muscle." When you step away from mass media, you will find previously unknown resources within yourself.  Read a library book.  Take a nature walk.  Play games with your family.
7. Focus on others
Fulfillment can be found in interpersonal relationships, which have no price tag attached. Objects can not satisfy that need for interaction and intimacy. When we focus on other people, it's a step toward breaking out of the "it's all about me and what I want" mentality that gives rise to mass consumption.
7. Enjoy the added space
Relax and enjoy the simplicity of life with less stuff. You will probably find that you think more clearly and are less tense without all that stuff demanding your attention. Plus you'll find that it's a whole lot easier to dust!
Related articles
Cosmetics are intended to enhance your appearance, but there are some dangerous chemicals that may be lurking in your make-up. Here are some of the more common toxic chemicals and the cosmetics where they can be found.
1. Lead
Once thought to be an urban legend, a recent study confirmed the presence of lead in some lipsticks. However, the amount of lead present is very small – FDA regulations restrict the amount of lead in a particular red dye, for instance, to twenty parts per million. Nonetheless, the lead is present, and cumulative effects from the daily use of lipstick should not be ruled out. The health risks of lead exposure are fairly well known, and include neurological and reproductive disorders.
2. Antibacterial Substances
If you use antibacterial soap or hand sanitizer, you have already put antibacterial substances on your skin. But foundation, eye make-up, and concealers can contain these antibacterial additives as well. While they are intended to prevent the growth of bacteria in make-up, antibacterial additives have some potential health risks. For example, triclosan, an antibacterial and also a pesticide, is found in hand soaps and is now under investigation by the FDA as a possible endocrine disruptor.
Antibacterials don't discriminate between beneficial and harmful bacteria. This can cause an imbalance where harmful bacteria outnumber the healthy bacteria, and infections can result. The eyes are especially vulnerable to this type of imbalance. Also, the constant exposure of microbes to antibacterials can create resistant bacteria that are nearly impossible to eradicate.
3. Phthalates
Phthaltes are fragrance carriers, so they are likely to be found in cosmetics that contain added scent. They have been preliminarily linked to autism, and due to their hormone-like activity in the body, phthalates have been implicated in premature breast development and other reproductive problems. There is also a possible link between phthalates and cancer.
4. 1,4-dioxane
You aren't going to find this listed on any cosmetic ingredients label. That's because this carcinogen is a by-product or contaminant that results from the manufacturing process. Cosmetics that contain sodium laureth sulfate and/or chemicals that end in "xynol" or "oleth" probably contain 1,4-dioxane.  Solution?  Scrutinize before you buy. Check the ingredients list of all your liquid soaps and shampoos to make sure they don't contain sodium laureth sulfate or other 1,4-dioxanes.  Many of the shampoos and soaps at IHerb.com are 1,4-dioxane free.
5. Formaldehyde
This pungent chemical is used in nail care products, eyelash adhesives, and hair styling products. Even if it is not added to the cosmetic article itself, formaldehyde can be released from cosmetic preservatives such as dimethyl-dimethyl. Formaldehyde has been linked to increased skin sensitivity and cancer.
6. Nitrosamines
Nitrosamines, like 1,4-dioxane, are not directly added to cosmetics. But some concealers, mascara, and baby shampoos may contain nitrosamines. These chemicals have been linked to cancer and birth defects. Nitrosamines form under certain chemical conditions as the cosmetic item breaks down over time.
Related articles
The Many Beauty Care Uses of Baking Soda
Baking Soda, also known as sodium bicarbonate, has an amazing array of uses for natural beauty care. It is inexpensive and can be purchased just about anywhere. So it's worthwhile to know some of its applications beyond helping to make delicious chocolate chip cookies!
(Click here to buy Gluten Free Baking Soda From IHerb.com and get $10 off your first order)
Shampoo
Did you know that baking soda and water alone make an excellent shampoo? It helps remove build-up caused by hard water or styling products. Mix about 1 teaspoon of baking soda to one cup of warm water. Add a drop of essential oil (click here for essential oils) if you like. Pour over your head, work with your fingertips, and then rinse well. There is no need for conditioner; the baking soda mixes with your hair oil to make a gentle, conditioning soap.
You can also add 1/4-1/2 teaspoon of baking soda per tablespoon of your regular shampoo.
If you don't have time to wash, just sprinkle dry baking soda onto your hair and brush it through. Or, put it on your comb or brush and work it through your hair, taking care to get it down to your scalp. It actually mixes with your hair oil to form a cleanser, which gives the impression that it is "absorbing" the oil.
Exfoliant
You don't need expensive exfoliants to give your skin a healthy glow. If you have thick, dry skin on your heels, knees, or elbows, mix baking soda with water in a 3-to-1 ratio to make a thick paste. Rub this paste into the dry skin areas after your bath (when the skin is softened). After rubbing it in thoroughly, rinse well and apply a moisturizing lotion. Baking soda helps slough off calluses and tough, dry skin.
Face Wash
Mix about a teaspoon of baking soda per one cup of warm water to make a facial wash. Swirl it around or shake it well; baking soda tends to sink to the bottom of such mixtures quickly. You might want to put the solution into a bowl and scoop it up with your hands. Gently rub it into your skin and rinse.
Nowadays, toothpastes boast the presence of baking soda because it is so well-known as a good tooth polish. Why not skip the commercial toothpaste and go right for the good stuff? Here are some suggestions for home-made tooth powder or paste using baking soda.
1. To a tablespoon of baking soda, add one drop each of neem oil, tea tree oil, and peppermint oil. Mix with water to make a paste-like consistency and use for several brushings (using a dime-sized portion each time).
2. Just mix a tablespoon of baking soda with a few drops of peppermint oil, stir or shake well to combine, and use as a tooth powder. To do this, pour about a teaspoon of the powder into your palm and dip your toothbrush into it. You can also use plain baking soda as a tooth powder.
3. Mix a teaspoon of baking soda with 1/4 teaspoon of hydrogen peroxide and 1 drop of peppermint oil to make a thin paste.
4.  Purchase baking soda tooth products and powders when you click here.
Bath
Baking soda can do wonders for the skin. Pour half a cup into your bath water to soften dry skin and soothe rashes and skin irritations, including sunburn.
Related articles
Diabetes prevention needs to start early.  I myself never paid much attention to diabetes – I have always been fairly active and healthy with my choices, but when one of my younger cousins was diagnosed with Type 2 Diabetes, my eyes were opened to the fact that while I was making healthy choices for myself, I wasn't encouraging my family members to do the same.
After my cousin was diagnosed I set out to learn as much as I could to try and help her. I was astonished at what I found – according to St. Joseph's Hospital Cardiac Center, if diabetes is left untreated, people can develop heart disease, stroke, and even neurological problems later in life. This is not what I want my cousin to face later in her life! Through further research, I learned that the best way to prevent – and manage – Type 2 Diabetes is through a healthy nutrition and regular exercise. Phew – something I can actually help her with…
Since exercise is one of the major forms of diabetes prevention, parents should engage kids in exercise to counteract the foods that they may eat over the holidays. Exercise controls kids' blood sugar levels and helps insulin work better in the body. Weight can also be controlled by exercise, and this can help to manage insulin levels.
Consider these activities to help kids active throughout the holidays:
Engage in Child's Play   
Sometimes I see adults discourage children from playing "too much", but the act of play is a form of exercise and can help children prevent diabetes. Children can run and play tag to stay active, or even go on family walks or hikes in the woods.  Games like tennis, badminton, Frisbee or mini golf are also forms of child's play that are great activities for diabetes prevention.  Basketball, kickball, and soccer are also additional ways to prevent diabetes in children.
Walking   
Walking is a great form of exercise. Go for a walk in your neighborhood or walk in a park. This can prevent diabetes and help to keep the insulin regulated.  Find a wooded area or an interesting area to walk in and be certain to vary your speed while walking. To build leg muscles, try walking backward. Thirty minutes is recommended for the best results.
Ride a Bicycle
Bicycle riding can also help those who may be at-risk for developing diabetes. Experts recommend taking a diabetic supply kit along on the ride and avoiding wooded area. Scratches or injury can be difficult to heal if you have diabetes.  Many kids love to ride bikes so it will not feel like exercise to them, but more as a fun activity that they actually enjoy doing.
Swimming 
Swimming is recommended for people with diabetes because it doesn't require so much effort on one's joints. Diabetics should swim with a friend in the event of diabetic shock and always test blood sugar before and after being active.
Prevent Diabetes Through the Holidays
Staying active through the holidays can help to prevent diabetes in kids. Kids can develop good habits early, and these good habits can turn into long-term lifestyle choices that will keep them healthy for many years to come.
Carolyn is a 20-something year old with a passion for life, fitness and overall well-being. She is an avid cycler, golfer and has been known to bust some serious moves on the dance floor. Check out Carolyn's blog at fullonfit.blogspot.com/.
Related articles
If you have a toddler or preschooler at home chances are pretty good you already have her/him signed up for some type of dance class – ballet, tap, jazz or Irish dance.  These activities are fun (usually) and a great way for little ones to interact with others as well as learn new skills.
The actual dancing, however, can be pretty harmful to your child's feet and while I'm not suggesting in this article that you pull your daughter or son out of the class, I want to suggest some stretching exercises that you can do with your youngster before and after class which can help minimize future pain/damage as well as improve the overall health of her feet – and yours if you do the stretches too!
1.  Toe Stretches:  Have your toddler stand or sit barefooted and try to spread her toes as far apart as possible while keeping all the toes on the floor.  Hold for a few seconds and then relax.   Do it again for a total of 3 times.
2. Calf stretches:  Sit with your feet flat against a wall with knees straight.  Try to keep the back straight and pull down to try and touch your toes with your hands.
3.  Hold hands with your feet.  Sit cross legged and lace your fingers with your opposite foot toes like you're holding "hands" with your foot.  Most kidscan do both feet at once but it's ok to do one at a time.
4.  Roll on the ball.  Have your child roll the bottom of her foot over a tennis ball – back and forth, up and down for a minute or so.  You can do this with a golf ball too.  Try it standing for a bit more pressure on the foot but make sure she's standing close to a wall or a chair so she can hold on if she loses balance.
5.  Draw with your feet.  No doubt your little one with this this exercise is the most fun.  Just sit on the ground with a piece of paper and use your toes as finger to draw with crayons or markers.  Try to write your name, draw a face or do something specific.  Then do it with the other foot.  Such fun!
Try some or all of these exercises before and after dance class for the most benefit or add it to your before bed routine. Your feet and hers will love it and it'll help keep her feet happier as she progresses through her dance career.  Find out more on how to keep your own feet happy and healthy by visiting HealthyFootCoach.com
Annette Yen is a Healthy Foot Practitioner™, foot coach and blogger.  She received her training and certification through the Restorative Exercise Institute. The training involves a thorough education of footmechanics, how foot function affects whole-body health, and the role of footwear on foot health and foot pain. Find out more about your feet, sign up for her newsletter and register for healthy foot classes when you visit her website at HealthyFootCoach.com
Related articles
Just finished reading an EXCELLENT article by my friend Katy on how to encourage walking with your children.
The premise:
When it comes to children, walking is essential to developing the human body. Each type of exercise has its benefits, but the mechanoreceptors throughout the human form require walking (and a lot of it) to fully develop all the systems. Walking is not an option. It's a requirement. For you, and your kids.
And:
…first model the behavior you'd like to see in your children. And then, after you've been a good little walker for some time, begin to insist the entire family walk — first short walks and then longer as the bodies adapt for better endurance.

If you're thinking "Insisting on something with my children won't work!" please consider the must-dos in your home. Do they have to do their homework? Do they have to be kind to others? Why wouldn't "have enough endurance to move your skeleton around without some sort of contraption" be on the list of your family rules?
Loved this quote:
The "brushing the teeth rule" is in most homes. Walking daily is actually more important to health than brushing your teeth, and brushing your teeth is pretty gosh darned important. Your kids do it, though, because for some reason, the dental committee really made a compelling argument that people subscribe to, so you brush your teeth at least once a day.
READ the rest of the article when you click HERE
Gardening is a fantastic activity in many ways. It's a great form of exercise, stress reliever, creative outlet, and just plain old good fun. Studies have shown that regular exposure to nature and fresh air is good for us. Not only will you feel energized and refreshed after a gardening session, but you'll also feel a great sense of achievement.
Here are a few other reasons why gardening is a great all-around exercise:
#1 – Stress relief. Many of us lead very stressful lives. Gardening is a good way of relieving that stress. It's a quiet, gentle activity that also helps you connect with nature and clear your mind. There's something very nurturing about getting close the earth and having a part in helping something grow.
#2 – Great for joints and flexibility. As we get older, so do our joints and mobility. Gardening is a great option for keeping your joints supple and flexible without too much pressure. Simple exercises like bending, lifting and light digging will help your flexibility and muscle tone. All of this will lead to improved health and quality of life.
#3 – Keeps you busy. If you already have a busy schedule then gardening may be something you fit in on the weekends or in short spurts. However, if you're out of work or retired, keeping a garden is a great way of staying active, fit and healthy. You'll also feel a wonderful sense of achievement when you see the fruit of your labor.
#4 – Great social activity. Gardening is becoming increasingly popular. Many people are joining community garden projects and schemes. This is a great way to bond with your community. It's also a fantastic opportunity for swapping home-grown produce and teaching your kids and family about healthy eating. Gardening is a great link for friendships. It's a good way to meet like-minded people doing something you enjoy.
#5 – Great for children. Children are naturally geared to love gardening. They have an inbuilt instinct for connecting with the earth around them. Give a young child a small shovel and a vegetable patch and they may happily dig for hours. Exposure to gardening also shows kids the importance of food and healthy eating, as well as caring for their environment. Many schools now have gardening clubs and projects to help children get involved as gardeners too.
On the surface gardening seems like a great health activity, and it is, but there are also many other wonderful benefits. Along with getting plenty of fresh air and exercise you can relieve stress, make new friends, show your kids the importance of our environment and keep your joints and muscles supple. It's a fantastic all-around activity to enjoy.