The folks over at the Coobie Bra Store kindly sent me two of their super comfy bras to try out for this review.  They're really nice!
I've recently done some study on bra wear and use and the fact is, less is better when it comes to wearing them!  Even for those of us who are more in the plus sized category, underwires are not all that they're cracked up to be and super support is, in the long run, not the best for your breast health.
However, going without isn't realistic either and so it's great that these comfy bras are on the market and popular.
Here's their official video:

You can find more about the Coobie Bras at
Their Website www.shopcoobie.com
The pros:

*Super comfortable

*Lightweight

*NO underwire!

*Great colors

*Can be worn instead of a cami or tank under other shirts, etc.
And then…
The still pros but to consider:

*I really love these so I really can't say anything "negative" – these are just my quick thoughts.

*Not ideal for anyone on the higher plus sized. I'd say anyone over size D/E cup usually looks for a bit more support – but reading above you might want to consider these anyway!  Less is better!!

*No hooks.  I'd prefer to put it on the old fashioned way rather than pulling over my head like a cami, but that's just my preference.  It won't stop me from wearing these every day.
Thanks again for the opportunity to review!
I received 2 bras in exchange for an honest review. I was not required to write a positive review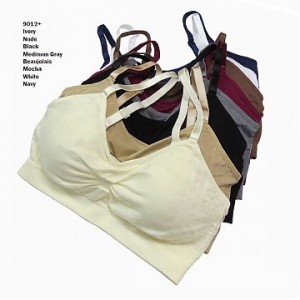 I love seamless, comfy bras.  Just what mamma needs for her busy days!  I love that you can get these bras in plus size too and they're great for many of my friends who have had breast cancer surgery.
Coobie Seamless Bras are ultra comfortable and versatile without sacrificing style. These affordable, stylish bras are seamless, one-size (comfortably fits 32A through 36D), available in 7+ styles and 50+ fashion colors and patterns. There is also a full size version fitting up to a size 42D. They are perfect for every day wear, yoga, pilates, new and nursing moms, sleep wear, and more! Coobie Seamless Bras also has a large following of mastectomy patients that love the soft comfort and pad pocket to insert a form. This line is truly a fit for all women!

Promotion: Save 25% on any order of $40 or more at www.shopcoobie.com
Promotion code: USFG25
Order yours today and don't forget to use the code!
Visit LEGOLAND Discovery Center Chicago and it's like you've just jumped into the world's biggest box of LEGO bricks! With over 3 million LEGO bricks, rides and a 4D movie theatre all under one roof, what will you discover?
My readers can get a FREE Child Admission with Full Paid $20 Adult Admission!
Legoland Discovery Center Discount: http://windycitykidsguide.com/coupon.php?bid=10977&lid=13569&dealid=1066®ionid=261
Well a few days ago I posted about my "Smashbooks" find and lo and behold I discovered a similar product out there (with a better name, I might add).  Stampin' Up! has a new product out called "This and That".  Love it!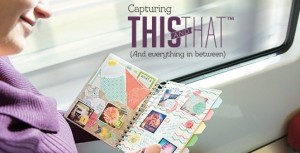 Here's the fun part.  Until the end of April you can get a whole bundle of This and That products (themed "Epic Day") to start smashing things into your book right away.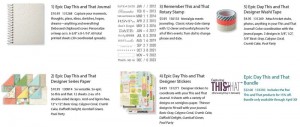 The Epic Day bundle includes: (click on each link to see more detail)
* Epic Day This and That Journal (item 131268)
* Epic Day This and That Designer Series Paper (item 130814)
* Remember This and That Rotary Stamp (item 130133)
* Epic Day This and That Designer Stickers (item 131271)
* Epic Day This and That Designer Washi Tape (item 131269)
Hurry! The bundle is only available through April 30 and makes the set 15% off the price of all the things individually!  Go go go!
Personally I can't wait to get the "Remember This and That Rotary Stamp" – what a great idea!
So… I guess it's time.  I'm going back to the original kind of scrapbooking and I can't wait!  Wanna join me?
So today I had to run to Joann crafts to get some thread and twill tape for my daughter who is making gorgeous colonial outfits for our trip to Williamsburg next month.  I had a little extra time so I strolled the aisles and stumbled on a kiosk for "Smash Books" – a new kind of scrapbooking.  Or is it?
I had heard about the concept.  In my own words, just take all the stuff you want to save but really probably should maybe throw away because you know it's going to end up in some drawer somewhere and either get ruined or thrown away later but you really don't want to throw it away because it kind of has a memory or something tied to it so you keep it but now you need some place to put it so you put it in a scrapbook.
Phew.
So…wait a minute?  That's just old fashioned scrapbooking, right?  Well, yeah, but someone creative at K&Company came up with a fun way to market an old craft and it looks like they're making a bundle.
I have to admit, though, that the way they've packaged this is really clever and handy.  The book itself is a nice size and it's already full of backgrounds and prompts so there's not the looming white page of death staring at you waiting for you to make it look fabulous.  In fact, on some of the pages you really can just jot a few notes and it'll still look good.
Attached to the book is a loop for the pen/gluestick combo that I think is really smart.  One side has a marker with a .45 tip and the other side is a thin glue stick, so you'll always have it with you in case you want to glue in a receipt, special note or something you found in passing.  Very cool.
I didn't purchase any accessories.  Since I'm a Stampin' Up! demonstrator, I have all the little extra stuff I need to make my book my own, but they've got a lot of cute stuff that you can add in to your books.
I did a quick review video below while I was in the car opening up the package. Enjoy!
And do you Smash Book?  Let me know what you think!
On a sidenote, I asked on Facebook if anyone in my network ever smash booked.  One of my friends said that the "smash booking" of her day was when popular girls in the click would take a sheet of paper and write nasty things about another girl and pass it around to each other.  So mean!  Maybe the company should have thought of another name for their product?
Related articles
When you think of children's birthday parties, you may get images of disposable tablecloths, plastic favors, paper plates and cups, and balloons. These fun events can be extremely wasteful. But children are often just as happy with home-made favors and reusable tablecloths. They just like time to play and eat cake! So let's take a look at low-impact birthday party ideas that are big on fun and low on waste.
1. Decorations
Here is where you can get really creative. Children enjoy handmade decorations, both making and looking at them. Here are some ideas.
* Instead of rubber balloons, try setting up stations of eco-friendly bubble solution and large, reusable bubble wands. You can also get paper balloons that are more eco-friendly than rubber.
* Instead of plastic confetti, use a hole-punching tool on old magazines to make colorful circles and other shapes.
* Use flower blossoms, petals, or colorful leaves you gather yourself instead of confetti.
* Make flower chains, or recycle old magazines to make colorful paper chains.
2. Tables and Flatware
* Use an old sheet for the tablecloth, and let the party guests decorate it with fabric paint or markers. It will then be a keepsake.
* Instead of plastic or paper cups, plates and flatware, use washable ones. Again, creativity can go a long way in "covering" for your money saving – for example, have a car wash theme and serve your punch from a bucket (clean and food grade, of course), or serve drinks from a hanging pot (cauldron-style) for a Halloween theme.
3. Games, Themes, and Favors
Remember that children really love to play and run around. Adults tend to think that every unscheduled minute is a wasted minute, but your low-impact party will be remembered as one of the most fun ones ever if you hold it at a playground, park, or other place where kids can be kids.
* Go for a green theme. Let children plant garden plants, flowers, or trees for a seasonal birthday memory. If weather permits, hold the birthday party outdoors in a local park or state forest.
* Games do not need to involve paper, plastic, or other disposable items to be fun. Scavenger hunts (try a nature theme), tag, relay races, and other "old fashioned" games are perfect for a low-impact party.
* Host a "come as you are" party. This party theme does not involve paper invitations, making it even more eco-friendly. Each guest gets notified electronically or by phone at random times of the day, and whatever the prospective party guest is doing or wearing at that moment is how he or she must come to the party.
For example, if you call one of your guests at 9am and he is wearing pajamas, he wears those pajamas to the party. If the prospective guest is out walking her dog when you call, she must bring her dog and wear her walking clothes to the party. This is a really fun theme that can get everyone laughing.
* Favors can be home-made baked goods, potted seedlings or seed packets, or something children will treasure long term, like polished stones.
There are so many ways to celebrate birthdays without spending a lot of money or being wasteful.
Children's parties are often associated with waste, and for good reason. Between paper plates and cups, plastic flatware, party hats, and favors, a child's party can turn into a very wasteful event. If you'd like to host an eco-friendly kids' party, here are some ideas.
1. Hand-make invitations (with your child's input) on recycled paper. Or send electronic invitations.
2. Bake a healthier birthday cake using whole wheat pastry flour and honey or other natural sweeteners. Instead of a cake, you could bake healthy cookies or muffins disguised as cupcakes. Arrange them in an interesting, dramatic display (cupcakes can be stacked in tiers, cookies can be put on skewers to mimic flowers, etc.).
3. Serve iced herbal tea and water instead of artificially colored, sugary drinks. Brew up some fruit-flavored herbal tea, such as raspberry, and sweeten it with stevia or natural sugar. Iced spearmint or peppermint teas are also favorites with children, as is homemade lemonade and punch.
4. Ask for recycled or used gifts. Request that your guests shop at local antique, Goodwill or second-hand stores for your child's birthday present, or even in their own attic or basement.
5. Request that gifts be wrapped in reusable totes, cloth, or newspaper.
6. Use reusable tableware and tablecloths, or go with those made from recycled materials. You can also rent party supplies that are reusable.
7. Favors do not have to be plastic trinkets in plastic bags. Use brown lunch bags, for example, decorated with stickers, markers, stamps, etc. Fill the goody bags with eco-friendly (or homemade) candy or cookies, art supplies, homemade play-dough, wooden toys, etc.
8. Party guests can plant a tree in the birthday child's honor.
9. If it's evening, have a campfire and stargazing. Daytime parties can involve a local park or playground followed by a nature walk. Camping out in tents overnight is another fun (and green) party idea for older kids. If weather does not permit, "camping" in tents in the basement or living room can be just as fun, and stargazing through windows works fine.
Your child's birthday party does not have to be expensive or wasteful.
Related articles
The Many Beauty Care Uses of Baking Soda
Baking Soda, also known as sodium bicarbonate, has an amazing array of uses for natural beauty care. It is inexpensive and can be purchased just about anywhere. So it's worthwhile to know some of its applications beyond helping to make delicious chocolate chip cookies!
(Click here to buy Gluten Free Baking Soda From IHerb.com and get $10 off your first order)
Shampoo
Did you know that baking soda and water alone make an excellent shampoo? It helps remove build-up caused by hard water or styling products. Mix about 1 teaspoon of baking soda to one cup of warm water. Add a drop of essential oil (click here for essential oils) if you like. Pour over your head, work with your fingertips, and then rinse well. There is no need for conditioner; the baking soda mixes with your hair oil to make a gentle, conditioning soap.
You can also add 1/4-1/2 teaspoon of baking soda per tablespoon of your regular shampoo.
If you don't have time to wash, just sprinkle dry baking soda onto your hair and brush it through. Or, put it on your comb or brush and work it through your hair, taking care to get it down to your scalp. It actually mixes with your hair oil to form a cleanser, which gives the impression that it is "absorbing" the oil.
Exfoliant
You don't need expensive exfoliants to give your skin a healthy glow. If you have thick, dry skin on your heels, knees, or elbows, mix baking soda with water in a 3-to-1 ratio to make a thick paste. Rub this paste into the dry skin areas after your bath (when the skin is softened). After rubbing it in thoroughly, rinse well and apply a moisturizing lotion. Baking soda helps slough off calluses and tough, dry skin.
Face Wash
Mix about a teaspoon of baking soda per one cup of warm water to make a facial wash. Swirl it around or shake it well; baking soda tends to sink to the bottom of such mixtures quickly. You might want to put the solution into a bowl and scoop it up with your hands. Gently rub it into your skin and rinse.
Nowadays, toothpastes boast the presence of baking soda because it is so well-known as a good tooth polish. Why not skip the commercial toothpaste and go right for the good stuff? Here are some suggestions for home-made tooth powder or paste using baking soda.
1. To a tablespoon of baking soda, add one drop each of neem oil, tea tree oil, and peppermint oil. Mix with water to make a paste-like consistency and use for several brushings (using a dime-sized portion each time).
2. Just mix a tablespoon of baking soda with a few drops of peppermint oil, stir or shake well to combine, and use as a tooth powder. To do this, pour about a teaspoon of the powder into your palm and dip your toothbrush into it. You can also use plain baking soda as a tooth powder.
3. Mix a teaspoon of baking soda with 1/4 teaspoon of hydrogen peroxide and 1 drop of peppermint oil to make a thin paste.
4.  Purchase baking soda tooth products and powders when you click here.
Bath
Baking soda can do wonders for the skin. Pour half a cup into your bath water to soften dry skin and soothe rashes and skin irritations, including sunburn.
Related articles
Years ago, summertime meant the sound of children playing in neighborhood yards. These days, however, yards remain silent as kids are camped out in front of computers, televisions, and video games.
To help the health of our children and get them in touch with nature, we need to get them back outside. Here are some ways to encourage housebound children to enjoy the outdoors.
1. Get outside yourself – If your children see you sitting in front of the TV all evening, they will follow suit and won't be motivated to get outside. Getting outdoors is healthy for adults, too, so do your whole family a favor and invite them outside for a group game of Frisbee, horseshoes, or a nature walk. The first step to getting your kids outdoors is to lead them there.
2. Build a tree house or playhouse – Remember tree houses and playhouses? These little hide-aways provide wonderful scope for children's imaginations. They can be forts, pioneer cabins, igloos, stores, and anything your children can imagine.
3. Cut the cable – Have you thought about simply getting rid of cable television? Gasp! It may sound like a huge step, but those who have ditched the cable claim not to miss the TV and to be glad for the extra money each month. Consider scaling back or cutting out cable altogether, or rationing your kids' television and computer time.
4. Swing! – Whether it's a tire swing or a full-scale swing set and slide, put some sort of activity center out in your yard if possible. This will encourage your children and their friends to go outside and play. If it's not possible, go to a park.
5. Build solar toys – Is your child a techie who loves computers and computer games? Try building solar-powered toys (there are good-quality kits available) or other solar-powered gadgets. You have to be outside in the sun to make them work!
6. Start a garden – It can be in containers or prepared beds outdoors, but gardening can get the whole family outside. It's good exercise, too. Kids enjoy watching the plants or seeds they plant grow, bloom, and bear fruit. This fascination will draw them outside.
7. Collect stuff – Kids love collections. Begin rock, leaf, or feather collections. Get a good field guide and go on hikes and walks to find more items for the collection. Some children enjoy finding bugs and insects, too.
8. Look to the stars – Invest in a small telescope or binoculars and a good constellation map, and look to the skies. It can open up worlds of study and fascination to explore the heavens.
9. Have picnics and cookouts – Cooking and eating outside gets the whole family outdoors. Weekends and evenings are perfect times for these kinds of outdoor activities. A kite, Frisbee, ball, or other outdoor game will get everyone exercising and moving.
Related articles
How to Make Your Own Birdseed Mix
Last week we talked about the importance of your commitment when you decide to start feeding the wild birds in your yard.  This is especially important in the winter.
There are a lot of premixed bird seed mixtures
on the market and you can buy them at any discount store and even in bulk at most do it yourself stores and warehouse stores.  People who enjoy watching birds know it is important to offer them food to entice them to your yard. You could buy those expensive pre-mixed birdseeds, but why spend the extra money when you can make your own birdseed mix. Here ís a recipe birds will love.
Ingredients:
4 cups black-oil sunflower seeds
2 cups whole oats
1 cup corn meal
1 cup dried fruit
Step 1  Put the sunflower seeds into a food processor and grind for two seconds. You donít want the seed to be entirely ground but broken up to make it easier for the birds to eat. Pour the sunflower seeds into a large bowl.
Step 2  Pour the whole oats into the processor and grind them in the same manner as the seeds. Pour the oats into the bowl with the seeds.
Step 3  Add the corn meal to the bowl and then stir it together.
Step 4  Chop the dried fruit into small bits to make it easier for the birds to eat. Use cranberries, raisins, apricots, or other dried fruit. Add that to the other ingredients and blend it together.
Step 5  Pour the entire mixture into a storage container which seals well.
Step 6  Place some of the mixture into your bird feeders. Take time to see how many different birds come to your feeder to enjoy what you made.
You can alter the above recipe by adding or substituting any of the following:
* White proso millet
* Safflower seeds
* Cracked corn
Related articles