Book Title: Great & Small Bible Published by: B&H Kids Version: Christian Standard Version
Amazon info: All creatures great and small . Fjallraven Kanken Sale UK . . the Lord God made them all! This full-text Bible, complemented by delightful illustrations of great-and-small animal friends, makes the perfect gift to welcome babies. Fjallraven Kanken Classic Backpack Two dozen full-color inserts offer plenty of space to record all of baby's special moments—from first measurements to first steps—creating a keepsake to always cherish. Features include:

Complete text of the CSB (Christian Standard Bible)
24 pages of inserts with full-color illustrations
Easy-to-read type
Words of Christ in red
Presentation page
Gift box

Part of what makes the Great and Small Bible so special is the readable, faithful-to-the-original text of the Christian Standard Bible. basket nike tn The CSB's optimal blend of accuracy and readability makes it a trustworthy, easy-to-understand resource for kids to study and memorize today—and to live and share for a lifetime.
My rating: 5 stars My review: This is such a wonderful baby bible and keepsake book in one. cheap fjallraven kanken Backpack I absolutely love that this is a full text bible (the Christian Standard Bible – a wonderful translation) and not just a story bible. nike air tn If you are a Christian, you should be encouraging your little ones to carry their own bible to church (yes – even if other people don't!) and the easiest way to do it is to start VERY young!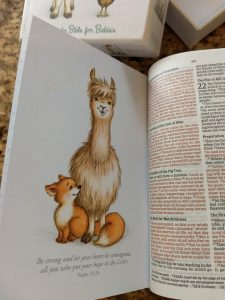 The illustrations throughout this are adorable and sweet. They're just animals – no compromise with illustrations of someone's imagining of Jesus or anything. Mochilas Fjallraven Kanken Infantil Also included in the extras is what makes this bible even more unique. It doubles as a baby keepsake book with places to write down milestones as well as thoughts from the parents, etc. It's really great.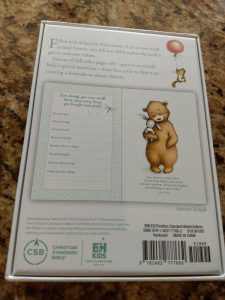 I really like it so much that I want to carry it myself. I like the translation and it's a great size to have. Comprar mochilas kanken Plus I just think these little guys are so sweet! If you're looking for a baby gift, this is the bible to get! Many thanks to BH/Lifeway for the opportunity to review this bible. I was not compensated for this review but did receive a complimentary copy of the book in order to review it.