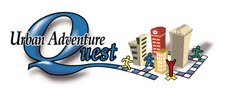 If you're looking for a great idea for a family adventure in the city, look no further!
Enter Urban Adventure Quest.  A smart phone guided tour, you and your family will walk through your city, find clues, solve riddles, and enjoy time together!  Win win!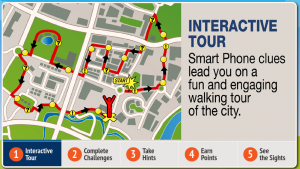 You can do it competitively – comparing your score with others who have quested before you – or just for fun. One person gets the clues and is responsible for answering the riddles and challenges but others can be in "read only" mode as well so you're not needing to hover over one small phone the whole time.
Have trouble with one of the challenges? No worries! There are hints that you can choose to reveal if you find yourself stuck.
It's a great way to find out about various locations in your city too with interesting facts and tidbits at each stop. Such a great idea! After you purchase you can complete your quest any time that works for your family (during daylight hours of course).
Give it a try! You can even see a demo on their website (click here) to see if it's something your family would enjoy!
My readers save 20%- Only $39.20 for a team of 2-5 people after Promotion Code: FGBLOG. Sign up online at www.UrbanAdventureQuest.com.
I received a free trial quest in exchange for an honest review. All thoughts are my own.