*Sponsored post*
Ask kids of all ages what their favorite family activity is and many of them (most of them) will reply "family movie night!"  When our daughters were young every Friday night was Pizza Movie Night and we all looked forward to it. We even looked forward to it when our girls went through a phase of watching White Christmas for about 8 weeks in a row.  Phew!
It was the "family" part of family movie night that made it special. And it was extra special when there was something at the theater that we'd all enjoy – the big screen, popcorn, and all of us together.  I have so many fond memories.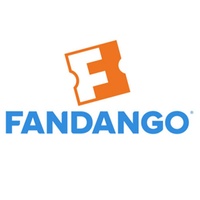 In fact, now that the girls are grown, we still love a good movie night together, both in front of our small screen with Amazon Prime or a DVD, or on the big screen at our local theater.  When we find a movie that's at the theater that we're looking forward to seeing, the first thing we do is jump over to Fandango to get our tickets.  Not only can we see all the options at multiple theaters in our area, but, even better, now that many of our local theaters have prereserved seats (love those recliners!) we can secure our favorite spot for the evening and not get stuck in the first or second row and neck pain for the rest of the night!
Fandango is easy. You can print your tickets at home and, with prereserved seats anyway, you can even skip the annoying previews and show up right when the actual movie starts.  (Side note, I timed the previews the last time we went – it was almost 40 minutes! Ouch!)
Here's the other great benefit of Fandango:  If, for some reason you can't make it to the theater for the show you reserved, you can get a refund up until the minute the actual movie starts.  So if your kids get sick or you just change your mind, you can pop over to the site, cancel your tickets and either bank your credit for the next movie night or get a full refund (minus the processing fee).  It's that simple!
And I just got an email that shows how Fandango and Paypal have started working together so that it's easy for you to buy multiple tickets and have your friends pay you back!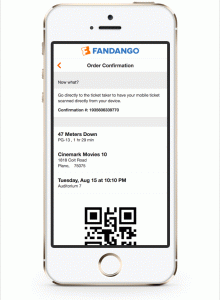 Going to the movies isn't the "cheap" night out it used to be when I was a kid, but thanks to Groupon Coupons, you can save a bit on your ticket prices with Fandango.
So, have you started your own family movie night tradition?  If not, why not give it a try!
FYI: This is a sponsored post. The stories, opinions and thoughts about what's listed here are completely my own.
This video speaks for itself. Our family is SO thankful for VidAngel and we're excited about this new way to watch movies – our way! You're not limited to pre-decided filtering – you can choose which scenes to skip or watch individually and you can even change the filters mid-movie if you change your mind.
Give it a try. Your first 30 days are free.
Click here to try VidAngel yourself!  Your first 30 days are FREE!
Vidangel works with Amazon, Netflix, and Amazon HBO.  Filter movies your way. Every time.
Classical music is great for babies, toddlers, preschoolers and older…. it's great for everyone. I don't know the specific statistics but it's safe to say that listening to classical music helps those little brains develop into thinking minds…and that's definitely what you want.
Download some beautiful tunes by Mozart and Bach to your ipod and let it play before (and during) naptime or when the kids are drawing or crafting. Have it on softly in the background while you read to them or while you're cooking in the kitchen and they're playing in the high chair or helping you. It's remarkably soothing for them and for you.
And as soon as you have a chance, find a local concert to bring your kids to. Once they've heard some of the songs over and over on CD or your ipod, they'll love hearing it live and seeing the instruments that make the music right in front of them. Summertime is a great time for it too because so many towns, large and small, have "concerts in the park" for free -which means little ones can listen and run around if needed! 🙂
I don't know about you but we are itching for spring here in the midwest. There are still patches of the cold white stuff on our grass and it's still pretty cold outside so we'll be waiting for a few more weeks but signs of it continue to appear – geese flying north, the yellow finches are looking more yellow than brown, buds are appearing on our lilac bushes (yay!). When we see the first robin, we know we'll be home free!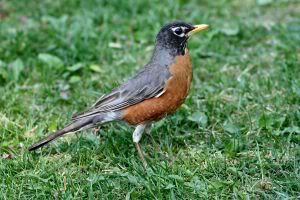 This year, why not start a nature journal with your little ones during the spring months. It's a great way to get outdoors and learn while you play and it's easy!
You can use anything… a 3 ring notebook, an official journal or just some sheets of paper that you staple together.
Just go outside together with paper and pen in hand, bring along some crayons or colored pencils and observe. Or even easier, bring the camera if your child doesn't like to draw.
Ask your preschooler about the things you see, snap a picture of it and then write down as she dictates to you her thoughts on it.  Later print out the pictures (even just on regular paper) and copy her comments next to the print.  Voila – a nature notebook is born.
Add to the notebook throughout the spring, summer, fall and winter!  It's a great excuse to get outdoors, enjoy the fresh air and sunshine and  learn at the same time.
We'll post some specific things to look for in the next post!  Enjoy!
Wow am I ever excited! My friend Christina over at WonderYearsRadio.com just put out a new resource for moms of elementary age kids chock full of ideas to keep your kids active and busy over the summer months (and not in front of the video games!) YAY! Although she's geared it towards older kids, I know that her ideas and hints will be of great use to preschoolers and toddlers too as well as families with multiple aged kids!
Each week of the summer in your inbox you'll get some great tips on keeping the kids busy and she's even included 2 bonus reports – one on connecting with the family and a toy guide. And it's all free! Love it!
So head on over and sign up today! You'll be glad you did! CLICK HERE to sign up!
🙂
I really enjoyed this article about homeschooling preschoolers and thought it had some great tips on things you can do with your young ones even if you are not planning on homeschooling at all.
Enjoy!
Need a homeschool preschool curriculum? Have you thought about homeschooling your child – but aren't sure you have what it takes to persevere? Homeschooling during the preschool ages is a great way to try everything out and see if it's going to work for your family.
Homeschooling preschool children also has many side benefits. It gives you something constructive to do during those long daytime hours while your husband is at work. And it will help you bond with your children in a way that nothing else will. Watching your preschooler learn and grow is a wonderful experience – and one that you and your child will both enjoy.
You can purchase a great homeschool preschool curriculum that is all ready to go, if that's what you're interested in doing. Or, you can come up with activities on your own. When we first started preschool activities with our boys, we came up with things for them by searching the internet. This does take a lot of extra planning time; however.
Later on, we did work through the Bob Jones 3-year-old preschool program and also the Bob Jones 4-year-old preschool program. We really enjoyed these programs and they saved me a bunch of time trying to figure out what to do next!
Here is a list of fun preschool activities for you to try with your child.
Preschool Fine Motor Skills:
Let your child play with pattern blocks. See what kinds of patterns they can come up with on their own. And you make a pattern and let them try to copy it. This is lots of fun for little ones.
Have two bowls, one empty and one filled with cotton balls. Give your child a pair of kitchen tongs. Let your child use the tongs to pick up the cotton balls and transfer them from one bowl to the other. Depending on the age of your child, they may need to use two hands to operate the tongs at first. It takes more coordination than you may realize to grip and release the tongs.
Give your child some animal crackers, a can of frosting, and a plastic knife. Let them frost their crackers and eat them. This is a huge hit with children of all ages. For a healthier alternative, let your child spread peanut butter on a piece of toast.
Buy a large whiteboard and some dry erase markers for your child and let them go to town.
Let your child finger paint with whipped cream and construction paper. This is another huge hit with kids – and it won't hurt them if they're still at the age where they put things in their mouth. You can even use food coloring to give them different colors of "paint". It's easier to clean up, though, if you leave the whipped cream white and let them paint snow pictures.
Give your child markers, crayons, pencils, etc. andlet them scribble to their heart's content. This really helps with their hand-eye coordination. You can make rudimentary dot-to-dot pictures for them to follow, if you'd like. When your child is really young and first starts working with paper and writing utensils, I'd recommend taping their paper to the table. They will have enough things to concentrate on without having to try to hold down their paper at the same time.
Give your child lace-up cards to play with.
Give your child different types of blocks to play with. Let them stack them, make roads for their car with them… however they'd like to play with them. Kids have more active imaginations than we do so follow their lead.
Lincoln logs are another fun activity – especially when dad can also be involved. Children will be delighted to see the wonderful creations that they can make together with their fathers.
Puzzles are a great way to help preschoolers develop their fine motor skills. Have a variety of puzzles on hand because that will be more visually interesting to your child.
Give your child a piece of scrap paper and a pair of scissors and let them fringe the paper. This is the first step in helping them learn to cut. After they master this skill, draw a thick outline of a square or circle on a piece of paper and have them practice cutting on the lines.
Paper dolls are a fun activity for more advanced preschoolers.
Give your child a set of beads that they can practice putting on the string.
Give your child some playdoh, a rolling pin, and some cookie cutters and let them play.
More Preschool Fun:
Draw a rainbow on a large piece of paper. Give your child a bowl of Fruit Loops cereal and let them match the cereal pieces to the right colors on the rainbow.
Read to your child. When they are very little, they might not want to sit still through an entire picture book. But the more you read to them, the longer they will want you to read to them. This is a wonderful way for them to develop a longer attention span, to develop their speech and grammar skills, and many other valuable skills.
Have old clothes in a box let your child play dress-up. Try having them act out stories or nursery rhymes as you read them, such as The Three Little Bears or Little Miss Muffet.
Give your children empty boxes and let them climb in them, store toys in them, draw on them, make teepees out of them, do whatever they'd like to them. As your child gets older, you can also let them cut up the boxes to make other creations from their own imaginations.
Let your child sample different types of fruits and vegetables than the ones you normally buy. Make it a special event where they are thrilled to try an exotic fruit or vegetable. Be sure to let your child help prepare the food as there is so much learning that can be done in the kitchen helping Mommy.
Pull a variety of spices out of your spice cupboard, have your child close their eyes and let them smell them. You will be amazed at how this simple activity will thrill your child. See if they can identify the spices the third or fourth time around.
Put a 2×4
Print off pictures of events from a story and let your child put the pictures in the right order. This is called Sequencing.
Clap or slap a rhythm on your legs and let your child try to copy the same rhythm.
Label common objects around your house to help your child become familiar with some words.
A fun science experiment is to fill a small glass with water and another glass with milk. Put a straw in both glasses. Let your child blow into each glass and see what happens. Be sure to have towels handy for this one!
Take a walk with your child. The object with this one isn't to see how far and how fast you can go. Slow down, observe objects around you, listen to what your child has to say. Let your child carry a bag with them to collect rocks, leaves, and whatever else catches their eye.
Let your child make crowns, Indian hats, etc and dance around the house. Try making costumes to match characters in books that you are reading (i.e., make rabbit ears when reading Peter Rabbit.)
Let your child dictate stories to you and you can write them down in a book or journal for them. Also, let your child illustrate the stories.
Give your child sidewalk chalk and let them doodle all over the driveway.
Take fieldtrips with your child. Take them to the zoo, a children's museum, plays and concerts which are geared for younger children, etc. Let them experience the world around them.
This is a sampling of some of the fun activities that you can do as part of a homeschool preschool curriculum. The more time you spend with your child, the more you will get to know where their individual interests and talents lie… and you can explore those in more depth with them. At this age, the main thing is for your child to enjoy learning and to build your relationship with them. Relax, have fun with your child, and watch them blossom.
Michelle Caskey has been homeschooling her sons for five years. Michelle graduated from the Western Michigan University with a degree in English and Computer Science. Read more of her homeschooling articles at http://www.homeschool-your-boys.com

http://www.homeschool-your-boys.com/homeschool-preschool-curriculum.html
We posted about this in the past but I think it's such a great idea I wanted to post again!
If you've ever used a bulb or battery-type aspirator to clear the mucus out of your little one's nose, you've probably said to yourself: "There has to be a better way!" Well, we just found a better way and it's called the BabyComfyNose Nasal Aspirator. Here's the secret: It works so much better because it uses your own suction. Think about it: your own lungs are a strong, natural vacuum cleaner – much more powerful than a tiny bulb or battery-powered motor. And the result is just a more effective method of clearing your baby's sinuses.
But have no fear; you won't suck boogies into your mouth because of the design of the receptacle and the tissue filter that you insert into the body of the aspirator. This is why pediatricians are recommending BabyComfyNose to moms and dads. Recently, Dr. Sears of The Doctors TV Show recommended the BabyComfyNose as the best way to clear babies' noses. Take a look at the video 'How to Use the BabyComfyNose' here www.babycomfycare.com to see how well it works.
Similar products on Amazon (click)

Nose Frieda – this one uses the same idea and seems to be the popular name brand now.

Baby Vac – I had a friend recommend this VERY highly but many parents are a little wary of it when they hear that you hook the aspirator up to your vacuum. But these folks swear by it – not just for their babies, but for themselves too!
Author:  Carolyn Mahaney and Nicole Whitacre
Publisher: Crossway
Amazon Blurb:
What is true beauty?

Whether it's age-defying makeup or the latest diet fad, our culture continually tells women that beauty consists of flawless skin and a supermodel figure.

In True Beauty, Carolyn Mahaney and her daughter Nicole Whitacre direct us to the truth of God's Word, where we encounter an entirely different—and refreshingly liberating—standard of beauty.

Offering a path to freedom from the false idols that society, the Devil, and our sinful hearts so often create, this encouraging book will help you exchange the temporary glamour of pop culture for the unfading beauty of godliness.

Includes a discussion guide.
My review:
I was prepared not to like this book but found that I really really liked it. I love how this mother/daughter team brings scripture to bear on a topic that could easily be frivolous and trite. Just an example from my own stage of life: "Though many women become hard and bitter as they grow old, a woman who trusts God, who pursues a gentle and quiet spirit through the many trials and temptations in her life, grows more radiant and lovely, even as she wastes away. Her beauty is an imperishable beauty, after all. This is the powerful, living paradox of true beauty." Amen.
It's easy to fall on either side of the "beauty" spectrum… spending so much money and time on outward beauty or just letting go to the point of not caring. This book brings the much needed balance to the concept of beauty, wanting to show feminine beauty to the world, and the loveliness of inner beauty that also makes one more outwardly beautiful. I think this would make a great study for a mother/daughter study or a Titus 2 focused book study.
Looking foward to going through it again soon.
(I received an ebook copy of this book for review. I was not required to leave a positive review. All thoughts are my own."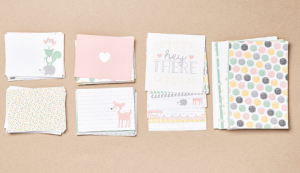 Finding the right activities and games for a baby shower can be somewhat daunting.  At least in our circles, most people attending aren't really fond of the typical baby shower games, but, naturally, play along because that's what you do.
We're hosting a baby shower this weekend and one of the things we'd like to do for our first-time mommy is have a little book of encouragement for her at the end of the party.  The problem with this is that, like with the baby shower games, most attendees don't really enjoy thinking up those notes of encouragement on the spot.
You can avoid this by sending out a quick email to those coming to the baby shower suggesting that they prep something in advance – even write it on some scrap paper so they can just copy it into the guest book when they arrive.  But, to be honest, most people are just too busy or forgetful to actually do something like this.  I'm guilty of it too!
So, tomorrow, at our shower, I'm trying something new just to see if it helps to actually fill up a book for the new mom.
I'm setting up a small table with the supplies near the entrance of the room where we'll be holding the shower.  The booklet will be made up of individual sheets of paper, not a pre-bound book. Doing this will free up each attendee to take a sheet of paper with them to wherever they are sitting and write freely throughout the allotted party time.  I'll put a basket on that table too for the finished sheets and compile the book toward the end of the shower or even afterward.  There are so many ways to make individual sheets of paper into a nice booklet – I'll save that for a future post.
But what to do about the brain freeze that tends to happen when a request to fill out something like this is presented.  For the life of me, I can think of 10,000 things to say to a new mom when I'm not under pressure, but when put on the spot to write it out during a 2-hour shower, I just can't think of anything!
My solution … at least this is what I'll try tomorrow … is to put out small slips of paper with bible verses, quotes, poems, etc.  If so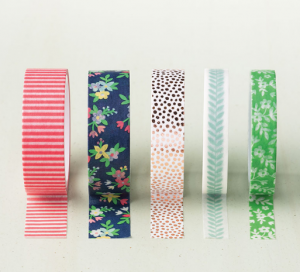 meone is having trouble thinking of what to write, they can choose one of these slips of paper and either tape it onto their page (I'll put out some fun Washi Tape too!) or copy the verse or poem by hand.  This can serve as a starting point for what to write or be all that's on the page with a "we love you" and signature.
I'll include several colors of pens and maybe even a few decorative accents so those who are uncomfortable with a bunch of blank space on the page can fill in with pretties.
What do you think?  Do you have any ideas for a baby shower book?
These look so handy!  For kids and adults alike!!!

Turn any pair of shoes into custom-fitted slip-ons with HICKIES lacing system. Perfect gift for any age from kids to adults. https://www.hickies.com/
HICKIES are great for any adult or kid with a wide range of colors.
An unexpected, fun and extremely functional product.
One size fits all!
Amazing stocking stuffer prices at $11.99 (HICKIES Kids), $14.99 (HICKIES Adult) and $17.99 (HICKIES Metallics)
The travel, parenting and fitness hack that you never knew you needed, until now.
Save 20% on HICKIES lacing system! – Save 20% on HICKIES lacing system! Use code USFG at checkout to save.
Only valid on hickies.com
http://usfamilycoupons.com/coupon.php?regionid=75&bid=13107&dealid=3026 .@usfg