What's the difference between Elderberry Tincture and Elderberry Syrup? One uses vodka to extract the goodness out of the elderberries. The tincture is taken in very small amounts. The other is a reduction with honey and other items more suitable for use with children and you'll use a larger dose for the same effect. basket nike tn Pretty simple! Where to get Elderberries? Well, the ideal is to find an elderberry tree somewhere and see if you can pick your own. It's a lot of work but worth it. Fjallraven Kanken Kids Alternately you can do it the way I did which is easier, albeit more expensive. air max thea pas cher I buy dried elderberries on Amazon
. They store indefinitely so you could even buy a large bag and share with others! Elderberry Tincture This is so easy. nike air max pas cher Fill a mason jar (any size really) with elderberries and cover completely with vodka. Fjallraven Kanken Kids Store i a dry, dark space for at least six weeks – more if you can. Strain the solids out and throw them away (careful – it's MESSY!) and keep the liquid in small dropper bottles
. Take a dropper full in water or juice at the first sign of illness. Elderberry Syrup This is a little more time intensive from a prep standpoint but much quicker over all and non-alcoholic so better for use with children. 1 cup dried elderberries
4 cups fresh spring water 2 Tablespoons dried ginger 2 teaspoons cinnamon 3/4 teaspoon clove powder 1-1.5 cups raw honey (add after cooking!) Put elderberries, water and herbs (not the honey) in a medium saucepan. Bring to a boil and then cover the pan, reduce the heat, and simmer until the liquid has reduced down to about half. Remove the pan from the heat and allow it to cool. Gently smash the berries with a spoon and then strain them out and discard them. When the leftover liquid has cooled completely, incorporate the honey, mixing well. Pour the syrup into glass jars, Cap tightly and voila! You have syrup! Most kids take about 1/2 to 1 teaspoon daily and adults can take up to 1 Tablespoon. Take daily as maintenance/prevention or take several times a day at the onset of symptoms of illness.
This is so simple. nike requin If you want to save some money rather than buying the Cyclone Cider
at the health food store or on Amazon, here's how you do it: Ingredients: 1 large yellow onion 3 heads of garlic 1-2 cups grated horseradish (the fresh kind that you grate yourself – NOT a jar) 5 inch knob of ginger Cayenne pepper Apple Cider Vinegar
(raw with the mother) 32oz bottle
Peel and finely chop the onion
Separate all the garlic cloves, peel and finely chop all of it (or use a garlic press like this one)
Finely grate the horseradish
Peel the ginger and finely chop it.
Put all the chopped items into a large mason jar. tn requin pas cher homme Add a pinch or two of the cayenne pepper powder – more if you think you can stand it. Fjallraven Kanken Mini Backpack Cover everything completely with apple cider vinegar. Fjallraven Kanken UK Cover tightly and put into a dark, cool (but not freezing), spot for 3-6 weeks. nike air max 90 Shake it daily for best results but don't open it.
After it's been steeping for the month, strain the solids from the liquid and store the liquid in the fridge. nike air max femme You can add the solids to soup, stir fry, or other recipe, or just discard it.
I then fill a couple of dropper bottles
with some of the liquid for easy use and leave the large jar in the back of the fridge to replenish the little jars as they run low.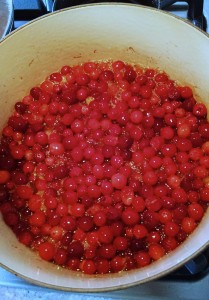 I used to love the canned cranberry sauces to serve with my turkey until one year I decided to try and make my own. I'll never go back to the canned again! It's so easy and pretty healthy. I kind of mish-mash these ingredients so feel free to embellish to your own taste and add in other things as you see fit! But here are the basics: 1 12-oz bag of fresh cranberries 1/4 cup port wine (if you're not a wine drinker, use orange juice) 1/2 can crushed pineapple zest of a small/medium orange (fresh is preferred) 1/4 (or more) freshly grated ginger root 1/4 teaspoon cinnamon 1/4 cup maple syrup 2 tablespoons chia seeds (optional) Put all the ingredients except for the chia seeds into a large saucepan and boil gently until the cranberries start to burst. Continue to simmer until the sauce is the consistency you like. air max 1 og You can use an immersion blender to make it really smooth too if you want or just use the back of a fork to smash up the cranberries if you like it less chunky. nike kwazi Take it off the stove and let it cool completely. nike air max 90 femme gris rose Add the chia seeds if you want more of a jelly like consistency and stir well. nike air max 90 The chia seeds will swell – about 10 minutes should do it. Fjallraven Kanken Backpack Sale Then give it another good stir and store in glass mason jars or in the freezer. nike air max 95 Should store for about a week.
A simple recipe for icing your favorite cookies! Yields about 12 cookies Ingredients: 1 cup confectioners' sugar ¼ tsp vanilla extract 2 tsp milk 2 tsp light corn syrup Food coloring Instructions: Mix sugar and milk into a smooth paste. nike air max pas cher Add the corn syrup and vanilla extract and beat until creamy. nike air presto Add the food coloring, nike air presto femme bordeaux or if you want to make different colored icing, basket nike air max 1 place the icing into various small bowls and add the food coloring. nike hypervenom Brush the icing onto the cookies and allow to dry.
Serves 6-8 Ingredients: ½ cup chicken broth (ideally low-sodium) ¼ cup liquid honey ½ cup fresh lemon juice 2 chickens (about 3 1/2pounds each), cut into pieces 2 tbsp extra virgin olive oil 2 cups pitted olives (black, green or a mix) Fresh thyme if available, otherwise dried Salt and pepper to taste Instructions: Heat the oven to 450º F. nike air max 2015 Rub all the chicken pieces with the olive oil and season with salt and pepper. nike air max tn Then place the chicken pieces skin-side down in one layer into a large roasting tin. soldes nike air max 2018 Mix the lemon juice, honey and broth in a small jug and pour over the chicken. nike hypervenom Sprinkle with thyme and cook in the oven for about 20 minutes. nike dunk After 20 minutes, turn over the chicken pieces and continue baking for a further 20 minutes or until the chicken pieces are no longer pink inside. Fjallraven Kanken Backpacks If you want to crisp the skin, place it under the broiler for a few minutes.
This is my go to lunch and dinner meal because I usually have all the ingredients laying around the house at any time. There's so much flexibility with these Ingredients too – you can change it up and make it into taco soup, for instance, or a taco bar. nike roshe run 2017 Healthy too! So let's get started! Ingredients: 1lb lean ground beef (I like 80/20) 1 medium onion, minced (try vidalia or sweet yellow onions) 3 cloves garlic, minced (I use this garlic press) 2 tsp olive oil 1 tbsp chili powder 2 tsp dried oregano 19oz can kidney beans, drained and rinsed 4 cups tortilla chips 1 cup lettuce, shredded 2 tomatoes, chopped 1 cup mozzarella or cheddar cheese, shredded Salt and pepper to taste Salsa Avocado slices Instructions: Heat the oil in a large saucepan. nike air max tavas Stir-fry the onion until tender. Fjallraven Kanken Big Backpack Then add the garlic and cook for a minute. Add the beef, chili powder, oregano and season with salt and pepper. Fjallraven Kanken Sale Cook until the meat is done, then drain off the fat if necessary. Stir in the kidney beans and cook until heated through. Fjallraven Kanken To assemble, arrange the tortilla chips on dinner plates and top with the meat. Fjallraven Kanken Cheap Add the shredded lettuce, tomatoes and sprinkle with cheese. Serve with sour cream and more cheese on top.
Yields about 24 cookies Ingredients: 1 1/2 cups margarine or butter, softened 1 tsp vanilla extra ¼ tsp salt 1 cup powdered sugar 2 3/4 cups all-purpose flour, sifted Instructions: With an electric mixer, beat sugar, butter and salt until creamy. nike air max 90 femme gris rose Then beat in the vanilla extract. Slowly add the sifted flour and beat with a wooden spoon until well blended. Half the dough, flatten each half and wrap with plastic wrap. nike roshe run 2017 Refrigerate for at least 2 hours or overnight. nike air max 2017 Heat oven to 350° Fahrenheit. On a floured surface, roll one half of the dough to about ¼" thickness and cut out your favorite spring shapes – flowers, bunnies and more. Arrange the shapes on an ungreased baking sheet and chill about for about 15 minutes. nike air huarache avis In the meantime, roll out the remaining dough and repeat procedure. nike mercurial vapor Bake the cookies for about 15 minutes. Kanken Big UK Remove from oven and allow to cool for a few minutes before transferring the cookies to a wire rack.
Ingredients: 12x 1″ thick loin lamb chops, trimmed 6 tbsp extra virgin olive oil 3 tbsp fresh lemon juice 3 tbsp fresh rosemary, minced (or 3 tsp dried) 6 cloves of garlic, minced ¾ cup Balsamic vinegar Salt and pepper to taste Instructions: Arrange lamb chops in a single layer in a glass dish. Mix vinegar, oil, lemon juice, rosemary and garlic in a small bowl. Fjallraven Kanken Classic Backpack Season with salt and pepper. Fjallraven Kanken Backpacks Pour the marinade over the lamb chops, cover and refrigerate. soldes air max pas cher Allow to marinade for at least 4 hours. nike tn femme Turn the chops occasionally. nike roshe run Place the lamb chops on the BBQ, season with salt and pepper and cook to your preferred doneness. Fjallraven Kanken Big Use the marinade to baste the chops for extra flavor and moisture.
Dinner time is family time. Unfortunately, it's difficult to get everyone together and it's often even more difficult to find time to prepare meals. Home prepared meals are generally healthier than take out options. With a little meal planning and some advanced preparation you can get a meal on the table in mere minutes. Here are some fast family meal ideas to help you get started. Southern Style Crock Pot Chicken If you have five minutes in the morning, you have time to pull this meal together. Layer the following items into your crock pot: * 4-5 boneless, skinless chicken breasts * 8 oz. Mochilas Kanken Classic can green chilies * 15 oz. can of fire-roasted diced tomatoes, not drained * 15 oz. can of corn, drained * 15 oz. can of black beans, rinsed and drained * 15 oz. can of pinto beans, rinsed and drained * 15 oz. can of kidney beans, rinsed and drained Sprinkle a packet of taco seasoning or chili powder on the mixture. Cook for 6-8 hours on low. When you get home at night, shred chicken with a fork. nike air max 2013 It should be nice and tender. Serve with tortillas and your choice of sides/toppings. Consider shredded cheese, avocado, salsa, and shredded lettuce. The crock pot is an ideal kitchen tool for busy families. You can make soups, stews, roasts, and casseroles in your crock pot and it only takes a few minutes of your time. Pasta Primavera Choose your favorite pasta shape and cook according to package directions. Slice your favorite vegetables; consider zucchini slices, broccoli, carrots, and cherry tomatoes. Toss all the vegetables with a bit of olive oil. Sprinkle with salt and pepper and place in the oven for twenty minutes at 350 degrees F. Toss the pasta with the vegetables and serve with parmesan cheese. It's a healthy meal with grains and vegetables. Fjallraven Kanken Mini Use whole grain pasta for added nutrition. Sausage, Kale, and White Bean Soup In a large stock pot, put five cups of chicken broth. Fjallraven Kanken Mini Slice a pound of Andouille sausage and add to the pot. Add a can of white beans and one pound of coarsely chopped kale. Mochilas Fjallraven Kanken Infantil Cook to let kale soften, then serve. It's great with crusty white bread on the side. This recipe literally takes about ten to fifteen minutes – just long enough for the broth and ingredients to get hot. When looking for fast family meal ideas, look to your resources. A crock pot and make-ahead recipes are a busy family's best friend.
Spinach salad is one of my very favorite salads to eat in the summer … well really almost any time of the year.  It's healthy, looks fabulous on the plate with almost any other main dish and most people love it!
With a tasty dressing and summer strawberries, you can make a strawberry and spinach salad that everyone in your family will love. If you are introducing this salad to children, chop the spinach into small pieces and mix them well into the other salad ingredients.
For 4 servings of Strawberry Spinach Salad you will need:
-One 10-ounce bag or bunch of fresh spinach
-2 cups sliced, fresh strawberries, washed and tops removed
-1 cup thinly sliced red onion
-1 cup pralines or candied pecans
Optional: chopped cooked chicken or sliced hard boiled egg
Place all ingredients except pecans in large salad bowl. Pour strawberry vinaigrette (recipe below) over salad to taste and toss to combine. Refrigerate any leftover vinaigrette. Sprinkle the whole salad or individual servings with pecans and serve.
Strawberry Vinaigrette
1 cup extra virgin olive oil
1 cup whole strawberries, washed and tops removed
2 tablespoons balsamic vinegar (you can use apple cider vinegar, but balsamic vinegar does especially well with strawberries)
1/4 teaspoon salt – adjust to taste
1/4 teaspoon ground black pepper
1/4- 1/2 teaspoon sugar – adjust to taste
Place all ingredients in a blender or food processor, and blend or process until it becomes liquid.
Related articles