The Best Ever Cranberry Sauce: Cranberry Chia Jam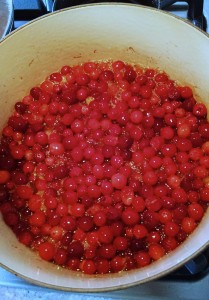 I used to love the canned cranberry sauces to serve with my turkey until one year I decided to try and make my own. I'll never go back to the canned again! It's so easy and pretty healthy.
I kind of mish-mash these ingredients so feel free to embellish to your own taste and add in other things as you see fit! But here are the basics:
1 12-oz bag of fresh cranberries
1/4 cup port wine (if you're not a wine drinker, use orange juice)
1/2 can crushed pineapple
zest of a small/medium orange (fresh is preferred)
1/4 (or more) freshly grated ginger root
1/4 teaspoon cinnamon
1/4 cup maple syrup
2 tablespoons chia seeds (optional)
Put all the ingredients except for the chia seeds into a large saucepan and boil gently until the cranberries start to burst. Continue to simmer until the sauce is the consistency you like. You can use an immersion blender to make it really smooth too if you want or just use the back of a fork to smash up the cranberries if you like it less chunky.
Take it off the stove and let it cool completely. Add the chia seeds if you want more of a jelly like consistency and stir well. The chia seeds will swell – about 10 minutes should do it. Then give it another good stir and store in glass mason jars or in the freezer. Should store for about a week.
Enjoy!