The Car Seat Key – What a great tool!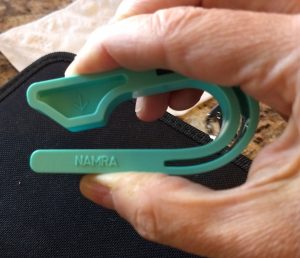 When I see new moms out and about with their kiddos in car seats, carrying scarves, etc., I'm often quick to quip: "Back in my day they didn't have…" And here I go again. 🙂
A car seat key
. Who knew?  I have several friends who still have babies in car seats and they are going to LOVE this tool.  A few of them experience carpal tunnel symptoms (musicians), and some of them just love doing the manicure thing and realize that just pushing that little button sometimes is impossible with those long, glorious nails.  So this is it…
Introducing The Car Seat Key. This is the greatest little tool you never thought you needed – until you hear about it. It's just so simple it's hard to even go beyond this video to show you:
Seriously. It's that simple. It comes with a hook to keep it on your key ring or hook it to your diaper bag. You can undo the buckle one handed or two.  If you want to give your child a bit of independence as they grow older, you can pass it back to them so they can get themselves out of their seat (but only with the key… brilliant!)
Let me know what you think?  I'm keeping one in my "when the grandkids come" stash and giving the other one away to a mom I know who broke her wrist last week. Perfect!
Buy The Car Seat Key online on their site (discounts for ordering several in one order)
Buy The Car Seat Key on Amazon
I received this product in exchange for an honest review. All thoughts are my own.