Visit LEGOLAND Discovery Center Chicago and it's like you've just jumped into the world's biggest box of LEGO bricks! With over 3 million LEGO bricks, rides and a 4D movie theatre all under one roof, what will you discover?
My readers can get a FREE Child Admission with Full Paid $20 Adult Admission!
Legoland Discovery Center Discount: http://windycitykidsguide.com/coupon.php?bid=10977&lid=13569&dealid=1066®ionid=261
We visit several families in the Rockford area and each time when we drive there we pass Magic Waters and think – we need to go there!  How great that they sent me this information to share with you (in exchange for a few tickets to check it out and review – how nice!)
Visit one of the largest water parks in Illinois! Magic waters is located just off I-90 near Rockford. Experience the Double Dare Drop 75 ft. Speed Slides, Tsunami Bay Wave Pool, Typhoon Terror Adventure Ride and the thrill a minute Splash Blaster Water Coaster Ride. Enter the dark tunnel of the Abyss for lots of twists and turns or relax on the 1,200 ft. Splash Magic River. Have tons of fun at Tiki Island where a 1,000 gallon pineapple water bucket spills to the delight of guests! Coolers welcome or grab lunch at the new Ocho's Cantina! Luxury cabanas available. Free Parking. Visit magicwaterswaterpark.com for more information.
Water park opens June 8th 2013. Open Daily 10 a.m. to 6 p.m.  Mon & Fri 10 a.m. to 9 p.m
Special Offers & Events
$12 Buck Bargain Days: Tues, Wed, Thurs during the 2013 season.
Friday Family Fun Nights: June 14 through August 16.
Meet & Greet: Sunday July 14th. Disney band IM5 will be at the park for a Meet and Greet. Go to magicwaterswaterpark.com for details.
Have you ever been there?  Please let me know what you think and I'll feature your comments in my review too!
I can't wait!
Get your season passes now!
Even in the winter, making and flying your own kite is an option. As long as the day is dry, there is wind, and you and your kids are bundled up appropriately for the cold, you can make and fly a kite. There are some really wonderful designs and ideas for home-made kites, and they do not have to be complicated. Here are some ideas for making and flying some really cool kites.
Regardless of the style of kite you choose to make, the list of supplies is essentially the same:
– Plastic straws or wooden dowels (for the frame)
– Paper or plastic sheets (for the body of the kite)
– String (for the bridle and to hold onto the kite)
– Glue (for stabilizing the frame)
– Scissors (to cut paper or plastic sheets)
– Utility knife (to cut notches in the straws or dowels)
– Ribbon (for the tail)
– Paints, crayons, markers, and other decorative materials that are flat and light
Make a cross shape with the plastic straws or dowels, and criss-cross the joint with string to hold it together. Stabilize the joint with a drop of glue.
Cut notches in the bottoms of the dowels or straws using the utility knife. Then, run string through these notches to make a classic kite shape (like a diamond). Bring the ends of the string toward the middle, cross them over the middle joint, and tie in a knot.
Now, cut out the paper or plastic in the same shape as your frame, only bigger by an inch or two. Decorate it, and then glue it onto the frame.
Punch a small hole in the top and bottom points of the paper or plastic part of the kite. Run a piece of string through these holes so that the string goes underneath the kite. Make it loose enough to get your fingers under, but not so loose that it flops around under the frame. Cut the string off and tie knots to keep it from slipping through the holes. This piece of string is called the "bridle" of the kite, and is where you attach the long string to hold it.
In the middle of the bridle, tie another piece of string. This is your flying string, and will need to be long. You can wind the excess around a toilet paper tube, wooden block, or other piece of scrap wood or cardboard.
To the bottom tip of the kite, tie a piece of string that is about the same length as your kite. You can tie ribbons to it for decoration and added weight. This is the "tail," and it helps balance your kite.
If you have trouble visualizing some of the above steps, there are a lot of visual tutorials online that can help.
Now bundle up, get outside, and enjoy the winter wind! You can even make this a community event, inviting people to make their own kites and participate.
Related articles
About ready to pull your hair out?  Kids room or the play room a mess?  Are you tired of yelling at your kids to clean up their rooms or feeling like no matter how you try the kids' rooms are always an unorganized mess … or even worse, a health hazard?  Try these quick tips to de-clutter and organize your kids' rooms – and keep it that way!
1. Model it – Well face it, if you can't keep your own room clean and tidy your kids kind of have a right to say "but Mom, you don't do it either!" right?  Take some time to look at your own space and make sure you're modeling the behavior you're now asking of your kids.
2.  Simplify – Most kids, in America at least, have way too many toys in their possession.  Take a day to purge out the old stuff and either do a big garage sale (let the kids keep the earnings) or donate it all to your local goodwill.  Keep only the things that your kids have really played with over the last 6 months to a year. Everything that hasn't been touched (or doesn't have some sentimental value) must go.
3.  One Thing out at a time – This is probably one of the best, yet hardest, concepts to encourage and enforce. It's the one toy/game out at a time rule.  If a toy is out and not being played with it should be put away before another toy or game comes out.  Pretty simple, right?
4. Everything in it's place – following on the one thing out at a time rule make sure your toys, books, stuffed animals and toys each have a confirmed resting spot or storage spot so when your kids are cleaning up and putting away, they know exactly where that item goes… every time.
5.  Have zones for multiple kids – Establish clean up zones for families with multiple kids.  Each child has one section of the playroom that they're responsible to keep tidy.  Make sure, though, that the other kids aren't just throwing their messes into another child's jurisdiction to make it easy!
6.  Use under bed boxes – If you don't have a lot of space for storage, utilize under bed boxes for storage of some of the toys and games. It's a great way to organize too.
7. Space bags – Space bags (you know, those special bags that you load up and then suck the air out with the vacuum?) are great for stuffed animals and other soft toys.  Kids love them too because when they open them up, the stuffed animals come to "life" when the air hits them again!
8.  Categorize – Keep your zones organized by categorizing your play spaces – reading nook is over here, hot wheels cars and tracks are over there, all the dolls and clothes stay over here, etc.
9. Clean up song – Once a day, play a special song during clean up time.  Make it fun, sing along and help your kids during this special part of the day.
10. Reward for a job well done – After the clean up song, enjoy some milk and cookies or other special treat for a job well done!
"I wrote this blog post while participating in the SocialMoms and Hot Wheels® blogging program, for a gift card worth $40. For more information on how you can participate, click here."
About Hot Wheels®
Since 1968, Hot Wheels® has been passionate about creating thrilling vehicle experiences through innovative product and content. With a fan base of more than 41 million people, Hot Wheels® is the No. 1 vehicle property in the United States producing the coolest cars imaginable. The Hot Wheels® brand began as a line of 16 1:64-scale die-cast vehicles; today, it has evolved into a true, global lifestyle brand for boys of all ages with segments that range from aftermarket parts to licensed apparel to branded digital content from Team Hot Wheels™, a real-life race crew of professional drivers performing over-the-top stunts.
More on Hot Wheels® Wall Tracks™ sets: http://www.hotwheels.com/walltracks
More info on Hot Wheels®: http://www.hotwheels.com
What do you do with your cereal boxes after the insides have all been eaten?  We usually just break them down and thrown them into the recycling bin but Michaels has a fun idea for a cardboard craft that's great for kids of all ages – Make A cereal box journal.
Find out more details when you visit the site HERE
Cute huh?
Related articles
In our modern society, travel is no longer a luxury, but it is considered a necessary part of having a healthy and meaningful life. Anyone with a dream of seeing the Eiffel Tower in Paris, France or Machu Picchu in Peru can find a way to reach that destination if he or she plans well enough and long enough.
Before a ticket is purchased or a reservation is made, the first thing a person must do is to begin to save money. Travel, whether by plane, train, or automobile, is not cheap. Even if there are no immediate plans for travel, a Travel Fund can and should be started right away. Depending on the number of people in your family and the type of destination you think you are likely to choose, begin to put a set amount of money aside each paycheck. If you are paid twice a month, a good amount to start might be $50 to $100 each paycheck. Begin to deduct the determined amount from your checking account register. "Deposit" your travel savings each paycheck onto a separate page for your Travel Fund so you not only know how much you have saved, but so it will not get mixed up with the money that normally goes for regular bills and living expenses. After one year of saving for a vacation, you could possibly have $1200 to $2400 saved. This is a good start to your goal of a carefree vacation with your loved ones
The next thing you need to do after you have started a Travel Fund is to begin to formulate a travel plan so a budget can be created. Pre-travel expenses to include in your travel budget might be passports, maps, and pet care. If your family plans to drive to their vacation destination, then budgetary considerations should be made for tolls, gasoline, hotels and food along the way. If flying is the preferred or necessary mode of travel, then airline tickets, cabs, or rental cars should be included on the travel budget. Arrival at the final destination will bring more expenses to include in the budget such as hotels, food, entrance to attractions and museums, transportation costs, and souvenirs.
By following these two important steps when preparing for a vacation, you will be able to truly relax knowing you have prepared yourself financially for the costly good times of taking a vacation with family and friends.
————
Jennifer Tankersley is the creator of ListPlanIt where you can find over 400 lists and planning pages including your own Travel Fund and travel budgets, plus packing lists and itineraries, to put your world in order.
Millions of families around the world enjoy the love of a pet. No matter what type of animal they have, pets add so much to their lives. Unconditional love is only one reason to choose a pet. Learn how to adopt a pet so you will be prepared when it comes time to add your own to your family. And when you feel ready to look for a pet, adoption is one the options you have.
Obviously you can find breeders and purchase an animal from them. But, why not save the life of an animal that is no longer wanted but still has plenty of love to share? There are animal shelters, humane societies, and rescue groups around the country who would love to offer one of their pets for your consideration.
Look in your local telephone book to see if there is a shelter where you live. You may want to find pet nearby, but you can also look in larger cities; they will most likely have a larger variety of animals to choose from. Another place to look is at pet stores, Freecycle groups, Craigslist, or local newspapers. There's no limit to the number of advertisements you'll find.
Think about the commitment you can make. Dogs require someone to walk and play with them as well as feed and love them. Cats are more solitary but they do need someone to feed them, change their litter, and love them – on their own terms, of course! Fish, reptiles, and rodents require less care, so consider this when you decide which animal is best for your family.
Know which type of animal you prefer – dog, cat, hamster, gerbil, or bird. If you or your family have a preference, call around to see who has that type of animal available. There's no need to visit a shelter or pet store if they don't have the type of animal you want.
Take time to visit each shelter or rescue area during business hours. You don't have to make a decision on an animal during your first visit. Choosing a pet is serious business; there's no need to rush into a relationship which could last many years depending upon the pet you want.
Depending upon the animal you decide to get and where you get them, they will most likely have a thorough veterinarian examination prior to their adoption. The shelter, pound, or pet store may also give you a certificate toward a first-time veterinarian visit after you take them home. You may have to sign an agreement to have cats or dogs spayed or neutered if you get them while they're young or they haven't already been altered.
When you look at the animals which are available, you want to find one that is lively, eager for attention, and playful. If you choose a dog, you may want to pay close attention to how they respond to members of each sex and see if they shy away from one or another.
Now that you know how to adopt a pet, what are you waiting for? There are many animals looking for a forever family. They need someone to love them – are you ready for the job?
Some of us stay home for the holidays. Others make trips to see family and friends. But when you've got the kids in tow, road trips can become, well, rather unpleasant at times.
It's not that we don't enjoy spending time with our kids. In fact, just the opposite. It's just that they get easily bored. And they get hungry – even more often on a long drive. And they need to stop at every rest area. (Well, most moms do too but I digress…)
But if you stop every time they want to stretch their legs or get a candy bar, you could add hours onto your trip. You may find yourself wondering why you didn't just take a plane.
But road trips with the family don't have to be an exercise in frustration. If you're well prepared, they can actually be lots of fun. Here are some ideas to keep boredom and other things that make a road trip less pleasant at bay.
* Bring along plenty of snacks and drinks. But steer clear of chocolate, caffeine and sugar as much as possible, because these things can make already antsy kids even more hyperactive. Instead, pack some juice boxes, fresh fruits and veggies, crackers and other snacks that are healthy yet filling.
* Invest in a couple of travel games that the family can play together, or make up your own. These are great for keeping morale high and providing for quality time on long trips.
* Let each child bring a toy or individual game to play with. Most kids enjoy both group and individual activities at home, and they need both to keep them occupied and contented during a car trip. But be sure to place limits, because if you don't, they're likely to bring a whole bag full of stuff.
* If you have an infant, make sure to bring plenty of diapers, wipes, bottles and formula. Calculate how much of each item you will need, and bring about twice as much, just in case. Also, if any of your children take medication, be sure to bring an adequate supply.
* Bring something to put trash in. It's surprising how many parents forget this. If you fail to do so, you're just about guaranteed to end up with a car full of trash by the time the trip is over. Depending on the size of your family, you might need a grocery bag or a full-sized garbage bag.
* Be prepared for messes. If you have a mini car vac, it's a good idea to bring it along. Other things you might need include wet wipes, paper towels, upholstery and carpet stain remover and glass cleaner.
* Ask kids if they need to use the restroom each time you stop at a restaurant or gas station. Otherwise, you might find yourself making lots of unscheduled rest stops.
Parents often consider holiday road trips necessary evils in which they must participate to get where they're going. But if you plan ahead, the trip can be enjoyable for the whole family.
We recently lost our beloved cat, Scamper. We still miss him terribly and it was very hard on the kids as they became so attached to him like a fellow family member.
As adults, we know that animals won't live forever. Children often don't understand this and it can come as a shock to them when a beloved pet passes away. Here are ways to help your child cope when a pet dies.
Most children consider pets to be members of the family. Perhaps you had your dog or cat before your child was born and your child was raised with it always being there. They have given your child unconditional love and they will be missed.
* Allow your child the opportunity to cry as much as needed. This may be your child's first brush with death; giving them the freedom to grieve will help them process the death and deal with other deaths in the future.
* The death of a pet may bring up thoughts about people dying, including you and them. If your family has a particular belief system about life after death, you'll want to use this time to explain your beliefs.
* Let your child ask questions and try to respond to them on their level. Be honest with them when answering questions. The important thing is to comfort and explain in a way they'll understand.
* Keep explanations short. Pay attention to their body language and stop if they seem tired. Let them take a break and come back when they're ready for you to answer more questions.
* Be honest about the pet's death. Tell them what death means – that the heart stopped beating – and the pet won't be coming back. Avoid saying you had the pet "put to sleep" because it may make your child afraid to go to sleep.
* If you have to euthanize a pet, involve the child in the decision. Tell them the vet will give them a shot which will stop their heart and they will peacefully die. It may be easier on your child if they aren't present, but that decision is up to you and the vet.
* Be sure your child knows the death of the pet isn't their fault. They need to understand their pet's death wasn't due to their being "bad" or because they didn't take care of the pet better.
* Expect emotions like shock, disbelief, denial, insecurity, loneliness, anger, and guilt. These are universal feelings people share whether they've lost a person or a pet they've loved.
* Accept your child's feelings and respond with compassion. Children need to express their feelings, and know they are safe doing so, if they are going to process their grief in a healthy way.
* Give your child a chance to say good-bye. If you can't bury the pet at home, you can still make a place where your child can go to remember them.
* Don't rush to replace the pet. Give your child a chance to grieve before buying another pet. When it is time, let them help find and choose a new pet. The local Humane Society or animal shelter would be a good place to start your search.
Help your child remember the pet with love and gratitude for the special bond they shared. Losing a pet can be a traumatic event, especially for younger children. By using some of these ways to help your child cope when a pet dies, it may make the journey to healing a little easier for both of you.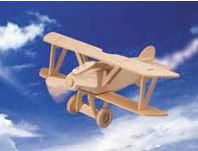 Where to buy: www.woodcraftpuzzles.com
Woodcraft Puzzles are construction kits that are popular with children as young as 6 and adults. They are made of 3mm good quality plywood boards and fun to build. Every owner will proudly display a woodcraft 3D model; they are simple but beautiful works of art.
The 3D wooden puzzles are educational and Do-it-yourself fun. They increase children's patience and ability to focus and are a wonderful way of getting children away from TV and computer.
There are lots of designs to choose from, from dinosaurs, ships and boats, buildings, aircrafts, construction trucks to delicate dollhouses. Each individual design is pre-cut and assembled by pushing the pieces out of the board with fingers and slotting them into each other to create a 3D model. It is safe as no tools or glue are required.
The assembled 3D models are simple but also beautiful works of art which would make stunning displays around your home or in your children's bedroom.
To look at the different designs, go to www.woodcraftpuzzles.com.