Saturday my family had the privilege of attending the premier of Six Flags Great America's new evening extravaganza "igNight".
Since we only live about 35 minutes from the park, we thought this would be a great family outing.  My daughter had gotten a season pass earlier in the week and with the two tickets graciously provided by the park for the premiere, we just had to purchase one ticket for my other daughter.  Yay us!
We had a busy day so we couldn't enjoy the whole day at the park, unfortunately.  But we did arrive in time to enjoy several of our favorites and a few new rides.
Tradition dictates that we go on the Whizzer Roller Coaster first.  It was a little bit strange to think that the first time I rode on that roller coaster was over 30 years ago.  Yes, I'm that old.  And yes … it's still fun!
Online Coupon: Save $20 Off One-Day Admission to Six Flags Great America–
Use the coupon code "FAMILY" when you purchase your ticket online!
Before we had to head over to the media tent we decided we'd take a quick ride on Raging Rapids.  While totally fun and a non-stop laugh fest, we got … SOAKED!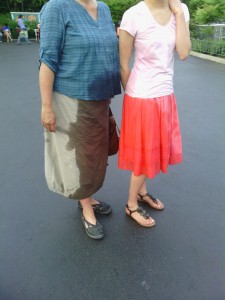 Thankfully it was pretty hot out and although I didn't get completely dry, I didn't look like a soaked mess the whole night either.
Anyway… the whole reason we went to the park was to enjoy the premiere of igNight, so off we went to Hometown Square where the media area was.  The folks from Six Flags were kind enough to let both girls in with us and there was quite a welcoming spread.  I was thankful because by then I was pretty thirsty! And I got to meet a few other bloggers including this one (click).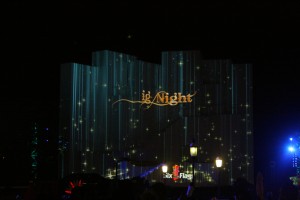 Then the show started.  I'll have to say, the set and the video projection was pretty amazing.  The set is over 50 feet high with multiple stage levels and the way they created the video – it actually curves around the structure – made it seem, in some ways, like you were there.  Very impressive.
The performers were quite talented and it's obvious they worked really hard to make this something spectacular.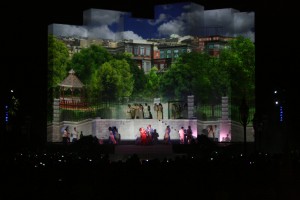 The background in this picture, for instance, is all video.  This particular scene is just before the "Chicago Fire" which they also projected on video… very cool.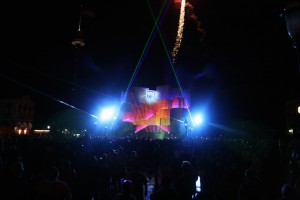 There were even fireworks and laser lights and all kinds of cool stuff.
I've battled with myself about this "review".  While the show itself was technically fabulous, I can't recommend it for families … or really for anyone.  We actually ended up walking out once the "modern" stuff started.  Inappropriate dancing, the theme of "clubbing" and giving someone your phone number even before you know their name … I guess I'm just old fashioned.  I don't want my kids to think it's normal to just hook up with someone at a bar.
I asked my girls their quick thoughts:
"I thought it was going to be cute and corny and then it turned trashy." – Daughter A

"It was inappropriate." – Daughter B
So there you have it. I'll definitely go to Six Flags again.  I'll definitely leave when the park closes prior to the show the next time.
If you want to see how really amazing the technical details of the show are, see WGNTV.com's behind the scenes video.
Online Coupon: Save $20 Off One-Day Admission to Six Flags Great America–
Use the coupon code "FAMILY" when you purchase your ticket online!
I received 2 free tickets to the park and special viewing of the igNIGHT event during their media premier in exchange for this blog post/review.