Got kids that are heading to camp this summer?  If so, you know the importance of labeling everything they bring along to make sure it gets back with them at the end of the camp week.
Label Daddy to the rescue!  I love this concept.  These "fabric" labels are perfect for clothing and more.  Simply stick on (no ironing or sewing needed), rub hard and wait.  The label is there to stay – even through washing!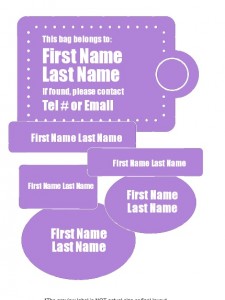 Their "Camp Pack" is fabulous!
It includes six different label sizes which will assist campers in labeling ALL of their belongings from clothing, to shoes, bags, sports bottles, toiletries, books, and more. PLUS, all labels in the Camp Pack come already laminated. This unique extra level of protection will eliminate any fading caused by the chemicals in various sunscreens and lotions; a must for any camper's labels. Camp Packs can be customized with our 19 color choices, 6 fonts, and 40+ icons. Peel and stick washable labels. Made in the USA!
But that's not all!  LabelDaddy.com has major sports team logos, luggage tags, spice jar labels and more!  Check it out!
So make sure everything you own is labeled with your information so it will never get lost – at summer camp or anywhere else you might be traveling this summer!
I received a sampling of LabelDaddy.com labels for this review. I was not required by them to post a positive review. The thoughts posted are my own.