In these last months of the virus shutdowns, etc., there are a lot of things that have gone "virual" including music lessons. My daughter, a piano and voice teacher who also teaches Kindermusik classes, has had to adjust all her classes to online, which is not her favorite, but it's working.
I thought this was probably on a teacher by teacher basis, but now I've discovered a wonderful site called LessonFace!
I thought, when I first learned of this, that there would be a few folks, teaching basic piano for young kids. But I was wrong! There are tons of classes and teachers and the classes are for every age range and level – beginner, intermediate, advanced, and more. It's pretty amazing. You can take the scheduled classes (some offered every day) or sign up for one one one lessons with a teacher.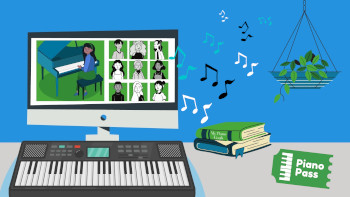 You can pay for individual classes or, even better, now Lessonface is launching Piano Pass, a new daily class series of live online piano classes for all ages and all playing levels. Classes for adults and kids.
The Piano Pass gives you daily access to over 20 live interactive piano classes each week, 80+ classes monthly. All with a live, in-real-time piano teacher. Each designed to energize and inspire you as you progress in your piano playing.
With the Piano Pass, students can attend as many live classes as they want, and feel confident by booking with the Lessonface guarantee. Enroll today and save. Regularly $39/mo. Start today and your first month is $14.99 for the first 30-days. Great teachers, great classes, guaranteed. Kids Pass are just $4.99 to start for the first 30-days. Regularly $19/mo.
For more information visit – https://www.lessonface.com/pianoclasses #onlinepianoclasses
Add 1:1 live online lessons. Spend over $120 on private lessons in your first month of signing up for Lessonface and take 15% off with the code: PIANOPASS.
https://www.lessonface.com/music-lessons/piano
Give it a try! I'm looking forward to getting some more lessons under my belt and seeing how the classes are for younger kids so I can get my granddaughter started as soon as she's old enough to do more than pound the keyboard!
I was given a trial membership to the piano pass in exchange for an honest review. All thoughts are my own.