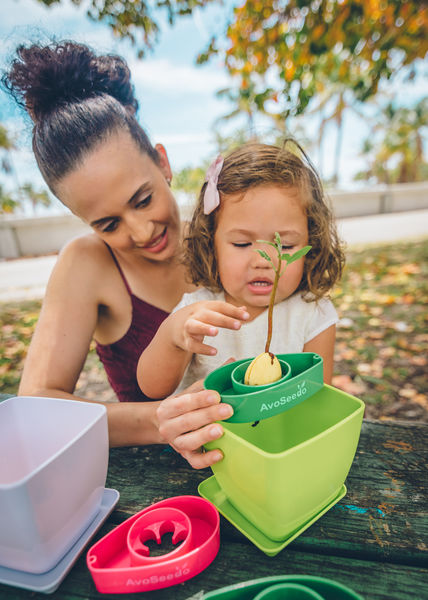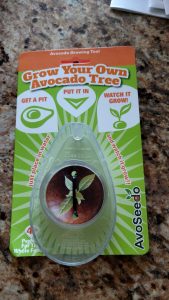 Our family goes through, on average, two avocados a day. Living in the midwest, we probably won't ever have a grove of avocado trees from which to harvest our own, but it's nice to dream and just see what happens! So, I'm thrilled because not only can I make use of one of the pits, I can watch God's handwork in action right on my counter!
This would be a great activity for a homeschooling family – especially in the winter when garden type activities are on hold.  It's easy, inexpensive, and fun! You could cut and clean out several avocados, make some guacamole and then get the pits ready with the Avoseedo.  Keep a daily log of what's happening (handwriting, observation skills, etc.,) and take a photo each day. Then right after you plant the growing tree in dirt, take your photos and use a time lapse app to put it together to show how it all happened. So much fun! I can't wait!
The kit comes with everything you need: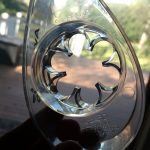 << This little guy – which comes in many colors – I just liked the clear best.
And the instructions … which are important but pretty easy!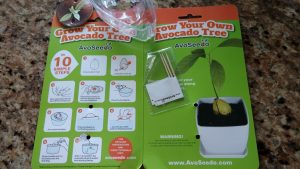 How It Works
Watch how to grow an Avocado tree with AvoSeedo

1. Get an avocado, cut it open and remove the pit
2. Peel away the thin skin from the avocado pit
3. Put the pit flat part down into the AvoSeedo tray
4. Place the AvoSeedo tray with avocado pit into a bowl of water
5. Change the water every two to three weeks
6.The seed will sprout and a tiny avocado tree will grow after one to three months
7. Transfer the budding tree into a pot
8. Reuse the AvoSeedo to grow more avocados
The only problem?  Make sure you have a big enough pit to securely fit in there.
And that's it!  Give it a go.
Here's the fun thing – this doesn't work just for avocados!  You can use it to regrow celery, carrots, etc, from scraps too!
You can buy the Avoseedo on Amazon or, even better, directly from their site at avoseedo.com.  Use the code: sp20 for 20% off at their site!
Here's another great use for the avocado skins that you can do along side growing the tree:
How to grow cress in your leftover avocado shells from Daniel Kalliontzis on Vimeo.
Classical music is great for babies, toddlers, preschoolers and older…. it's great for everyone. I don't know the specific statistics but it's safe to say that listening to classical music helps those little brains develop into thinking minds…and that's definitely what you want.
Download some beautiful tunes by Mozart and Bach to your ipod and let it play before (and during) naptime or when the kids are drawing or crafting. Have it on softly in the background while you read to them or while you're cooking in the kitchen and they're playing in the high chair or helping you. It's remarkably soothing for them and for you.
And as soon as you have a chance, find a local concert to bring your kids to. Once they've heard some of the songs over and over on CD or your ipod, they'll love hearing it live and seeing the instruments that make the music right in front of them. Summertime is a great time for it too because so many towns, large and small, have "concerts in the park" for free -which means little ones can listen and run around if needed! 🙂
Wow am I ever excited! My friend Christina over at WonderYearsRadio.com just put out a new resource for moms of elementary age kids chock full of ideas to keep your kids active and busy over the summer months (and not in front of the video games!) YAY! Although she's geared it towards older kids, I know that her ideas and hints will be of great use to preschoolers and toddlers too as well as families with multiple aged kids!
Each week of the summer in your inbox you'll get some great tips on keeping the kids busy and she's even included 2 bonus reports – one on connecting with the family and a toy guide. And it's all free! Love it!
So head on over and sign up today! You'll be glad you did! CLICK HERE to sign up!
🙂
I really enjoyed this article about homeschooling preschoolers and thought it had some great tips on things you can do with your young ones even if you are not planning on homeschooling at all.
Enjoy!
Need a homeschool preschool curriculum? Have you thought about homeschooling your child – but aren't sure you have what it takes to persevere? Homeschooling during the preschool ages is a great way to try everything out and see if it's going to work for your family.
Homeschooling preschool children also has many side benefits. It gives you something constructive to do during those long daytime hours while your husband is at work. And it will help you bond with your children in a way that nothing else will. Watching your preschooler learn and grow is a wonderful experience – and one that you and your child will both enjoy.
You can purchase a great homeschool preschool curriculum that is all ready to go, if that's what you're interested in doing. Or, you can come up with activities on your own. When we first started preschool activities with our boys, we came up with things for them by searching the internet. This does take a lot of extra planning time; however.
Later on, we did work through the Bob Jones 3-year-old preschool program and also the Bob Jones 4-year-old preschool program. We really enjoyed these programs and they saved me a bunch of time trying to figure out what to do next!
Here is a list of fun preschool activities for you to try with your child.
Preschool Fine Motor Skills:
Let your child play with pattern blocks. See what kinds of patterns they can come up with on their own. And you make a pattern and let them try to copy it. This is lots of fun for little ones.
Have two bowls, one empty and one filled with cotton balls. Give your child a pair of kitchen tongs. Let your child use the tongs to pick up the cotton balls and transfer them from one bowl to the other. Depending on the age of your child, they may need to use two hands to operate the tongs at first. It takes more coordination than you may realize to grip and release the tongs.
Give your child some animal crackers, a can of frosting, and a plastic knife. Let them frost their crackers and eat them. This is a huge hit with children of all ages. For a healthier alternative, let your child spread peanut butter on a piece of toast.
Buy a large whiteboard and some dry erase markers for your child and let them go to town.
Let your child finger paint with whipped cream and construction paper. This is another huge hit with kids – and it won't hurt them if they're still at the age where they put things in their mouth. You can even use food coloring to give them different colors of "paint". It's easier to clean up, though, if you leave the whipped cream white and let them paint snow pictures.
Give your child markers, crayons, pencils, etc. andlet them scribble to their heart's content. This really helps with their hand-eye coordination. You can make rudimentary dot-to-dot pictures for them to follow, if you'd like. When your child is really young and first starts working with paper and writing utensils, I'd recommend taping their paper to the table. They will have enough things to concentrate on without having to try to hold down their paper at the same time.
Give your child lace-up cards to play with.
Give your child different types of blocks to play with. Let them stack them, make roads for their car with them… however they'd like to play with them. Kids have more active imaginations than we do so follow their lead.
Lincoln logs are another fun activity – especially when dad can also be involved. Children will be delighted to see the wonderful creations that they can make together with their fathers.
Puzzles are a great way to help preschoolers develop their fine motor skills. Have a variety of puzzles on hand because that will be more visually interesting to your child.
Give your child a piece of scrap paper and a pair of scissors and let them fringe the paper. This is the first step in helping them learn to cut. After they master this skill, draw a thick outline of a square or circle on a piece of paper and have them practice cutting on the lines.
Paper dolls are a fun activity for more advanced preschoolers.
Give your child a set of beads that they can practice putting on the string.
Give your child some playdoh, a rolling pin, and some cookie cutters and let them play.
More Preschool Fun:
Draw a rainbow on a large piece of paper. Give your child a bowl of Fruit Loops cereal and let them match the cereal pieces to the right colors on the rainbow.
Read to your child. When they are very little, they might not want to sit still through an entire picture book. But the more you read to them, the longer they will want you to read to them. This is a wonderful way for them to develop a longer attention span, to develop their speech and grammar skills, and many other valuable skills.
Have old clothes in a box let your child play dress-up. Try having them act out stories or nursery rhymes as you read them, such as The Three Little Bears or Little Miss Muffet.
Give your children empty boxes and let them climb in them, store toys in them, draw on them, make teepees out of them, do whatever they'd like to them. As your child gets older, you can also let them cut up the boxes to make other creations from their own imaginations.
Let your child sample different types of fruits and vegetables than the ones you normally buy. Make it a special event where they are thrilled to try an exotic fruit or vegetable. Be sure to let your child help prepare the food as there is so much learning that can be done in the kitchen helping Mommy.
Pull a variety of spices out of your spice cupboard, have your child close their eyes and let them smell them. You will be amazed at how this simple activity will thrill your child. See if they can identify the spices the third or fourth time around.
Put a 2×4
Print off pictures of events from a story and let your child put the pictures in the right order. This is called Sequencing.
Clap or slap a rhythm on your legs and let your child try to copy the same rhythm.
Label common objects around your house to help your child become familiar with some words.
A fun science experiment is to fill a small glass with water and another glass with milk. Put a straw in both glasses. Let your child blow into each glass and see what happens. Be sure to have towels handy for this one!
Take a walk with your child. The object with this one isn't to see how far and how fast you can go. Slow down, observe objects around you, listen to what your child has to say. Let your child carry a bag with them to collect rocks, leaves, and whatever else catches their eye.
Let your child make crowns, Indian hats, etc and dance around the house. Try making costumes to match characters in books that you are reading (i.e., make rabbit ears when reading Peter Rabbit.)
Let your child dictate stories to you and you can write them down in a book or journal for them. Also, let your child illustrate the stories.
Give your child sidewalk chalk and let them doodle all over the driveway.
Take fieldtrips with your child. Take them to the zoo, a children's museum, plays and concerts which are geared for younger children, etc. Let them experience the world around them.
This is a sampling of some of the fun activities that you can do as part of a homeschool preschool curriculum. The more time you spend with your child, the more you will get to know where their individual interests and talents lie… and you can explore those in more depth with them. At this age, the main thing is for your child to enjoy learning and to build your relationship with them. Relax, have fun with your child, and watch them blossom.
Michelle Caskey has been homeschooling her sons for five years. Michelle graduated from the Western Michigan University with a degree in English and Computer Science. Read more of her homeschooling articles at http://www.homeschool-your-boys.com

http://www.homeschool-your-boys.com/homeschool-preschool-curriculum.html

One of the books (yes another) that I think every child should have on his or her shelf is the Child's Garden of Verses by Robert Lewis Stevenson… and particularly the one that is illustrated by Jessie Wilcox Smith. Just delightful.
Here's one of my favorite poems from the book. Enjoy!




I have a little shadow that goes in and out with me,
And what can be the use of him is more than I can see.
He is very, very like me from the heels up to the head;
And I see him jump before me, when I jump into my bed.

The funniest thing about him is the way he likes to grow--
Not at all like proper children, which is always very slow;
For he sometimes shoots up taller like an india-rubber ball,
And he sometimes goes so little that there's none of him at all.

He hasn't got a notion of how children ought to play,
And can only make a fool of me in every sort of way.
He stays so close behind me, he's a coward you can see;
I'd think shame to stick to nursie as that shadow sticks to me!

One morning, very early, before the sun was up,
I rose and found the shining dew on every buttercup;
But my lazy little shadow, like an arrant sleepy-head,
Had stayed at home behind me and was fast asleep in bed.
You can hear the whole book here!
Book title:  The Bee-Friendly Garden
Authors:  Kate Frey and Gretchen LeBuhn
Release date:  February 9, 2016
My rating:  4 stars
Review:
About 10 years ago we moved to this gorgeous place we still call home. One of the attractions about moving here was that there were two large gardens on the property. I had great dreams of gardening the spring and summer away.  It didn't quite work out that way.  My passion level, my other responsibilities and the overwhelming amount of weeds did me in.  I now have two large weed patches on my 3 acre space.  🙁
But I'm still intrigued and still consider myself a wanna-be gardener and hope, some day, to make that a reality.  That's one of the reasons I was excited to get this book.
Isn't it pretty?  The cover is lovely and the entire book is full of gorgeous garden photographs. I love it just for that. Do yourself a favor and get the paperback book rather than the kindle version of this one – you'll be glad you did.
If you're a homeschooling family, or just a family that loves to do projects together, this book can be your textbook for a unit study on bees.  Talk about hands on learning!  The first section of the book gives fabulous details about various species of bees and the rest of the book will help you to study and plant a gorgeous bee (and other beneficial insects) garden no matter how much space you have.  The format is pretty user friendly and you don't have to be a master gardener to make it work.
Even if you don't plan to plant a bee-friendly garden, this book would make a great coffee table book and will create some great discussion around the table with family and friends.
All in all, I'd definitely recommend this lovely book!
I received an advance copy of this book from the publisher in exchange for an honest review.  I received no compensation for this post nor was I required to write a positive review.  All opinions are my own.

Here's a fun 128 page coloring book all about vacations. You'll find coloring sheets about the airport, in a hotel, in a boat, in the car and other vacation themes. Bring it along on your vacation, or recreate this summer vacation's memories by coloring a few of these pages with your kids.
When my girls were young they would ask me to tell this story to them over and over and over again – night after night – as I tucked them in bed. I called it the "I'd Choose You" story and years after I started telling them this we found a book by the same title …but I'll tell more about that story later.
I can't imagine any young (or old) child, boy or girl, who wouldn't fall asleep feeling loved after hearing a story like this from a mom or dad. So here goes, as best as I can remember it but you'll have to embellish and throw in your own "thoughts" as you go along – you'll see what i mean.
If God ever gave me the choice again to choose a little girl for my daughter guess what, Sylvie? I'd choose you. Even if He lined up all the little 3 year old girls all in a loooooong line and we started at the front I'd say, "Lord, I just want Sylvie". Then maybe He would walk along with me down the line and choose another little girl and say "How about this one Mom. She's well behaved and keeps her room really really clean? Don't you want her?" And I would say, "No, thank you. She's beautiful and I'm sure her room looks nice, but I really want my Sylvie. Can we please find Sylvie?"

And we'd walk a little bit further and He would say, "What about this one, Mom. She's quiet and always says please and thank you without you asking her and she's never spilled her milk…"
You get the idea – fill in your own situations where maybe your little one thinks she might have disappointed you, etc. I would go through maybe 3 to 5 "other options" of children depending on how much past their bedtime it was :-). And then the story would end something like this:
And then I'd see the line was really long still but then I'd see you, Waaaaaay down there, my Sylvie. And I'd say "I see Sylvie!" and I would run and run and run yelling "There's my Sylvie. Yay… I'm going to get Sylvie". And I'd keep running until I got right up to you, Sylvie. And I'd give you a big hug and a big kiss and another SUPER BIG hug and kiss and turn to the Lord and say "THIS is the little girl I want in my house. Sylvie." And He might say "Sylvie is a wonderful girl but you do know that she might have to be reminded to say please and thank you sometimes? And occasionally she spills her milk all over the table, and…"
Again, you get the idea here right?
And Mom would say to the Lord, "I know, Lord. But this is MY Sylvie and no matter what she does or how she acts or how naughty she might be sometimes, I know YOU created her just for ME and our family and I love her the most of all. Can I take her home now?" And of course, God would say "Naturally. I knew that all along." And we would hold hands all the way home. I would ALWAYS choose you Sylvie. Always.
Well there you have it and here I sit with big old tears in my eyes thinking I need to tell my teens the same story probably, huh?
I'd love your thoughts!
If your deck gets damaged or begins to become structurally unsound, repairing or replacing it can get pretty costly. Maintaining your deck is a much better option that's more economical in the long run. To help prevent expensive problems from developing, here are some tips for extending the life of your outdoor wooden deck.
1. Regular Inspections
Twice a year – usually in spring and fall – it's a good idea to check on the structure and overall state of your deck. Look for moisture build-up on joints, especially the butt joints, and also on the posts and beams of your deck. If water is pooling anywhere, it will affect the structural integrity of the deck. So you'll want to make adjustments to see that the water drains, perhaps by adjusting the angle of the joints and beams so that gravity will take care of the water.
While you are inspecting your deck, remember to look for insect damage, too. Old wasps' nests, carpenter bee holes, and other damage will need to be repaired. Wood putty works for repairing holes and gauges; wasps' nests can be scraped off (just make sure they are not occupied!).
2. Keep It Clean
Regularly spray your deck with a garden hose. If there is some dirt build-up, algae, mold, or mildew, use a scrub brush and mild soap and water to scrub these areas. Just a note – make sure the scrub brush you use has nylon or natural bristles. A wire brush or steel wool pad can cause deep scratches with metallic stains.
Using a power washer every year or so can take this hose cleaning up a notch. Keeping the PSI under 2500 is recommended.
3. Sweep and Rake
Don't let leaves, sticks, and so forth pile up on your deck. If you do, they will rot and stain your deck. They will also hold moisture close to the wood, leading to rot. So periodically get the "fall out" off your deck and let the air and sunshine dry the wood.
4. Paint or Sealant
Applying a coat of paint every five years is recommended. A fresh coat of paint or stain helps keep certain insects at bay, too, particularly carpenter bees. If you are using a sealant, you can stain the deck first and then apply the sealant. You might prefer a combination product that will seal and stain. Power washing before staining, painting, and/or sealing is recommended.
5. Prevent Insect Damage
Take steps to prevent insects from eating your deck or making their homes in it. Keeping it sealed and painted is a good first step. Also, be on the lookout for bees and wasps that may be building nests, and treat the area accordingly. Don't have lights on all night around your deck, as this attracts bugs – if you want lighting on your deck at night, choose a variety that does not attract insects.
A lot of people tend to react to spiders – especially big ones – with fear. Garden spiders can get quite large, but before you run, scream, or squish, stop and think about the benefits of having spiders in your garden.
Yes, spiders can be beneficial. They eat insects that cause problems for humans, such as wasps and mosquitoes. They do tend to be secretive and reclusive, which contributes to their creepy reputation. They move quickly when startled, and you never know when you will come upon one.
But spiders are not trying to be sneaky in order to scare you; this elusiveness is how they survive. They can sneak up on their prey and remain still and out of sight for hours, keeping them safe from predators that would like to eat them. Let's take a look at some of the types of beneficial spiders that can be found in your garden.
* Crab spiders are the chameleons of the arachnid world. They can change their colors and patterns to match their environment, and take up residence deep inside flower blossoms. When one flower fades, they move into another one, changing color and pattern to match whichever flower they are living in. They prey on wasps, bees, flies, caterpillars, and just about any other insect that crawls along the ground (or a flying insect that has landed).
* Wolf spiders are rather scary looking, but you need not fear them unless you are a garden pest. Like crab spiders, wolf spiders hunt their prey rather than spinning a web and capturing it. They lie in wait or stalk their meals that consist of almost any insect pest.
* Yellow Garden Orb-Weavers are spiders that weave large, beautiful webs that sometimes look as if they have writing down the middle (hence another name for these yellow-and-black striped beauties: writing spider). These spiders are quite large, and their elaborate webs are lethal to all kinds of flying pests, such as mosquitoes, moths, wasps, hornets, etc. Such webs can be annoying to humans, but there are few things more breath-taking than one of these orb webs covered in dew drops on a sunny morning.
You can encourage spiders in your garden by not spraying broad-spectrum insecticides (spiders are not insects, but they will succumb to insect sprays). Another thing you can do is spread thick mulch that gives hunting spiders a place to hide and spend the winter. Encourage web-weavers with an outside light that attracts flying insects. Spiders will weave their webs near the light to take advantage of the bugs.
Safety
While very few spiders possess the mouth parts capable of breaking human skin, it's a good idea to leave them alone. Wear gloves in the garden, especially if you are working among wood logs, in mulch, or other spidery hide-outs. Tell your children the same thing, without inciting fear. Spiders are beautiful, beneficial creatures to watch but not touch.