Many many years ago (that still seems impossible to me) when my girls were still in diapers and we lived in a lovely townhome close to plenty of great grocery stores, I opted to try a grocery delivery service just to keep my sanity.  At that time such a thing was pretty unique and as time went on my little local delivery service sold out to the now HUGE service we all know as Peapod.
It was great!  Not only did it save me a trip in the car with two little ones in diapers and car seats and all of that, I found that I actually saved money despite the slightly higher pricing on some things and the addition of a delivery charge.  How in the world?
Simple!  I rarely had the chance to do any type of impulse buying that was so easy to do at the local grocery, WalMart or even Whole Foods across the street.  Everything was online, of course, so occasionally I'd throw something not on my list into my digital shopping cart but for the most part, I could shop in my pjs based on my list quickly, and at midnight or whenever I had a free moment.
As the girls got older and taking those trips to the store didn't cause me to hyperventilate, I stopped using the service but over the years I've picked it up again off and on during busy seasons, etc., and I'm always happy that I do.
The whole idea has expanded beyond Peapod now, too, of course.  My favorite service right now is one called Door to Door Organics.  This company started as a farm to home organic produce delivery service but has since expanded into most other grocery items too.  They work on a subscription service, sending you a box of produce each week or every two weeks (your choice) along with any other items you might choose to add to the delivery.  You can opt to skip a week, put your subscription on a vacation hold or cancel and restart whenever you need longer breaks. It's great.
The produce is delicious and, as the name suggests, organic.  Pricing is fair and because they work with local farmers, the produce they choose in each week's box is picked based on what is in season. Don't like what the box this week contains? Just swap out the things you'd rather not get with things you want up to the evening before the next delivery. Easy Peasy!
So give it a try!  Take a look if Door To Door Organics (click) services your area and try a bitty box (usually enough for 1-2 people for a week) or larger and see what you think.
My Hickies Shoelaces just arrived and I couldn't wait to try them out!  They're quite cool and very very fun!!  I remember many many years ago a sort of twisted lace system was popular. They were great but it was so difficult to get them into the shoes because they were twisted. These seem so much better!  I'm excited!
Here's my quick review just getting them out of the package. I'll post more later but I was so excited and want you to be able to order them for stocking stuffers. DO IT!
Turn any pair of shoes into custom-fitted slip-ons with HICKIES lacing system. Perfect gift for any age from kids to adults. https://www.hickies.com/
HICKIES are great for any adult or kid with a wide range of colours.
An unexpected, fun and extremely functional product.
One size fits all!
Amazing stocking stuffer prices at $11.99 (HICKIES Kids), $14.99 (HICKIES Adult) and $17.99 (HICKIES Metallic)
Save 20% on HICKIES lacing system! – Save 20% on HICKIES lacing system! Use code USFG at checkout to save. Only valid on https://www.hickies.com/
http://usfamilycoupons.com/coupon.php?regionid=75&bid=13107&dealid=3026 .@usfg
I received free Hickies in order to blog about them. I was not required to give a positive review. All thoughts are my own!
If you're tired of scraping your windows the old fashioned way, then join the Scrape-A-Round movement. You will secure your family's safety, access new gift ideas and scrape your windows cleaner in half the time with the world's best windshield ice scraper. View the Scrape-A-Round action http://youtu.be/baHi-litcD8
The Scrape-a-round is a brilliant feat of ice scraping engineering. The simple explanations why Scrape-A-Round is the best ice scraper are as follows, Scrape-A-Round is the:
Best ice scraper because of the softer plastic, allows the scraper to conform to the window curvature! Find out more information: http://www.scrapearound.com/
18″ of ice scraping surface.
The comfortable grasp provides relief for the arthritic or carpal syndrome sufferer.
Direct pressure to the window, no pressure lost through the ice scraper!
The circular rotational motion of ice scraper.
Double ice scraper action, leading edge and trailing edge.
Multi functional, remove the cap and it doubles as a funnel.
This scrapes windows frost and ice free in half the time!
Makes the perfect gift for the Holidays!
My readers get to save! Get FREE Shipping at http://www.scrapearound.com/ Use code LU8FBEZREU2 at checkout.
http://usfamilyguide.com/coupons.php?bid=13171&dealid=3099
Turn your digital photos into beautiful keepsake photo books that will last for generations.
AdoramaPix's custom books are high quality and display your images in rich detail.
Choose from gorgeous linen, hardcover and leather covers as well as 6 stunning paper finishes. AdoramaPix photo books!
I'm really looking forward to making my own book. We've been doing a lot of traveling this year and it'll be a great way to have some of the highlights in something that we can place on the coffee table and share with our friends and family.  Such fun!
http://www.adoramapix.com/app/customize-book/
15% off photo books. Use code: PhotoBook15. Sale ends 11/05
Label Daddy –
The number one solution for labeling your belongings!
Remember to label all the clothing, sports equipment and other personal belongings your kids bring to school, camp, sports leagues, day care, and other places. Label Daddy labels keep your belongings from getting lost or mixed up with others.
These labels are super durable peel-and-stick washable labels — they're washer/dryer safe, microwave safe, dishwasher safe and UV resistant! Label Daddy labels are also fun and attractive. You design your own labels!
Pick from many colors, sizes and logos, including Disney and Marvel characters, MLB, NBA, and NHL team logos, other sport and fun logos, and more.
Our exclusive laminated coating gives labels an extra layer of protection and is a must for camp! These labels are made in the USA and shipped directly to you worldwide. Save 10% on Label Daddy labels! – Save 10% on your entire Label Daddy order. Use code USFAMILY10 at checkout.
http://www.usfamily10.labeldaddy.com
If you have little ones who are not yet communicating, you might want to consider some type of baby sign language to help them to develop those communication skills.  Babies as young as 6 or 8 months have been known to easily begin signing known signs to communicate their needs … signs like "more", "thank you" and "please" are some of the easiest to learn and teach for both baby and caregiver.
Thanks to the folks at BabySigns, you can get a learn to sign starter bundle for 25% off this week only!  Just make sure you use code WW1085 when you checkout here (click here).
The links in this post are affiliate links. You are not charged any additional money to purchase this set through our affiliate link and by making your purchase through our link, you are helping to support our site so we can keep sharing good information.  Thanks in advance!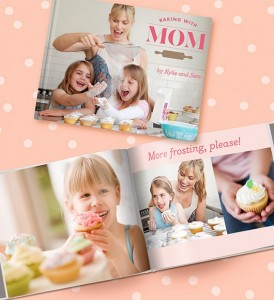 Some moms are just hard to buy for.  Some have everything they want or need and most really just want time with family and to see their husband and kids happy, healthy and with them!
Enter the perfect Mother's Day gift for the mom who would rather give than receive.  A hardcover photo book of her favorite people.  YOU!
Here's the best part!  You can get one for free through myPublisher.com.  They're so easy to make and the quality is fabulous.  You won't be sorry.
My daughter is a photographer and she's made several books like this for her clients.  Her preference is the spiral bound version because you can lay it flat, but all the books we've gotten from myPublisher have been great.
Have fun creating your book. Put in your order and make mom happy this Mom's Day!