Author: A.W. Tozer
Publisher: Moody Publishers
Amazon Info:

The best of A. W. Tozer, on one of his favorite subjects

Few subjects invigorated A. W. Tozer like the topic of worship. He saw it—like the church has traditionally—as the sole reason for which creation exists.

Worship: The Reason We Were Created features collections from the beloved spiritual writer on this important topic. The church's current worship is emaciated; its thoughts of God are too low. Here is a compilation to raise those thoughts high once more, and provoke the church to true, spiritual worship.

Topics include:

The act and object of worship
The Presence of God
Worship throughout the week
Feelings and emotion in worship
Man as a worshipping creature

If it's true that we are made to worship God, that it is the sole reason that we exist, that we are most alive when we live for His glory, then reading Worship is more than time well spent. It is time invested in the very foundation of your life.
My rating: 4 stars
My review:
I'm an A.W. Tozer fan.  I've read several compilation books that Moody has put out, including Culture which was an excellent read.  This one is nice too but for some reason I got caught up with how much it reads like a selection of transcribed conversations rather than just his written thoughts. And while I agree that getting everything he says is important, it made for bogged down reading on a topic that's sacred, and pretty serious.  I bet they were great audios, though.
But, if you can get past the "we're just having a chat" wording of the book, there's so much great theology: " God made us to worship Him, and when we're not worshiping, we're stars without light, sun without heat, clouds without water, and birds without song."
God is worthy of worship. It's pretty simple. And most of the time, during our normal days, we seem to forget that fact. Tozer helps us to remember and keep remembering. And worship more.
About the same time I received this book, I also was reviewing another book on the topic of worship. This one is far above the other because of the depth of the authors passion for God Himself.
I received a free copy of the book in exchange for an honest review. All thoughts are my own.
Author:  Louie Giglio
Published by:  Multnomah
Amazon info: Let Every Breath You Take Be an Act of Worship

Worship is more than singing on Sunday morning. While that's part of it, worship is the essence of what makes us truly human. God sparked this desire within our hearts from the day He first breathed life into Adam and Eve. Since then, every single human who has walked this planet has participated in this God-given ability, and divine quest. While many have squandered their gift, there are those who find the wonder-filled life of communion with God no matter the time or place.

True freedom comes when worship flows through us as naturally as the air we breathe, when the words and actions in our lives resonate with our Creator so deeply that every inhalation is full of meaning. When we understand the holiness of the God who knows the stars by name—and His overwhelming love for each one of us—how can we offer anything less?

In The Air I Breathe, Louie Giglio explains in passionate prose what it means to truly live a life of worship, offering insight and guidance for finding our personal path towards connecting with the God of the Universe.
My rating: 3 stars
My review:
Perhaps I'll be showing my age here. It's hard for me to get over the style of writing of this book. In some ways it seems like and attempt to put as many "tweetable" quotes together – or the compilation of a few pithy blog posts maybe.  That's not to say that the content is off.  While there's little "new" info, I did highlight a couple of things.  The one that stood out to me the most was on page 27:
"Whatever you worship, you become obsessed with. Whatever you become obsessed with, you imitate. And whatever you imitate, you become. In other words, whatever you value most will ultimately determine who you are."
Ouch. And true. So I guess I won't say that I can't recommend this book, but I don't know that I ever would.    The back cover's last paragraph says the author explains "in passionate prose" … perhaps that's why I found it difficult to keep going.  It's an important topic, and I'm glad he wrote the book. Just not my style.
I received a complimentary copy of this book in exchange for an honest review. All thoughts are my own.
Book:  Calm, Cool, and Connected
Author:  Arlene Pellicane (with Gary Chapman)
Published by:  Moody Publishers
Amazon Review Rating (as of 1/30/18) 4.7 stars with 47 reviews
Amazon Info:

For those feeling overloaded with technology…

Let's face it: most of us are on our phones or computers way more than we'd like to be, and more than what's even beneficial. We know that overuse of technology is harmful to our health and relationships, but how can we rewire our digital habits for a healthier life?

In Calm, Cool, and Connected, Arlene Pellicane will walk you through an easy 5-step plan that will help you center your life on Jesus and love others by decluttering your screen time. By introducing a few easy habits into your daily routine, you can transform your relationship with technology and enjoy more time with God and others.

It's easy to become consumed and preoccupied with our devices. In turn, we begin to suppress or ignore what's most important, focusing instead on the urgent and sensational. Let this book guide you toward balanced technology use, and thus a more balanced life.
My rating: 5 stars
My review:
I really enjoyed this quick, easy read. I had heard Pellicane on the radio when I was driving and she was talking about this book. I found myself wishing I could pull over and take notes, but now I don't have to!  Pellicane's writing style is conversational and enjoyable. Her tips are not earth shattering but because of how she's decided to lay out the book following the acronym H.A.B.I.T., one can easily keep the tips she gives top of mind.
H – Hold Down The Off Button
A – Always Put People First
B – Brush Daily and Live With A Clean Conscience
I – I Will Go Online With Purpose
T – Take A Hike
Even before I read the book or heard the author, I was trying to reduce my addiction to my phone – and using many of these tips. It's not an easy habit to break especially with everyone around us living with the same "acceptable addiction".  I think the hardest one for me still is "I Will Go Online With Purpose" . Actually I would say it's I will STAY online only if there's still purpose. I can go grab my phone or my laptop with a specific task in mind but inevitably I'll find myself later – sometimes MUCH later – STILL online after following a bunch of ZERO purpose bunny trails and random surfing. Ugh!
The "T" for Take A Hike should include – WITHOUT your phone.  People will live without you for an hour and even if something happens along your walk route, you can be pretty confident (unless you're walking in some remote area) that someone will be around with a phone to help if you need it.
Anyway, this book is a great resource. It's inexpensive, fast to read, and one that you can leave out in the water closet or on the coffee table for perusing after you've read it.
Buy the book on Amazon (click here)
I received a copy of this book in exchange for an honest review. All thoughts are my own.
Amazon info:

For almost 160 years, Charles Haddon Spurgeon's earliest sermons were lost to history. Thanks to Christian George and Spurgeon's College, these powerful words from one of the world's most popular preachers are now widely accessible to be read, studied, and enjoyed in the twelve volumes of the Lost Sermons of C. H. Spurgeon series.

This journal contains Spurgeon's own inspirational words culled from these early sermons. On the page directly following each quote, you'll find the source—the name and number of one of Spurgeon's early sermons—for easy reference. In addition, the customizable table of contents at the front of the journal and the date feature at the top of each page allow you to keep your thoughts organized.

Whether you use your journal for writing sermons, taking notes, or daily journaling, allow Spurgeon's stirring words to speak to your life today.
My rating:  5 stars
My review: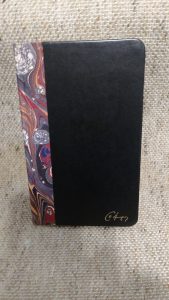 I'm a journal/paper/traveler's notebook nut, to be honest. I love a good journal for jotting sermon notes, prayers, books of scripture, quotes, etc. So I was thrilled to get this. It a great size (fits my Wide Chic Sparrow traveler's notebook perfectly) and the paper takes a fountain pen very nicely. I love it.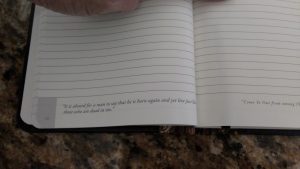 Add to that the quotes of Spurgeon's sprinkled throughout the bottom of the pages as well as an index page in the front… this is great!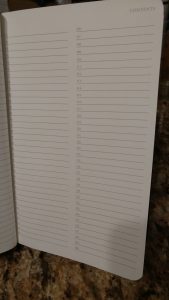 Because it's so high quality, beautiful to look at, and it feels nice in your hand, it'd make a great gift but once you get a hold of it, I don't think you'll want to give it away – so get two!
I received a copy of this journal in exchange for an honest review. All thoughts are my own.
 Book Title:  Out of a Far Country
Authors:  Christopher and Angela Yuan
Published by:  Water Brook Press
Amazon info:

Coming Out, Then Coming Home

Christopher Yuan, the son of Chinese immigrants, discovered at an early age that he was different. He was attracted to other boys. As he grew into adulthood, his mother, Angela, hoped to control the situation. Instead, she found that her son and her life were spiraling out of control—and her own personal demons were determined to defeat her.

Years of heartbreak, confusion, and prayer followed before the Yuans found a place of complete surrender, which is God's desire for all families. Their amazing story, told from the perspectives of both mother and son, offers hope for anyone affected by homosexuality.

God calls all who are lost to come home to him. Casting a compelling vision for holy sexuality, Out of a Far Country speaks to prodigals, parents of prodigals, and those wanting to minister to the gay community.

"But while he was still a long way off, his father saw him and felt compassion, and ran and embraced him and kissed him."  – Luke 15:20

Includes a discussion guide for personal reflection and group use.
My review:
I found myself not wanting to read any more as the details about Christopher's pre-conversion lifestyle were a bit too … detailed for me. I appreciate that this is a true journal and all… just want to warn other readers that while not "graphic", his attraction, feelings, experiences in the homosexual "scene" etc., is pretty detailed.
It's an amazing story and I'm thankful for the redemption of this family. I just can't recommend the book.
I received a copy of the book in exchange for an honest review.
Title:  Full:  Food, Jesus, and the Battle for Satisfaction
Author:  Asheritah CiuCiu (with forward by Linda Dillow)
Published by:  Moody Publishers
Amazon info:  
Can the Bible help me with my food struggles?

Have you ever felt stuck in a seemingly endless cycle of overeating, yo-yo dieting, and obsessive thoughts about food?

Whether you feel defeated by your lack of self-control or overwhelmed by thoughts and longings for food, the answer to our food fixation does not lie in the $500 billion global diet industry.

This is not a diet book and it's not a healthy eating plan. Because at the core, our problem is not really what we eat. It's why we seek fullness in something that will never satisfy.

Join Asheritah Ciuciu as she shares honestly about her own battles with food and reveals the path to freedom. You'll discover the joy of living free from food fixation so you can experience deeper satisfaction in Christ, gain a renewed sense of purpose, and yes, even enjoy good food (without regret).

A healthier relationship with food through a stronger relationship with Christ—that's the goal of Full.

Includes a quiz to help you find out if you have food fixation, plus practical strategies for overcoming it.
My rating: 5 stars
My review:
I've read many diet books. I've done many diets.  I've had some success on some. In fact, one time when my daughters were pretty young, I determined I was going to get skinny. And I did.  Pretty fast too.  Too fast. And too skinny.  And I discovered that my addiction to food could easily be converted to other addictions – like the addiction to dieting, or to starving myself, or to getting just one size skinnier.  It was scary.
I haven't "dieted" since then. Oh, I've tried to watch what I eat, limit my sugar intake, stop eating carbs, etc., I followed some pretty crazy "Christian" diets that I quickly learned were not good even though most of them had some good information, etc.  It's been a journey.
All that to say, I wasn't expecting too much when I got this book. But, I had heard the author on the radio once when I was running errands and at the time that I heard the interview they were talking about food and worship. I was intrigued with what she was saying – and I thought it was profound and totally different from anything I'd heard about "dieting" before. Mostly because it wasn't about dieting at all.  And I liked that.
I started reading this one and wondered if it would be the same old same old but it's not. It's really not.  This is a book about your relationship with God and His word … and a little bit about how that relates to food.  But that's a good thing because, with all addictions, it's rarely REALLY about the substance of choice. It's about what's going on in your mind and where your heart's focus is.
Favorite chapter?  Chapter 8. Celebrate the gift of food.  This is the chapter that I heard the author discussing in the interview on the radio and it filled out what I heard. The book is worth this chapter alone and I'm convinced if we'd just do some of the suggestions she makes here, our outlook about food and dieting and fellowship and mealtime and … a bunch of stuff, would be much, much different.
So yeah, better than I expected AND highly recommended!  Get this book!
I received a paperback copy of this book in exchange for an honest review. All thoughts are my own.
Book Title:  Transforming Grace
Author: Jerry Bridges
Publisher:  Tyndale
Amazon info: Living Confidently in God's Unfailing Love
Grace is amazing because it is God's provision for when we fall short of His standards. Unfortunately, too many of us embrace grace for our salvation but then leave it behind in our everyday lives. We base our relationship with God on our performance rather than on His love for us, even when we intuitively know that our performance cannot earn us the love we so desperately crave.

Isn't it time to stop trying to measure up and begin accepting the transforming power of God's grace? The product of more than ten years of Bible study, Navigator author Jerry Bridges's Transforming Grace is a fountainhead of inspiration and renewal that will show you just how inexhaustible and generous God's grace really is.

This edition includes the full study guide, which was formerly available as a separate product (ISBN 9781600063046).
My rating: 4 stars
My review:
This is another fine book by Jerry Bridges.  It's a comprehensive look at the beauty of grace in the Christian life.
About 1/4 of the book is the Discussion guide which includes a pretty detailed overview of each chapter for individual reflection or group discussion.
I enjoy Bridges writing for the most part. This book does tend to get a bit repetitive though, and that's the reason I'm giving it 4 instead of 5 stars.
I received a copy of the book by the publisher. I was not required to leave a positive review. All thoughts are my own.
Author:  Lydia Brownback
Publisher: Crossway
352 pages
Amazon info:

Humans are relational, emotional beings—and nothing reveals this more beautifully than the book of Psalms. As the psalmists pour out their hearts to God, they uncover the multifaceted character of the Lord almighty and reveal his grace-filled plans for his people.

Sing a New Song offers a fresh look at the 150 psalms in the Bible, summarizing each psalm's key themes, revealing how each fits in to both the Psalter as a whole and the rest of Scripture, and suggesting practical applications. Designed for use in personal study or in small groups, this book will invigorate your study of the the book of Psalms and enable you to see the steadfast love and faithfulness of God reflected on every page.
My rating: 4.5 stars
My review:
This is a lovely devotional book of the Psalms and would make a great gift for someone who would like to systematically work their way through the Psalms with some guidelines, etc. Solid but not stuffy, each entry offers some wonderful insight as well as companion scripture to see how the Psalm fits into the whole. A great book.
I received a copy of the electronic version book in exchange for an honest review. All thoughts are my own.
Title:  The Marvelous Mud House
Author:  April Graney
Published by:  B&H Kids
Amazon Info: Ben and his American family live in a hungry ranch house where they are always wanting more. But then they travel far across the world to Kenya and visit the marvelous mud house where George and Mama George live. There, among the mango trees, they discover a marvelous lesson about what it's like to be full of joy instead.
My rating: 4 stars
My review: What a beautiful little book.  Sweet illustrations with a great message of contentment and joy, this is a great book for kids AND adults.  Great read aloud for the whole family. Highly recommended!
I received a copy of the book in exchange for an honest review. All thoughts are my own.
Book Title:  Know Who You Are. Live Like It Matters
Author:  Tim Tebow (with A.J. Gregory)
Amazon info:
The World Does Not Define You!
Nobody said your life would be easy. And the older you get, the more difficult it seems to become. Deep down you may know your value as a person isn't defined by wearing cool name-brand clothes, scoring points for a sports team, or even by having a huge number of social media followers. And you're right! Your identity resides in something—in fact, Someone—much greater than anything this world can offer:

The only identity worth having…is found in Jesus Christ!

American sports icon, Tim Tebow knows firsthand what it's like to face pressure head-on. In Know Who You Are. Live Like It Matters, he shares the wisdom he's learned—not from what the world says, but from what God says in His Word.

Tim will guide you through thirty-six weeks of lessons, each based on a key Scripture, to discover who you are—by learning more about whose you are! You will also have the opportunity to write down your thoughts, feelings, and ideas on topics such as:
* Building godly character
* Maintaining great relationships
* Standing out from the crowd
* Doing things that matter in the big picture

Get ready to live bigger than ever before…with your faith and identity secured in a God who loves you beyond measure!
 My rating:  4 stars
My review:
This is a fine devotional book for it's target audience – which is pre-teen, young teen, homechooled boys.
A bit simple, it'll reach that crowd because of who Tebow is. Unashamedly Christian in focus, this would make a nice gift for a young man in your life who is just starting out on his spiritual growth journey.
Divided into 36 lessons, it encourages young guys to journal their thoughts (needed!) about various aspects of christian living.
I received a complimentary copy of this book in exchange for an honest review. All thoughts are my own.