*Sponsored post*
Ask kids of all ages what their favorite family activity is and many of them (most of them) will reply "family movie night!"  When our daughters were young every Friday night was Pizza Movie Night and we all looked forward to it. We even looked forward to it when our girls went through a phase of watching White Christmas for about 8 weeks in a row.  Phew!
It was the "family" part of family movie night that made it special. And it was extra special when there was something at the theater that we'd all enjoy – the big screen, popcorn, and all of us together.  I have so many fond memories.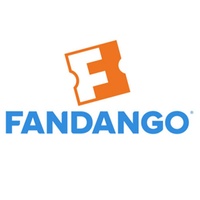 In fact, now that the girls are grown, we still love a good movie night together, both in front of our small screen with Amazon Prime or a DVD, or on the big screen at our local theater.  When we find a movie that's at the theater that we're looking forward to seeing, the first thing we do is jump over to Fandango to get our tickets.  Not only can we see all the options at multiple theaters in our area, but, even better, now that many of our local theaters have prereserved seats (love those recliners!) we can secure our favorite spot for the evening and not get stuck in the first or second row and neck pain for the rest of the night!
Fandango is easy. You can print your tickets at home and, with prereserved seats anyway, you can even skip the annoying previews and show up right when the actual movie starts.  (Side note, I timed the previews the last time we went – it was almost 40 minutes! Ouch!)
Here's the other great benefit of Fandango:  If, for some reason you can't make it to the theater for the show you reserved, you can get a refund up until the minute the actual movie starts.  So if your kids get sick or you just change your mind, you can pop over to the site, cancel your tickets and either bank your credit for the next movie night or get a full refund (minus the processing fee).  It's that simple!
And I just got an email that shows how Fandango and Paypal have started working together so that it's easy for you to buy multiple tickets and have your friends pay you back!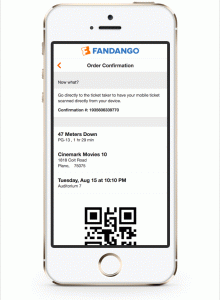 Going to the movies isn't the "cheap" night out it used to be when I was a kid, but thanks to Groupon Coupons, you can save a bit on your ticket prices with Fandango.
So, have you started your own family movie night tradition?  If not, why not give it a try!
FYI: This is a sponsored post. The stories, opinions and thoughts about what's listed here are completely my own.
This video speaks for itself. Our family is SO thankful for VidAngel and we're excited about this new way to watch movies – our way! You're not limited to pre-decided filtering – you can choose which scenes to skip or watch individually and you can even change the filters mid-movie if you change your mind.
Give it a try. Your first 30 days are free.
Click here to try VidAngel yourself!  Your first 30 days are FREE!
Vidangel works with Amazon, Netflix, and Amazon HBO.  Filter movies your way. Every time.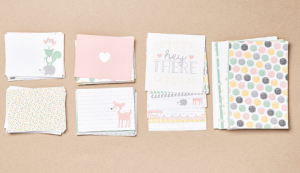 Finding the right activities and games for a baby shower can be somewhat daunting.  At least in our circles, most people attending aren't really fond of the typical baby shower games, but, naturally, play along because that's what you do.
We're hosting a baby shower this weekend and one of the things we'd like to do for our first-time mommy is have a little book of encouragement for her at the end of the party.  The problem with this is that, like with the baby shower games, most attendees don't really enjoy thinking up those notes of encouragement on the spot.
You can avoid this by sending out a quick email to those coming to the baby shower suggesting that they prep something in advance – even write it on some scrap paper so they can just copy it into the guest book when they arrive.  But, to be honest, most people are just too busy or forgetful to actually do something like this.  I'm guilty of it too!
So, tomorrow, at our shower, I'm trying something new just to see if it helps to actually fill up a book for the new mom.
I'm setting up a small table with the supplies near the entrance of the room where we'll be holding the shower.  The booklet will be made up of individual sheets of paper, not a pre-bound book. Doing this will free up each attendee to take a sheet of paper with them to wherever they are sitting and write freely throughout the allotted party time.  I'll put a basket on that table too for the finished sheets and compile the book toward the end of the shower or even afterward.  There are so many ways to make individual sheets of paper into a nice booklet – I'll save that for a future post.
But what to do about the brain freeze that tends to happen when a request to fill out something like this is presented.  For the life of me, I can think of 10,000 things to say to a new mom when I'm not under pressure, but when put on the spot to write it out during a 2-hour shower, I just can't think of anything!
My solution … at least this is what I'll try tomorrow … is to put out small slips of paper with bible verses, quotes, poems, etc.  If so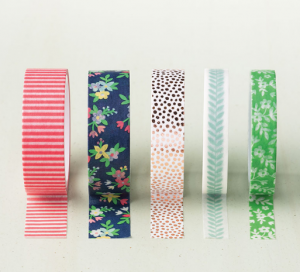 meone is having trouble thinking of what to write, they can choose one of these slips of paper and either tape it onto their page (I'll put out some fun Washi Tape too!) or copy the verse or poem by hand.  This can serve as a starting point for what to write or be all that's on the page with a "we love you" and signature.
I'll include several colors of pens and maybe even a few decorative accents so those who are uncomfortable with a bunch of blank space on the page can fill in with pretties.
What do you think?  Do you have any ideas for a baby shower book?
These look so handy!  For kids and adults alike!!!

Turn any pair of shoes into custom-fitted slip-ons with HICKIES lacing system. Perfect gift for any age from kids to adults. https://www.hickies.com/
HICKIES are great for any adult or kid with a wide range of colors.
An unexpected, fun and extremely functional product.
One size fits all!
Amazing stocking stuffer prices at $11.99 (HICKIES Kids), $14.99 (HICKIES Adult) and $17.99 (HICKIES Metallics)
The travel, parenting and fitness hack that you never knew you needed, until now.
Save 20% on HICKIES lacing system! – Save 20% on HICKIES lacing system! Use code USFG at checkout to save.
Only valid on hickies.com
http://usfamilycoupons.com/coupon.php?regionid=75&bid=13107&dealid=3026 .@usfg
I'm a fan of putting words on walls.  I have several vinyl wall quotes that I've gotten over the years that I love.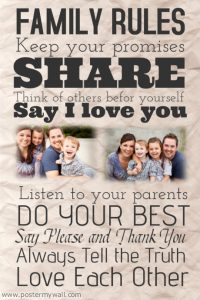 I really like this idea too…. a family rules poster.  Especially when it's customized with your own family pictures – the kids will enjoy looking at it and remembering the things your family values as important.
Of course, there are a lot of places you can make up something like this. If you're a photoshop user, this is probably a no-brainer.  But for graphics impaired folks like me, companies like PosterMyWalls.com are a life saver!
This poster, for instance, is an uploaded template that you can easily personalize with your own wording and pictures.  Then download and print at your local print shop or WalMart and voila – something lovely and valuable to hang on your walls!
I think once you start you'll get addicted to all the different posters and prints you can make – easily and quickly. You can make photo cards, too.  Such fun!  They've even got templates for sports schedules, event announcements and more!
Thanks to my friends at USFamilyGuide, I can offer you a half off coupon (click to get the coupon) off the downloadable prints!  You're welcome!
Disclaimer: By publishing this blog post I MAY receive a complimentary poster for review. I did not receive anything in advance for this post.
Have you ever been to Hawaii? It's so beautiful and it's a lovely family destination!  I can't wait to go back again some day –  soon!!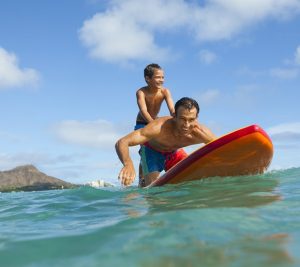 And, I am so excited! I just learned that US Family Guide has partnered with Pleasant Holidays, a leading provider of package vacations. They're based in the U.S. and have great deals on family vacations worldwide – Hawaii, contiguous United States, Canada, Mexico, Caribbean, Costa Rica, Europe, Tahiti, Fiji and more. They can also book complete cruise vacations with airfare, onboard accommodations, and pre- and post-cruise hotel stays for vacations where everyone can relax and enjoy.
Pleasant Holidays is new to US Family Guide, but has been partnering with hotels and resorts for more than 55 years to get great offers you cannot book anywhere else. When you're planning to explore close to home or farther afield, make them your one-stop-shop for everything you need: flights, accommodations, car rentals, ground transfers, exciting activities and tours, and travel protection coverage to protect your travel investment (because if parenthood has taught us one thing, it's to expect the unexpected). And unlike some other online travel providers, they have in-destination customer assistance should you need it.
They've currently got a great deal on Hawaii vacations that saves you $100 per booking. Select from 26 hotels and resorts on the four most popular islands: Oahu, Maui, Kauai and island of Hawaii. Explore the exciting sights of Oahu, including world-famous Waikiki Beach and historic Pearl Harbor. Watch the sun rise from the slopes of a dormant volcano on Maui. Snorkel, hike, kayak, surf, experience Polynesian culture and more. This deal is valid on new vacations booked by 10/30/16 for select travel through 6/30/17 that include roundtrip airfare from the continental United States and a stay of five nights or longer at a participating hotel or resort. The $100 savings is per booking and taken at time of booking – no waiting! For more information or reservations visit www.PleasantHolidays.com, call 1-800-837-5154 or contact your travel agent.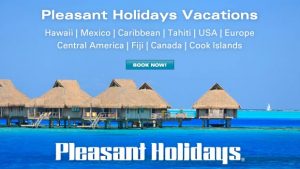 I'm posting this as a US Family Guide blogger. They're running a contest for a free vacation with their newest travel partner, Pleasant Holidays. By posting this I may win the contest.  But I still like Hawaii… a lot! 🙂
My family went to Italy last fall. We had such a great time!  And because my oldest daughter is a photographer, we got some GREAT pictures.
Now in this digital age of social media posting of any and everything you do, many of our friends have seen most, if not all, of them.  That's not necessarily a bad thing but I get a little tired of looking at everything on a screen and miss the days of gathering to show off a photo album of the trip.
Many options abound in the photo book world these days.  That's a good thing and, based on the number of companies that provide this service, there must still be a segment of our population that actually prints photos/books.  So I was thrilled to have the opportunity to try out one that was unfamiliar to me:  AdoramaPix.
Since my daughter is the photographer, she graciously offered (actually I begged her) to put together the book online with the shots she had stored on her computer. That's not an easy task.  Not because the photo editor on the AdoramaPix site is difficult – it's not at all.  It seems quite intuitive and went pretty quickly. The hard part for her was choosing a limited number of pictures to add the photo book.  She takes a LOT of pictures.  And I don't think I want a 3-foot thick photo book on my coffee table.
But, choose she did and we hit submit on the order this morning. It looks like it'll be about 2 weeks for processing and shipping and then I'll come back here and fill you in on how the whole book turned out.  I can't wait!
Try AdoramaPix yourself by clicking below:
15% off photo books. Use code: PhotoBook15. Sale ends 11/05/2016 11:59 PM EST
I received product credit in order to create a photo book with this company in exchange for an honest review of the product.  I'm actually leaving several reviews because I think it's a great product and can't wait to get the book and share it with you.  I was not compensated more to leave more reviews – I just want to!
By:  Fred and Jo Firestone
For: Adults
My rating: 2 stars
My review:
This game, I thought, sure has potential but …
Wow…if you play by the rules this game is nearly impossible.  I like puns as much as the next guy and can usually come up with some zingers on the spot but this is confusing and just not really fun… it's WORK.
It really could be funny,  it could be cute and it could be a great group game but, nope. It was just too hard and too limited. I will keep it just to see if there are some hacks I can find to make this actually a fun game to play.
So much potential…
I received the game in exchange for an honest review.
My friend Lisa over at the Educational Toy Factory just shared a really great website with me. She and her family are on their way to Disney World and she's looking to save a little cash while she's there.
It's a good idea to plan ahead when you're heading there definitely. My husband and I used to joke that when you drive over the state line and see the "Welcome to Florida" sign they should add the tag line "Have your credit card in hand at all times – you're gonna need it." because it felt like money was just sucking out of our account from the moment we drove over the line until the moment we left the state.
Disney has some great family deals already to keep the costs down so make sure you do your research but this site:  Mousavers.com looks like a real treasure. When you click on that link it'll take you to the meals page but the site is just full of other ways to keep a little extra money in your pocket during your time with Mickey Mouse and his friends.
Click here to visit Mousesavers.com and find out more.
Thanks again Lisa!
It is important to exercise and walking is a great way to do that. However, simply walking can be boring. Here are five things you can do on a hike that will make it more enjoyable and interesting.
Bird watching
Check out a book from the library that has pictures of birds in your region or look online to see which birds can be found in your area. If you have a smart phone, you can also find bird watching apps that will let you not only see what the bird looks like but has audio of them singing. Decide how many different birds you would like to find on your hike and keep track of them. The next time you decide go hiking, take your list and see if you can find new birds that are in near your home.
Fishing
It is not uncommon for fathers to take their children fishing. Why not combine hiking and fishing for more time in nature and with one another? Instead of heading for the local lake, get out a map of your area. Check to see if there are any out-of-the-way public lands with lakes, ponds, streams or rivers. If you can find one that is off-the-beaten path, you can make a picnic lunch, hike out to the location and then enjoy an afternoon of fishing with the children.
Camping
Take time to do some research about the route you plan to take on your hike. There may be camping sites along the route if you care to look for them. You can also plan to do primitive camping. Remember, however, if you choose to camp in a primitive setting to be to take your garbage out with you and be sure any campfires are thoroughly put out before leaving.
Swimming
Another option to consider while hiking is to plan to go swimming. There is nothing like splashing around in streams, rivers or lakes. Of course, you will want to verify swimming is allowed in the waters, as well as be sure the water current is not too strong for younger hikers or there are not dangerous fish in the water.
Scavenger hunts
Make a list of items you would like your party to find while hiking – bird's nest, mushrooms, particular trees, wildlife, etc. Take along a camera so you can take pictures of the items once you find them rather than removing them from nature. Having the scavenger hunt will give you and those with you something to focus on during the trip rather than simply walking to get to a destination.
Remember, when you go hiking to follow normal safety practices:
1. Let others know when you are going, where you are going, who is with you on the trip and when you expect to return.
2. Take along a first aid kit, plenty of water and food for the expected length of the trip.
3. Be sure to carry a change of clothing and a set of clothes for cooler weather just in case the weather changes dramatically before you return.