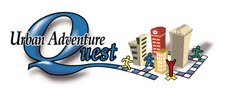 If you're looking for a great idea for a family adventure in the city, look no further!
Enter Urban Adventure Quest.  A smart phone guided tour, you and your family will walk through your city, find clues, solve riddles, and enjoy time together!  Win win!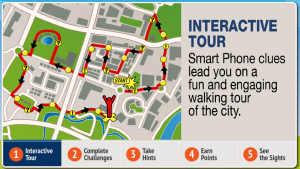 You can do it competitively – comparing your score with others who have quested before you – or just for fun. One person gets the clues and is responsible for answering the riddles and challenges but others can be in "read only" mode as well so you're not needing to hover over one small phone the whole time.
Have trouble with one of the challenges? No worries! There are hints that you can choose to reveal if you find yourself stuck.
It's a great way to find out about various locations in your city too with interesting facts and tidbits at each stop. Such a great idea! After you purchase you can complete your quest any time that works for your family (during daylight hours of course).
Give it a try! You can even see a demo on their website (click here) to see if it's something your family would enjoy!
My readers save 20%- Only $39.20 for a team of 2-5 people after Promotion Code: FGBLOG. Sign up online at www.UrbanAdventureQuest.com.
I received a free trial quest in exchange for an honest review. All thoughts are my own.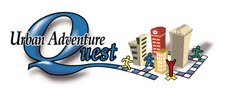 I really love this idea. nike air max 90 femme 2017 Great for a homeschool adventure or small group or family fun! Turn your city into a giant game board with this fun scavenger hunt adventure. Fjallraven Kanken Mini Combine the excitement of the Amazing Race with a three-hour city tour. Guided from any smart phone, teams make their way among well known and overlooked gems of the city, solving clues and completing challenges while learning local history. nike air max 2012 Play anytime during daylight hours. nike homme pas cher Start when you want and play at your pace. Great Family Fun. nike air huarache avis Save 20%- Only $39.20 for a team of 2-5 people after Promotion Code: FGBLOG.
This is another great family board game, nike chaussures probably more suited to a little older kids with parents.
Amazon's got some great board games on sale today. Fjallraven Kanken Get ready for a few of our favorites starting with this one:
Carcasonne
is a fabulous family game that our family loves. Basket nike 2018 When we first got it we'd play several rounds in an evening but I think we burned ourselves out on it (or at least some of us!) Now we play every other night or once a week and have a wonderful time. nike air max flyknit 2017 The game changes each time you play it and the strategy is exciting and fun, even for younger players. Fjallraven Kanken Super family game! Highly recommended.

*Sponsored post* Ask kids of all ages what their favorite family activity is and many of them (most of them) will reply "family movie night!" When our daughters were young every Friday night was Pizza Movie Night and we all looked forward to it. We even looked forward to it when our girls went through a phase of watching White Christmas for about 8 weeks in a row. nike air max femme Phew! It was the "family" part of family movie night that made it special. air max thea pas cher And it was extra special when there was something at the theater that we'd all enjoy – the big screen, popcorn, and all of us together. nike air max thea I have so many fond memories.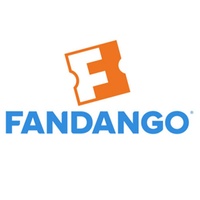 In fact, now that the girls are grown, we still love a good movie night together, both in front of our small screen with Amazon Prime or a DVD, or on the big screen at our local theater. Mochilas Kanken Mini When we find a movie that's at the theater that we're looking forward to seeing, the first thing we do is jump over to Fandango to get our tickets. Not only can we see all the options at multiple theaters in our area, but, even better, now that many of our local theaters have prereserved seats (love those recliners!) we can secure our favorite spot for the evening and not get stuck in the first or second row and neck pain for the rest of the night! Fandango is easy. air max soldes pas cher You can print your tickets at home and, with prereserved seats anyway, you can even skip the annoying previews and show up right when the actual movie starts. basket nike air max (Side note, I timed the previews the last time we went – it was almost 40 minutes! Ouch!) Here's the other great benefit of Fandango: If, for some reason you can't make it to the theater for the show you reserved, you can get a refund up until the minute the actual movie starts. nike cortez So if your kids get sick or you just change your mind, you can pop over to the site, cancel your tickets and either bank your credit for the next movie night or get a full refund (minus the processing fee). It's that simple! And I just got an email that shows how Fandango and Paypal have started working together so that it's easy for you to buy multiple tickets and have your friends pay you back!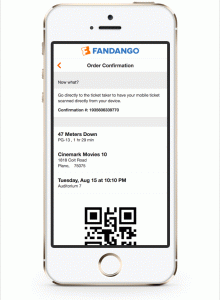 Going to the movies isn't the "cheap" night out it used to be when I was a kid, but thanks to Groupon Coupons, you can save a bit on your ticket prices with Fandango. So, have you started your own family movie night tradition? If not, why not give it a try! FYI: This is a sponsored post.
This video speaks for itself. nike air presto pas cher Our family is SO thankful for VidAngel and we're excited about this new way to watch movies – our way! You're not limited to pre-decided filtering – you can choose which scenes to skip or watch individually and you can even change the filters mid-movie if you change your mind. nike mercurial vapor Give it a try. nike internationalist soldes Your first 30 days are free. Click here to try VidAngel yourself! Your first 30 days are FREE! Vidangel works with Amazon, Netflix, and Amazon HBO. nike air max 2018 Filter movies your way. nike air max 1 Every time.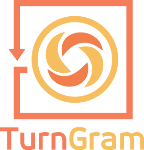 TurnGram is the perfect gift for everyone on your list…from your closest friend to that hard to buy for relative! For a few bucks a month, nike air max 90 TurnGram will select photos from your Instagram feed based on instructions you provide and deliver them directly to the door of your friends and loved ones. Mochilas Fjallraven Kanken Big 30 Days Free of the Most Unique Holiday Gift – Get your first month FREE when you sign up for TurnGram today! No coupon code required. Fjallraven Kanken Classic Sale 100% money back guarantee if you are dissatisfied with our service in any way.
GROW YOUR OWN AVOCADO TREE AT HOME! Save 20% on any AvoSeedo avocado grower or other product and enjoy FREE shipping too. nike internationalist Visit the AvoSeedo Shop today and get growing today! Visit: http://www.shop.avoseedo.com/ Use Code: sp20 #avoseedo AvoSeedo avocado tree germinator bowl that makes it easy for everyone to grow their own plant at home from a simple avocado pit. nike air huarache Easy to use for all ages of amateur avocado arborists, clever AvoSeedo bowl design keeps the avocado pit immersed in just the right amount of water to grow effectively. nike roshe run Made for durability from recyclable, non-toxic materials and is reusable for other vegetables like lettuce, celery, carrot tops! Germinate and grow an avocado tree in your own home, whatever the climate. nike internationalist Fun family (Millennial parents, their young kids, grandma/grandpa) project to make a tree sprout and watch it grow from the pit of a common avocado. Mochilas Fjallraven Kanken Big Increase kids' understanding of ecology, interconnections in nature, responsibility and care for the environment in a participatory and concrete way GROW YOUR OWN AVOCADO TREE AT HOME! Save 20% on any AvoSeedo avocado grower or other product and enjoy FREE shipping too.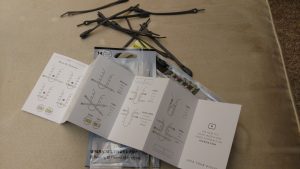 So I've posted a few times about the Hickies shoelace system because I really think they're great! I just got another set … Mochilas Fjallraven Kanken Big and a set for kids too. cheap fjallraven kanken They're easy, adorable, and make it simple to get in and out of your shoes so you can get on your way. Mochilas Kanken Big Why I love them:
They're fun! Such a great idea
They're handy! Makes it so simple to get in and out of your shoes
They're cute! Even the plain ones look great in your shoes!
They're adjustable! Depending on how you insert them into the eyelets of your shoes, you can make them tighter or looser.
They work! Once they're in, you're done. nike air presto pas cher No undoing and redoing laces anymore!
They're discounted! 25% off w/ code USFAM now thru Oct 31st here (click)
HICKIES products turn any pair of sneakers into convenient, comfortable, and stylish slip-ons that are perfect for any activity from recess play to Mom and Dad's triathlons. Fjallraven Kanken Mini Sale Hickies.com Features:

Works in any shoe with eyelets.
One size fits all.
Elastic material keeps shoes secure and comfortable.
Never tie again! Play uninterrupted.
Fun look, without messy knots and bows.
Adjustable tightness.
Quick and easy – simply slip on and off.

Get 25% off w/ code USFAM now thru Oct 31st! Click HERE to find the coupon .

I'm a fan of putting words on walls. nike air tn I have several vinyl wall quotes that I've gotten over the years that I love. nike air max 90 I really like this idea too…. a family rules poster. nike flyknit lunar Especially when it's customized with your own family pictures – the kids will enjoy looking at it and remembering the things your family values as important. nike air max tn Of course, there are a lot of places you can make up something like this. If you're a photoshop user, this is probably a no-brainer. But for graphics impaired folks like me, companies like PosterMyWalls.com are a life saver! This poster, for instance, is an uploaded template that you can easily personalize with your own wording and pictures. Then download and print at your local print shop or WalMart and voila – something lovely and valuable to hang on your walls! I think once you start you'll get addicted to all the different posters and prints you can make – easily and quickly. nike air max 2012 You can make photo cards, too. nike air max 90 homme Such fun! They've even got templates for sports schedules, event announcements and more! Thanks to my friends at USFamilyGuide, I can offer you a half off coupon (click to get the coupon) off the downloadable prints! You're welcome!

Disclaimer: By publishing this blog post I MAY receive a complimentary poster for review.