Saturday my family had the privilege of attending the premier of Six Flags Great America's new evening extravaganza "igNight".
Since we only live about 35 minutes from the park, we thought this would be a great family outing.  My daughter had gotten a season pass earlier in the week and with the two tickets graciously provided by the park for the premiere, we just had to purchase one ticket for my other daughter.  Yay us!
We had a busy day so we couldn't enjoy the whole day at the park, unfortunately.  But we did arrive in time to enjoy several of our favorites and a few new rides.
Tradition dictates that we go on the Whizzer Roller Coaster first.  It was a little bit strange to think that the first time I rode on that roller coaster was over 30 years ago.  Yes, I'm that old.  And yes … it's still fun!
Online Coupon: Save $20 Off One-Day Admission to Six Flags Great America–
Use the coupon code "FAMILY" when you purchase your ticket online!
Before we had to head over to the media tent we decided we'd take a quick ride on Raging Rapids.  While totally fun and a non-stop laugh fest, we got … SOAKED!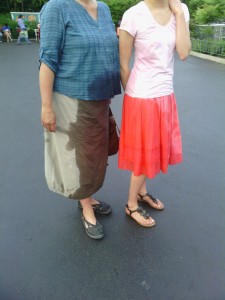 Thankfully it was pretty hot out and although I didn't get completely dry, I didn't look like a soaked mess the whole night either.
Anyway… the whole reason we went to the park was to enjoy the premiere of igNight, so off we went to Hometown Square where the media area was.  The folks from Six Flags were kind enough to let both girls in with us and there was quite a welcoming spread.  I was thankful because by then I was pretty thirsty! And I got to meet a few other bloggers including this one (click).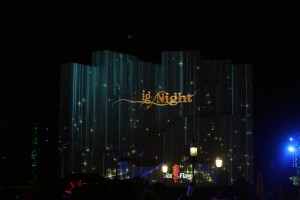 Then the show started.  I'll have to say, the set and the video projection was pretty amazing.  The set is over 50 feet high with multiple stage levels and the way they created the video – it actually curves around the structure – made it seem, in some ways, like you were there.  Very impressive.
The performers were quite talented and it's obvious they worked really hard to make this something spectacular.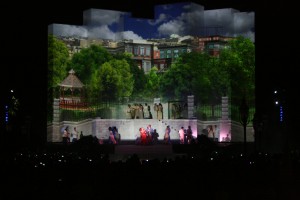 The background in this picture, for instance, is all video.  This particular scene is just before the "Chicago Fire" which they also projected on video… very cool.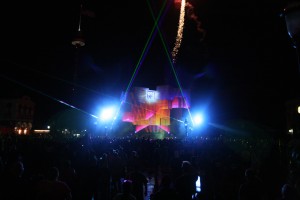 There were even fireworks and laser lights and all kinds of cool stuff.
I've battled with myself about this "review".  While the show itself was technically fabulous, I can't recommend it for families … or really for anyone.  We actually ended up walking out once the "modern" stuff started.  Inappropriate dancing, the theme of "clubbing" and giving someone your phone number even before you know their name … I guess I'm just old fashioned.  I don't want my kids to think it's normal to just hook up with someone at a bar.
I asked my girls their quick thoughts:
"I thought it was going to be cute and corny and then it turned trashy." – Daughter A

"It was inappropriate." – Daughter B
So there you have it. I'll definitely go to Six Flags again.  I'll definitely leave when the park closes prior to the show the next time.
If you want to see how really amazing the technical details of the show are, see WGNTV.com's behind the scenes video.
Online Coupon: Save $20 Off One-Day Admission to Six Flags Great America–
Use the coupon code "FAMILY" when you purchase your ticket online!
I received 2 free tickets to the park and special viewing of the igNIGHT event during their media premier in exchange for this blog post/review.
 
Ok, I thought this video was just too cute:
Don't you just wonder what in the world is going through that baby's mind? Adorable!
How to Get Squeaky Clean Hair
Sequel to How to Have Silky Hair
I have discovered the secret to having squeaky clean hair. My mom thinks that this is a great beauty tip and that some of her lady friends and fellow moms would appreciate my sharing this with you all.
Take your little sister's potty seat (you know, the kind that lift off and on the real seat) and put it on your head. Take care to pull it all the way down to your neck so as to insure that it gets really stuck!
Have your poor babysitter try to get it off for you. This won't work but in order to be sure you achieve the same results you should go through all the steps.
Anyway, the babysitter should then call her sister to come help. FYI…this won't work either.
Have the babysitter call your mommy and ask what to do. Hint…it helps if your mom is terribly distracted and has lost her keys and is going to be late for a really important appointment.
Mommy will advise her to get the baby oil out and grease your head up and try to get it off that way. She will probably also tell her to hurt you if she to to get it off but don't take this personally. Mommy knows that you can't go through life with a toilet seat around your neck and that calling the fire department to get it off would be really embarrassing.
This will work and the toilet should come off.
Babysitter should then attempt to was your hair to get rid of the just got out of pool look.
Add this to your list off things that won't work but you still gotta do.
Finally, have Mommy wash your hair several times with dishwashing liquid. You know, Dawn takes grease out of the way.
Listen carefully…your hair should really squeak while she's scrubbing! Very cool!
Good luck with implementing the latest tip from our household into your beauty regimen!
P.S. If your mommy says something about Providence or what goes around comes around, don't take that personally either. She's probably just thinking about that time that you stuck sticky mouse traps in your sister's hair!
Sincerely,
Noah, age 4 1/2
How to Redecorate Your Room
by Riley, Age 3
First, you go in your mom's purse and get out the smiley face stamp that she keeps to reward you for good behavior.  (Yes, I know it's naughty to go in your mom's purse)
Then, you sneak upstairs while she is ironing.  (Yes, I know you all thought she just wasn't watching me)
Stamp the smiley's all over your wall as far up as you can reach.  When you've gotten that high climb up on your play kitchen and get the rest of the way up the wall.  Don't worry about the fact that you have been told repeatedly not to climb on this.  Your Mommy will be so stunned by your craftiness that she won't get on to you for this.
Next, move on to the next wall and stamp all up over it as far as you can.
Now, by this point your stamp will be getting low on ink and you may be a bit worn out from both the work and the exhilaration of naughtiness so it is ok to just put a few sporadic smiles on the remaining walls.  I promise that it will not diminish the effect!  I've tested this to be sure.
Oh yes, I forgot to mention that moms are apparently tipped off by the sound of crashing (as you jump off of the kitchen that you aren't supposed to climb on) and hysterical laughter (because your brother thinks what you are doing is a riot).  If your big brother rats you out like this you can get him back by blacking his eye with a piece of metal while he is lying on the couch watching TV!
I probably should have written an email to my friends the day that my Father in law watched the kids and I came home to a really nice smelling house only to discover that Riley had pushed her shopping cart over to the kitchen counter, climbed up, and gotten the 3rd bottle of shampoo down and poured it out all over the tile floor (the first one went into the carpet upstairs, the second, blessedly, went into the shower).
While he was cleaning that up she/they got a large bottle of hand sanitizer and poured it out.  While he was cleaning that up she/they got a full bottle of….are you ready for this…syrup…yes, syrup and poured it out all over the master bedroom and bathroom.
Instead, I had a nervous breakdown.
I guess it would have been therapeutic and cathartic to have shared with people about the night that my father in law babysat for us and I was so shocked when I called home and he told me that the kids went right to bed and he hadn't heard anymore out of them.
When I got home I found that Riley hadn't gone right to sleep but instead had rearranged her room.  This was quite some feat for a 2 year old!  But, the surprises did not stop there!!
When I went in to check on Noah I found my bright eyed and bushy tailed kid in bed.  With some dirt.  A lot of dirt.  He was crying because he didn't want his truck to get run over.  In the end I finally figured out that he had gone downstairs, out the front door, and across the street to play in the dirt.
He had brought some back in the house and then gone out for more.  He even got to see the red lights on cars that passed him.  And he built this really cool volcano out of the mulch around the tree in the front yard too!  But, I didn't share that one.
I just made a mental note to fire the babysitter.  Although, I will tell you it is not very satisfying to mentally fire someone who works for free!
How about the time that my husband was watching them and working on our computer and realized too late that they were quiet.
Now, as you and every other mother know, that is always bad.  Anyway, that time they got a batch of Sesame Street cupcakes off the counter and went under the dining room table to eat them…off of the upholstered chairs.
While my husband was attempting to get the Elmo red, Cookie Monster blue, and Big Bird yellow (see you thought that the type of cupcake was a trivial fact) icing out of upholstery he failed to realize that they were laughing hysterically.
If silence is very bad, laughing should strike terror in your heart.  This is when I came home.  I found them under the kitchen table with a pound of sugar.  Thankfully, it was granulated and not powdered.
This story, however, does have silver lining.  My husband has never again questioned why I never get any housework done.
How To Have Silky Hair
by Riley
age 2 1/2
First, have your big brother get a sticky mouse trap (you know, one of those that the mice stick to that are really, really sticky and gooey) out of your closet and put it in your hair.
Next, have your mommy pull it out of your hair while trying not to hurt you or snatch you bald.
Then, have her try to get the sticky stuff out of your hair with Goo Gone.  TIP:  You might want to have your brother hold your hand because this might hurt.
The next step is to have your mommy wash your hair in the bathtub to get the oily Goo Gone out of your hair.  Here is the best process to use for this:
1.  Wash with baby shampoo.
2.  See if brush will go through hair.
3.  If not, try detangler spray.
4.  Should this also fail, have Mommy pour Goo Gone directly into hair.  Note:  Goo Gone does not have directions for removing goo from hair so just trust me on this.
5.  Repeat step 1, rinse.
6.  Try detangler spray again.
Brush should go through hair with ease now.  You will have beautiful, silky, smooth hair!
Stay tuned for more beauty tips!  As my brother comes up with new ways to torment me I'll keep you posted!