I was a little skeptical. I've never done or seen a "color run" but I know many of my daughters' friends have done them and loved it. Just seemed like a big mess to me but, whatever. To each his/her own.
But then I heard about Just Add Color.  The lights went on and I thought – YES!  For this former birthday party organizer and entertainer, this seemed like the perfect idea!  And it is.
Just Add Color was the brainchild of a creative dad who took his experience with the product back to where it's the most fun. HOME!    And it's excellent!
When you order your Just Add Color party pack, you get TONS of color dust.  It's a LOT!  So you can do all kinds of different activities with it and still have more for another party. Seriously!  This is awesome, you guys!
The party pack comes with a fabulous idea book and if you need more ideas, Ryan is keeping a list and is happy to share the other fun ideas he and other customers have.  The possibilities are endless and that's why having ALL THAT COLOR in your party pack is so tremendous. After your first party you'll WANT to have another… and another!
Ok, so take a look at how it works:
Check out what you get in your party pack… I'm telling you it's a TON!
5 lbs of Purple powder
5 lbs of Pink powder
5 lbs of Blue powder
A booklet/guide for ideas of how to use the powder for your party – so many great ideas!
3 bottle "paintbrushes" – awesome!
PLUS Free shipping if you get the pack.
If you get some old stockings or socks, you can put the powder in there and play tag or any number of games.  Add the powder to plain shaving cream
(the cheap stuff is best) and use paintbrushes
to paint garage doors, etc., or for an indoor party, use it as finger paint.
In the summertime combine it with a splash party and get clean up included!
Now that we did our multi-generational Thanksgiving with the kit, my 20-something kids and their friends are dreaming up all kinds of ways to have an at-home powder fun event.  Watch here for more to come!
Ready to have your own party?
I received a party pack in exchange for an honest review. All thoughts are my own.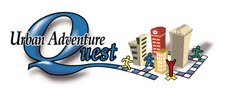 If you're looking for a great idea for a family adventure in the city, look no further!
Enter Urban Adventure Quest.  A smart phone guided tour, you and your family will walk through your city, find clues, solve riddles, and enjoy time together!  Win win!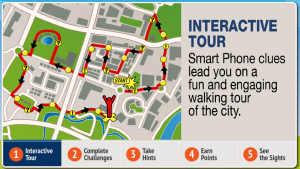 You can do it competitively – comparing your score with others who have quested before you – or just for fun. One person gets the clues and is responsible for answering the riddles and challenges but others can be in "read only" mode as well so you're not needing to hover over one small phone the whole time.
Have trouble with one of the challenges? No worries! There are hints that you can choose to reveal if you find yourself stuck.
It's a great way to find out about various locations in your city too with interesting facts and tidbits at each stop. Such a great idea! After you purchase you can complete your quest any time that works for your family (during daylight hours of course).
Give it a try! You can even see a demo on their website (click here) to see if it's something your family would enjoy!
My readers save 20%- Only $39.20 for a team of 2-5 people after Promotion Code: FGBLOG. Sign up online at www.UrbanAdventureQuest.com.
I received a free trial quest in exchange for an honest review. All thoughts are my own.
I don't know about you but we are itching for spring here in the midwest. There are still patches of the cold white stuff on our grass and it's still pretty cold outside so we'll be waiting for a few more weeks but signs of it continue to appear – geese flying north, the yellow finches are looking more yellow than brown, buds are appearing on our lilac bushes (yay!). When we see the first robin, we know we'll be home free!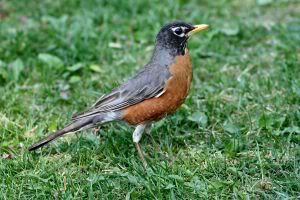 This year, why not start a nature journal with your little ones during the spring months. It's a great way to get outdoors and learn while you play and it's easy!
You can use anything… a 3 ring notebook, an official journal or just some sheets of paper that you staple together.
Just go outside together with paper and pen in hand, bring along some crayons or colored pencils and observe. Or even easier, bring the camera if your child doesn't like to draw.
Ask your preschooler about the things you see, snap a picture of it and then write down as she dictates to you her thoughts on it.  Later print out the pictures (even just on regular paper) and copy her comments next to the print.  Voila – a nature notebook is born.
Add to the notebook throughout the spring, summer, fall and winter!  It's a great excuse to get outdoors, enjoy the fresh air and sunshine and  learn at the same time.
We'll post some specific things to look for in the next post!  Enjoy!
I'm just going to leave this here. nike air huarache avis If you're a parent of teenagers or young adults, nike air max 90 femme gris rose I urge you to listen to this (it's a youtube video but really just an audio presentation).
Each country around the world has its own Christmas traditions. nike air max 2015 Lithuanians and Germans often used straw to create ornate decorations and ornaments for their Christmas trees. If you'd like to make your own traditional straw Christmas tree decorations, you can use drinking straws and these instructions. Mochilas Fjallraven Kanken No.2 You'll need the following: straight plastic drinking straws, ball of strong white thread, two or three long needles which will take the thread, ruler, and sharp scissors. Step #1 – Cut straws into 8 equal lengths about 3 inches long. Fjallraven Kanken Mini Sale Thread a needle with a piece of thread about 20-24 inches long; do not tie a knot the end of the thread. Step #2 – Thread four pieces of straw onto the string. nike air max thea Tie the ends to create a wreath. Instead of cutting the extra string, thread it through two more straws and then loop it around the opposite end. Thread on the last two straw pieces and tie it off at the opposite end again. Step #3 – Cut straws into 4 equal lengths about 2 inches long to get an elongated design or 3 inches long to get a square. Slip the needle and thread back through one of the straw pieces already in the design to get the needle to the middle of the design. Step #4 – Thread one of the shorter pieces and then attach it to the second joint by wrapping the thread around the joint. Add the next piece to the string and attach it to the following joint, until you have all four of the pieces are secured. This will give you an elongated or square box; it may also look like a diamond.
---
---
This is the basic design upon which any other variations are made.
nike roshe run
If you come close to running out of thread, tie another piece of thread to it. Hide the knot inside the ornament by placing it within a piece of straw. Step #5 – Cut 8 more pieces of straw the same length as the first ones, about 3 inches long. At this point, the needle and thread should be at one of the middle joints. Step #6 – Run the thread through two of the new straw pieces and attach them to the next joint. Add two more pieces and attach them to the next joint, and on until there are four triangles at the central joints. Step #7 – To stabilize the "rays," you can cut 4 longer straw pieces which will fit between each point of the ray and the top of the ornament. To do this, using the last ray where the string is hanging, thread the longer piece of straw and connect it to the top. Continue this until all four rays are stabile. You can also add 4 additional stabilizers between the point and the bottom of the ornament which will give you a more elaborate design. If you look on the internet for "Lithuanian Straw Ornaments," you can see some of the most beautiful and intricate ornaments.
Kidzfunland is unique and a brand new concept in indoor playgrounds!
It's innovative and imaginative!
Be wowed by bright and colorful soft play equipment and toys!
Clean and safe, it's an exciting environment for the whole family!
It's truly interactive play for kids and parents, not just parents sitting and watching their children!
Kidzfunland is stimulating and entertaining!
Follow on Twitter- @kidzfunland1 and Facebook- https://www.facebook.com/kidzfunland1
Save $1 off admission to the playground at Kidzfunland. Valid Monday through Thursday . The admission valid for the whole day. http://usfamilycoupons.com/coupon.php?regionid=75&bid=11502&dealid=1525
I just read this sweet post on Bobbledybooks.com about the fun treasure hunt they had for their brand new 5 year old.
Such fun!
What I love about this is that it's great for kids of almost any age, it's fun AND the focus is on the enjoyment of the activity almost more than the presents.
Now don't get me wrong. I love presents like everyone else does.  It just seems like, these days, kids are so focused on what they're going to get that they don't really enjoy any of it.
Enter the treasure hunt.  You can make it as simple or elaborate as you want – and it's a beautiful thing.  For your younger sweeties, make the clues with pictures or easy to follow words.  Help them when needed, obviously.  Something that may be a no brainer to you might not click with an excited birthday boy or girl.
Make it worth it too.  Have a longed for gift as the final find or maybe even a fancy birthday breakfast or lunch item.  Have as much fun creating the hunt as your kids will have searching for clues.   You'll love it!
I just found out about this great kit that you can get from the folks at Pur and Safe Water Science!
The kit includes:
• PUR™ Purifier of Water packet
• dirt/contaminant
• stirring spoon
• 2 liquid containers
and on the site there are activity plans to go along with the kit.
No obligation – just fill in your info and they'll send the kit to you. Just go to SaveWaterScience.org for all the details!
Top 10 tips for getting away with great family travel deals
Travel. With the family. For some those are the most dreaded words ever uttered. To them the idea of a trip with the whole family translates to chaos, headaches, noise and lots and lots of money. And, quite honestly, it can be that way if approached haphazardly. The great thing is, with a little planning and organization, family travel can turn into one of the most enjoyable and memorable things you can do – for your kids and for you.
So, why don't we spend a few minutes thinking about ways to "get away" with the family so you can start looking forward to those great memory making trips instead of dreading them.
1. Have a family meeting. Simple huh? Sit down with the family with notepad in hand and throw it out there … what sounds like a fun trip to you. Invite your kids to throw out ideas, talk them through, throw out ones that won't work (respectfully of course) or table ones that might be for "when you're a little older" or that fall into the "great idea but we'll need to start saving now for that one" category.
2. Start a slush fund now! Get a large piggy bank, plastic 2 liter or larger jug or anything that can easily hold your loose change. ALL family members, littlest kiddos included commit to throwing any change they find or have in their pockets at the end of every day. You'll be surprised how fast that change adds up to real dollars and that money can be used for fast food runs or even more expensive items down the road.
3. Don't think big. Well, at least don't ALWAYS think big. Sometimes the small, short trips can help to bring those fabulous memories. Often when families sit down to talk travel they immediately think "African Safari" or "Snorkeling in Australia". When you start researching and seeing how much money you need for those big trips, however, all hope for "fun" is dashed. Remember that there are people in other parts of the country and even the world who are planning their vacations and their dream location might be only a few miles from your home. Look for great locations that are within a few hours or a days drive and enjoy the sights close to home.
4. Pack food. This may sound like a no-brainer but it's often the thing that gets lost in the trip planning. When going on driving trips you can save a ton of money by planning and bringing food in coolers along rather than relying on restaurants and fast food stops along the way. Use the money you save for fun tickets to theme parks or other spots at your destination.
5. Consider a rental van instead of using the family car. Yes, it's an added expense but with easy to find coupons you might find that, after factoring in the wear and tear on your car that a long drive would bring, using a rental will save you money in the long run. Plus, it's part of the adventure to be driving a different vehicle than your day to day one.
6. Research. Put the kids in charge of researching your potential destinations. This is so easy with the help of the internet (please supervise your kids on all sites) but equally fun is a trip to the library for some research on places nearby and the opportunity to sent off a quick note asking for information by mail. I remember as a kid writing to various tourist spots and seeing all those great brochures and pamphlets coming in the mail addressed to me. Going through those as a family was almost as fun as the vacation itself and helped me to anticipate the trip even more.
7. Don't overdo once you're at your destination. It's easy to think you need to cram everything in once you're there but that mindset in itself can create misery for your kids and you. Kids get tired. Especially when surrounded by new sights and activities. Read their moods and just say no even if you think you'll be missing out on something fabulous.
8. Consider alternatives to hotel stays. Check into bed and breakfasts or look into vacation home rentals at your destination which are often cheaper than hotel rooms and offer the benefit of a full kitchen and usually a private pool at the home. When we took our kids to Orlando the first time we found a company that is geared mostly toward a European clientele and got a fabulous 2 bedroom home with private pool just a short drive from the parks for the same price as the local hotels. When the kids were on overload we'd just drive back "home", throw them down for a nap and then the adults could still relax by the pool without one having to stay in the hotel room with the kids. Fabulous!
9. Try a stay-cation. If your funds are really limited, use home as "home base" and take several day trips as a family. Mix things up a bit and have the kids stay in your room with you, unplug the phone and computer so you're not tempted to just do regular life every day and order in take out for lunch or dinner to mix things up a bit. Or camp out in the basement.
10. Camping. It has to be said. Camping is cheap and kids absolutely LOVE it. Yes, it's work for mom especially but there are ways to make it enjoyable for everyone … but that's worth a post by itself!
So… what are you waiting for. Call a family pow-wow and get planning. This year is going to be the best ever for your family vacation.
Do you have any travel tips for families? Feel free to add your two cents in the comments below!
"I wrote this blog post while participating in the SocialMoms and Alamo blogging program, for a gift card worth $25. For more information on how you can participate, click here."
I was blog hopping this morning and discovered two great posts that I just had to share because I loved the ideas and they're so doable! YAY! Just a reminder, even if you still have young ones at home you can incorporate these ideas too. But both of these ideas are geared toward kids that are off to school every day.
First up – from our friends at Just Something I Made – napkin messages! The original post is done by an artist, and so her doodled napkins are works of art in themselves but I love the idea of sending messages in your child's lunch bag … often! And drawing on a napkin is a cute way to do it. I especially love how she tells that as her son got older, she got creative with leaving a heart for him by hiding it in the drawing, so the other kids at the lunch table would get into the game too. Very clever! See what I'm talking about when you visit the post HERE.
Next is actually the post that led me to the napkin post – personalized pencils. Another fabulous and easy (though a little time consuming) idea of making little mini messages to modge podge onto your child's pencils. Love it! Find out more when you visit the family economics site here.
Have you ever done this for your kids? My kids are homeschooled so I didn't pack lunches for them except if they were off to a field trip or something – and in that case I'd stamp a quick mini-card to include or write a little love note on a 3×5 card – but these clever ideas take that to the next level! Love it!